Top 10 Films ventures into the sun-kissed excesses of Las Vegas to check out four modern movies that have brought this iconic, characterful city to life…
If there is one location in the world that stands for excess, it is Nevada's hub of Las Vegas. Not only is the city renowned as the spiritual home of gambling, but Las Vegas is well known for its shows and progressive LGBT culture. Some of the drag-show narratives and burlesque entertainment options are simply second to none in Vegas, and this highlights an entertainment culture that rivals anything that Hollywood has to offer.
With this in mind, it is also worth noting that Vegas has provided the backdrop for some of America's most spectacular movie extravaganzas. So, let's take a look at four of the best examples and the roles that Las Vegas played in bringing the movies to life:
The Hangover (2009)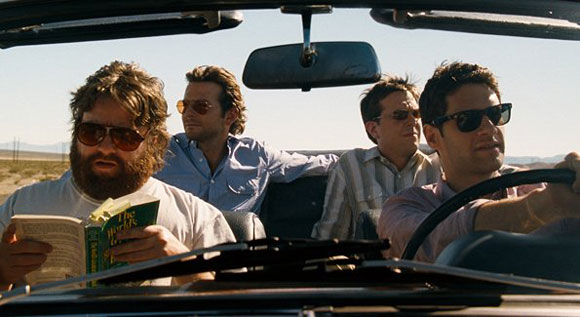 Perhaps the best and most popular Vegas-inspired film of all time, The Hangover uses a relatively simple comedy premise to create a stunning movie that is packed full of action, adventure and endless belly laughs. Starring Bradley Cooper at his cool and languid best, the film (as if you haven't seen it) tells the story of a bachelor party on the quest for adventure before the grooms' upcoming nuptials. Of course things do not go to plan, resulting in a series of hilarious circumstances, a roaming Tiger and an unfortunate altercation with heavyweight legend Mike Tyson.
Diamonds are Forever (1971)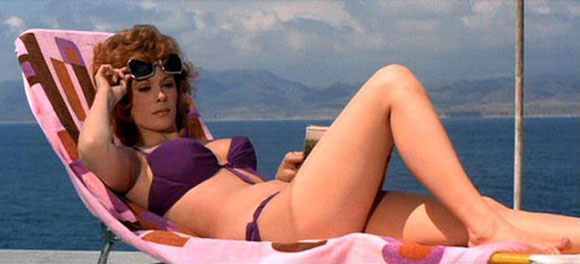 While most of the casino shots in this famous Bond movie were shot at Pinewood Studios, there is also no shortage of on-location shooting too. The character of Willard Whyte was based on the eccentric and ultimately tragic Howard Hughes, while the casino shots were authentic and genuinely compelling. Although the film is rarely referenced as one of the best Bond movies, it is offers an outstanding viewing experience and one that features the iconic Sean Connery.
What Happens in Vegas (2008)
Not all films are created equal, and while The Hangover relied on simple plot lines and fantastic execution, 2008 comedy What Happens in Vegas uses a more complex narrative to hook viewers and take them on a cinematic adventure. More specifically, the film shares the story of a couple who are forced to live together for a brief period of time, so that they can claim a life-saving sum of money won during a visit to Vegas. Ill-matched and unsuited in the extreme, the fact that the couple cannot stand each other only adds to the humour and creates the potential for a greater depth of feeling. There are also undertones of romance that run throughout the film, culminating in a spectacular finish and climax.
Viva Las Vegas (1964)
A vehicle for the popular Elvis, Viva Las Vegas stars the iconic Hollywood legend as he arrives in town to race the city's first Grand Prix only to find himself waylaid by Ann-Margret. Camp and dated by today's measures, the film is worth watching for Elvis' performance and the instantly memorable 'Viva Las Vegas' theme tune.
Bugsy (1991)
Based on the life of famous gangster Bugsy Siegel, this film was based primarily in Vegas and featured a number of fascinating, on-location shots. Starring Warren Beattie in the lead role, this American crime drama retained a sense of authenticity and grittiness that so many gangster films find hard to sustain. The film also offers something of a history lesson, as it tells the story of how Siegel built Las Vegas and laid the foundations of the so-called Sin City.
21 (2008)
One of Kevin Spacey's most underrated movies, 21 is a true to life tale based on card counting in Sin City. Starring as a charismatic but wayward professor, Spacey teaches a team of college students and talented mathematicians on the finer points of card counting before leading them on a quest for riches in Vegas. This plays out against an ongoing backdrop of ethics and morality, as Spacey is portrayed as both a ruthless and greedy individual and a caring father figure in equal measure. The film certainly sets you thinking, while the quality of acting and the strength of the narrative set it apart from similar, casino-based films.
Ocean's Eleven (2001)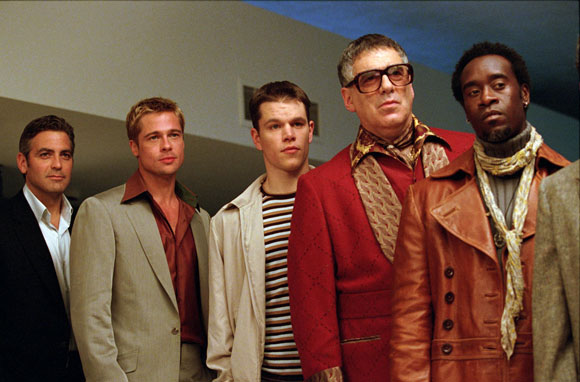 One of George Clooney's best films, Ocean's Eleven is an outstanding film that is actually based on a 1960's original. It tells the story of a gang of confidence tricksters who target a famous casino, aiming to break the bank and steal millions. Throw in a complicated scheme and a romance between Clooney's lead character and his ex-wife (portrayed by Julia Roberts) and the casino owner (Andy Garcia). The film even used The Bellagio as its location, capturing the majesty of the location and its innate sense of style.
Casino (1995)
Another true to life story that was marketed as a loose sequel to the wonderful Goodfellas, Casino features Robert De Niro and Joe Pesci at their murderous best. Shot predominantly at the Riviera Casino, this film is brutal, unforgiving and an exercise in sustained, sadistic violence throughout. In many ways, it is far more difficult to watch than Goodfellas and arguably features one of the most gruesome death scenes in history when Pesci's character meets an ugly end.
Fear and Loathing in Las Vegas (1998)
Based on Hunter S. Thompson's savage and harsh portrait of the Vegas strip, Terry Gilliam's film is explosive and unpredictable in equal measure. Viewed through warped and psychedelic eyes, this film includes everything from distorted sounds to hallucinatory images that will warp your mind. It portrays Vegas as a land filled with mindless gamblers, life's losers and lost thrill seekers. At the end of the film, you will either want to book a flight straight out or make sure that you never visit Nevada in your lifetime.
Showgirls (1995)
Fuelled by sex, drugs, violence and power-stripping, Showgirls is the kind of movie experience that often leaves you drained. Arguably the single most effective portrayal of Vegas' dark and occasionally seedy visage, director Paul Verhoeven uses drama and contemporary filming methods to capture a unique aspect of Vegas. Also shot in part at the Riviera Casino, the use of imagery is also key to setting this film apart.