Neal Damiano joins the bank robbers and the jewel thieves, the cops giving chase and the unwitting victims caught in the crossfire as Top 10 Films checks out the greatest crime-gone-wrong movies…
10. Heat (Mann, 1995)
We waited for years to see arguably the two greatest actors of this generation team up in a film. Robert De Niro and Al Pacino come together to make one of the most exciting crime films in the last 25 years. Heat delivers with storyline and action, and when you throw in Tom Sizemore and Val Kilmer, you got yourself an all star cast. Michael Mann did the film correctly, De Niro plays a much better bad guy absent of empathy than a romantic and Pacino pulls off a straitlaced good guy so well. In my opinion, Heat has one of the most electrifying shootout scenes in cinema history.
9. Killing Zoe (Avary, 1994)
Roger Avary created an extremely violent bank heist film with Killing Zoe. Eric Stoltz stars as an american safecracker, who travels to France to help an old friend played by french actor John Hughes Anglade pull off a bank robbery. Things start to spiral out of control when his friend is completely out of his mind on drugs and psychotic episodes. Anglade plays such a madman shooting everything in sight including his own men. Not someone to tangle with at all. Things soon get worst when he finds out Stoltz has fallen for a call girl (Julie Delpy) the night before, who just happens to be a teller at the bank. Full of action and violence Killing Zoe has one of the most graphic, bloodiest shooting massacres I have ever seen. In my opinion it is one of Stoltz's greatest performances in film.
8. The Killing (Kubrick, 1956)
The Killing is considered one of the most influential heist films in history and rightfully so. Stanley Kubrick made a crime masterpiece where story comes before action. Five guys get together to pull off one more heist. One of the men just can't seem to keep the heist secret, blabbing to his girlfriend plans to rob a racetrack. It becomes a game of who is loyal and who is the snitch, as each one envisions how it's going to play out. The cinematography is quite stunning for a crime film considering what Kubrick had for a budget.
7. Heist (Mamet, 2001)
David Mamet directs a clever crime film starring Gene Hackman as an expert thief looking to retire from crime and settle down with his wife. But when a jewelry heist goes wrong, Hackman and his men are forced to pull off one more very risky job to steal a shipment of gold bars from a Swiss plane. Heist is full of non-stop action and intense acting especially from Danny Devito, known for playing comedic roles really strectches himself as a sleazy dealer of stolen goods. Full of double crosses and set ups, Hackman doesn't know who to trust including his own wife.
6. The Getaway (Peckinpah, 1972)
Sam Peckinpah directed this enigmatic crime thriller starring Steve McQueen as a Texas ex-con hired by the politicians responsible for his parole to take part in a bank robbery. The heist drastically goes awry leaving McQueen to take the fall. He takes off with the money and his wife heading to the Mexican border. McQueen puts on such a charismatic performance so you can't help but root for him in the end. Again, a crime film that centers more on the dialogue than the high end action in crime films.
5. The Friends of Eddie Coyle (Yates, 1973)
The Friends of Eddie Coyle is a very good example of gritty 70s cinema. Made in 1973 it was quite violent for the time and personified the character-centered film. Eddie Coyle is a low down criminal looking to make one more score he gathers his friends for a bank heist. He has the kind of friends that would sell their own mother down the river if it meant saving their own tail. Eddie Coyle gravitates towards the seedy underworld, where crooked cops look the other way for an easy pay-out. Coyle is jaded, but it's the only world he's ever known. Robert Mitchum plays Coyle endearingly very innocent looking but calculating on the inside. A highly influential crime film.
4. Reservoir Dogs (Tarantino, 1992)
Quentin Tarantino, having been inspired by several crime noir films of the 1970s, made one of the most entertaining independent films of the nineties. It's clear to see Tarantino was highly influenced by the gritty violence and raw emotion of 1970's cinema. He brought back the crime films of that era, where the dialogue and story are just as important as the action. He held nothing back in Reservoir Dogs creating one of the most bloodiest, violent scenes in film history involving a straight edge razor and an ear. The dialogue is quite humorous and the criminals are actually likable but when it's time for business they do not play games. When a bank heist goes array they soon find one of their own is an undercover informant. What I think is cool, there's sort of a mystery behind the title of the film. Tarantino never revealed the meaning behind Reservoir Dogs and people still try to figure it out today.
3. The Usual Suspects (Singer, 1995)
In mid 1990s there was a resurgence of indie romantic films. Crime movies were sort of put on the backdrop. That all changed when Bryan Singer released The Usual Suspects, in my opinion, one of the most fascinating films in history. Keyser Soze is a bit of a legend; how we get to know Keyser Soze in the course of this film is utter brilliance. Remember the old childhood game, where you would use objects around you to makeup a story? Well, put that game in a police interrogation scene and you have pure genuis. Four criminals and a crooked ex-cop team up for a multi-million dollar heist but the fear of the myth behind crime lord Keyser Soze creates paranoia and it turns into a bloodbath. An all star cast including a young Kevin Spacey, who puts on a radiating performance as the the mythical character, is he or isn't he Keyser Soze? A very witty and complex thriller that keeps you on the edge of your seat.
2. The French Connection (Friedkin, 1971)
Gene Hackman gives one of the best performances of his career as Detective Popeye Doyle teaming up with Roy Scheider to crack down a heroin ring. William Friedkin directs a very fast crime caper set in New York City where cop Doyle is obsessed with taking down a French heroin supplier. Again, grimy dialogue and raw violence we don't see in cinema today. Doyle is forced to work with the federal agents as the case gets closer. Hackman hits all the right notes, giving such a convincing performance, you can literally feel his frustration through the screen. The French Connection displays a dingy side of New York circa 1970 with pimps, hookers, and drug addicts flooding the alley ways; it's a gritty, realistic look at the drug problem during the period when heroin was starting to come into America. It includes one of the best car chase scenes in film history. Winner of five Academy Awards and rightfully so, including Best Picture and Actor.
1. Dog Day Afternoon (Lumet, 1975)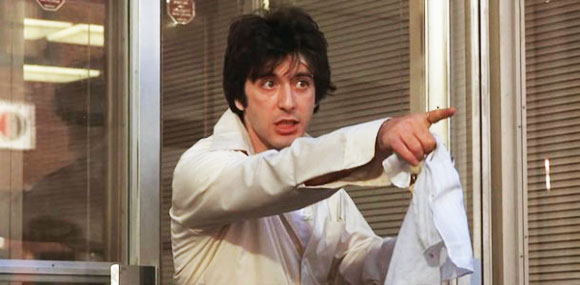 Based on a crazy police case that happened in the 1970s, director Sidney Lumet delivers a masterpiece bank heist film starring Al Pacino as a desperate family man who plans a local bank robbery to pay for his gay lovers sex change operation. The robbery goes incredibly wrong leading Pacino to a highly publicized hostage stand off that makes him a media sensation. What I particularly loved about this film is Pacino's character becomes somewhat of a likable anti-hero despite what he has done. Significantly, Dog Day Afternoon was one of the first films to deal with sensationalizing people who rebel against the system. At one point the hostages start rooting him on and actually help him. The film benefits from exceptional acting by Al Pacino and John Cazale, who plays his crime partner, and includes an unforgettable scene where Pacino finally comes out of the bank and starts chanting "Attica Attica" as the crowd chants along creating an all out riot. Some say it's a little long winded but given the story content what do you expect?
Written and compiled by Neal Damiano.
What are your fave crime-gone-wrong movies? Let us know…