Top 10 Films is very pleased to have THREE Blu-rays of Oscar nominee The Imitation Game starring Benedict Cumberbatch to give away. See below for FREE entry details…
Competition has now closed.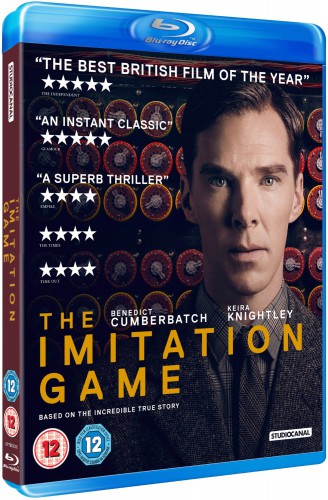 One of the cinematic events of 2014 becomes the first essential home entertainment release of 2015 as THE IMITATION GAME – beloved by critics and audiences alike – arrives on Blu-ray™, DVD and digital platforms on 9th March 2015, courtesy of STUDIOCANAL.
Based on the real life story of legendary cryptanalyst Alan Turing, THE IMITATION GAME portrays the nail-biting race against time by Turing and his brilliant team of code-breakers, endorsed by Churchill himself, at Britain's top-secret Government Code & Cypher School at Bletchley Park during the darkest days of World War II. The film spans the key periods of Turing's life, from his unhappy teenage years at boarding school and the triumph of his secret wartime work on the revolutionary electro-mechanical 'Bombe', which was capable of breaking 3,000 Enigma-generated naval codes a day, to the tragedy of his post-war decline following his conviction for a now outdated criminal offence. A complicated and troubled man, whose contributions and genius significantly shortened the war, saving thousands of lives, Turing may have been the eventual victim of an unenlightened British Establishment, but his work and legacy live on…
Starring Academy, BAFTA and Golden Globe nominee Benedict Cumberbatch (Star Trek: Into Darkness, TV's Sherlock) as Turing, Academy, BAFTA and Golden Globe nominee Keira Knightley (Begin Again, Atonement) as his confidante and equal, Joan Clarke, and featuring supporting turns from Matthew Goode (Stoker, Watchmen), Mark Strong (Tinker, Tailor, Soldier Spy, Welcome To The Punch), Rory Kinnear (Skyfall, TV's Penny Dreadful) and Charles Dance (TV's Game Of Thrones, Gosford Park), THE IMITATION GAME is at once a searing piece of British drama, a brilliantly taut thriller and a posthumous honour to arguably one of Britain's most important, most brilliant men.
The Imitation Game is released on Blu-Ray, DVD & download from 9th March 2015
For the chance to WIN The Imitation Game on Blu-ray all you have to do is:
1. LIKE our Facebook page
2. SHARE the competition with your friends
3. …AND send an email titled GAME to competitions[at]top10films.co.uk with your name/address to be entered into the random prize draw…
Terms and Conditions: UK residents ONLY. Winners will be randomly chosen from entries following the correct entry instructions. Winners will be contacted via email. Top 10 Films cannot be held responsible for any lost prizes. Please allow 28 days from competition closing date for delivery of prize. Closing date for entries is MIDNIGHT March 13th
Please FOLLOW Top 10 Films on Twitter for more FREE TO ENTER giveaways!