What actors, directors or writers have formed the best partnerships over the years? Top 10 Films takes a look as Dan Grant discusses the ten that have made an impact on him…
For years, actors and directors/producers/writers have developed a rapport with one another and have decided to work together on numerous occasions. You can go back to the beginning of film and find longevity with pairs like John Wayne and John Ford, Blake Edwards and Peter Sellers, David Lean and Alec Guinness just to name a few. But since I was born in the seventies my film knowledge starts there and that's where this list will start.
Now before we begin, keep in mind, this is a top ten list based on my opinions. There are literally hundreds of collaborations that could make this list and I'm very interested in what you think. But here are the collaborations that have made an impact on me.
10. Kurt Russell and John Carpenter
They worked together five times, starting with Carpenter casting Russell to be Elvis Presley in a TV movie. They also created one of the most unnerving horror films of the 80s with The Thing. This pair just clicks together. Many of Carpenter's biggest hits came with Russell as the lead. Big Trouble in Little China is one of the all time great cult classics.
9. Sam Raimi and Bruce Campbell
These two were high school friends. They are probably best known for their low budget horror classic, Evil Dead. But outside of that, Raimi has tried to find a place for Campbell in many of the films he directs. Besides the six Evil Dead and Spider-man movies (combined), Campbell has also had small roles in The Quick and the Dead and Darkman. These are two high school buddies who haven't forgotten where they came from.
8. Tony Scott and Denzel Washington
Starting with the tense and taut Crimson Tide, Scott and Washington worked together six times over a period of 15 years. Tony never got the critical acclaim his brother did but with Denzel in his films, he had a lot of success at the box office. Man on Fire was one of the best films of 2004 and in my opinion it should have gotten a lot more recognition. Tony died of an apparent suicide and the last film he directed was Unstoppable with Denzel. He will certainly be missed.
7. Nora Ephron and Meg Ryan
These two ladies only combined for three films, but they are three of the funnier films I've seen. Starting with one of 1989's best films, When Harry Met Sally, Ephron and Ryan formed a very funny duo. She directed the next two films with Ryan (and Tom Hanks). Sleepless in Seattle and You've Got Mail are high on humour but Ephron's always been known for having very strong female characters in her films, these are two prime examples. Meg Ryan was once known as America's Sweetheart and it was mostly because of Ephron's writing.
6. John Candy and John Hughes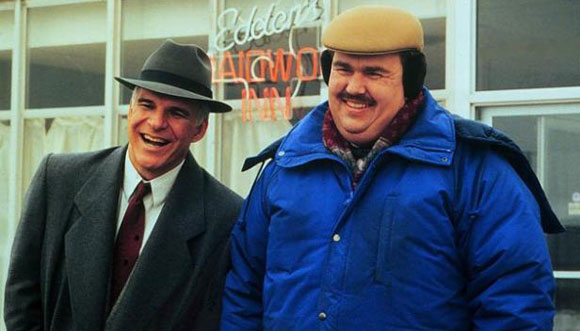 You could have probably had Molly Ringwald here instead of John Candy, but she only did three films with Hughes. Candy did seven. Starting with Vacation, where Candy played the lone attendant at Wally World and then culminating with Only the Lonely, their relationship was so strong that Hughes would find small roles for Candy in films like Home Alone and Career Opportunities. Uncle Buck was largely successful because of the rapport Candy had with a very young Macauley Culkin. On a personal note, John Candy's death is the only celebrity death that made me cry. Hughes' death was premature as well. Two giant talents who found that their creativity galvanized one another.
5. Bill Murray and Harold Ramis
This is a pairing that had everything in it. Directing, starring, writing and producing. If you take all of these art forms, these two had seven films together. Ramis and Murray were the driving force (along with Ivan Reitman) of monster hits like Stripes, Meatballs and Ghostbusters. Murray and Ramis had a falling out after Groundhog Day when it was alleged that Murray wanted Groundhog Day to be much more serious and almost existential in some ways. Ramis wrote it to be a straight comedy. This ended their 30-year friendship. It wasn't until a week before Ramis' death that they reconciled. It's unfortunate that they had this falling out as we might have been treated to more films from this brilliant duo over the years.
4. Martin Scorsese and Robert De Niro
With Scorsese, you could have had Leonardo DiCaprio here as well. But before he found Leo, Bobby was his go-to guy. Scorsese may have won his first Oscar with Leo at the helm but we all know he should have won one years before with Robert De Niro. They have classics like Taxi Driver, Raging Bull and of course Goodfellas. They have made eight films together and more than half of them are considered classic American cinema. It's no secret that after Casino, De Niro's career seemed to nosedive. He made a few more really good films after his collaboration with Scorsese ended but for the most part he never took the same quality roles after his departure from Marty.
3. Bill Paxton and James Cameron
Cameron is one of the most successful directors ever. He is also known to be temperamental and incredibly difficult to work with. Yet there are those who have worked with him on numerous films. They include Sigourney Weaver, Arnold, Michael Biehn, Lance Henriksen, and Jenette Goldstein and of course Bill Paxton. They have worked together five times, including the Titanic documentary Ghosts of the Abyss. Paxton first worked with Cameron on Terminator when he got the hell beat out of him by the cyborg. He was the comic relief in True Lies and the slimy treasure hunter in Titanic. It's a little disappointing that Paxton didn't get the call for Avatar, but they've done plenty of terrific work together over the years.
2. Al Leong and Joel Silver
Yes, this is an odd one but here's why these two are here, at number two. When I was a teenager, me and my friend loved movies. We would see anything and because we saw so much, we began to notice little bit players in different films all by the same director. John Hughes used the grandparents from Weird Science in several films, same with the dad from Ferris Bueller's Day Off. Then we started noticing the same actors show up in a lot of action films. We soon realized that the name Joel Silver was the producer of a lot of the action films we loved. There were even guys we would see over and over again, like Sonny Landham (48 Hours, Predator, Warriors). And then we saw Lethal Weapon and laughed when Endo tortured Martin Riggs. For some reason, Endo just stood out to us. Soon, he began to pop up in many other action films, always in small roles. He was the candy bar eating Special Forces guy in Die Hard and he was also in Action Jackson. He and Silver did four films together. He was never a main actor and he was never going to be a star. But his funny and brilliant work in so many films, four of them being Joel Silver productions, left an indelible mark on me and my best friend.
1. Harrison Ford and George Lucas
Perhaps the greatest collaboration in film history, these two made two of the most iconic characters in Indiana Jones and Han Solo. Ford also appeared in Lucas' 1973 coming of age film American Graffiti and he had a cameo in the Lucas produced Apocalypse Now (this is an uncredited producing credit but he helped Coppola develop the film), playing a General named Lucas. Ford almost didn't get the role of Han Solo because Lucas didn't want anyone in the film that he had worked with before in THX-1138 or American Graffiti. But when Ford was helping Lucas cast for Star Wars, he would always read the part of Han Solo with the actors auditioning for the other roles. After months of reading the Solo part, Lucas finally realized the best man for the role would be Ford. Lucas and Ford did nine films together. And the rest, as they say, is history.
Who are some others you would have on this list?
Written and compiled by Dan Grant.