Robert Pattinson and Guy Pearce deliver strong performances in David Michôd's dystopian drama The Rover. Ryan Pollard takes a look…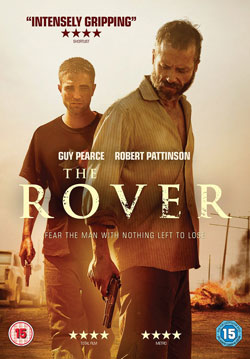 In near future Australia, mankind's greed and excesses have pushed civilisation to breaking point. Society is in decline, and the rule of law has disintegrated. Hardened drifter Eric (Guy Pearce) wanders across this dangerous and desolate landscape. When thieves steal Eric's car – and only remaining possession – they leave behind Rey (Robert Pattinson), a wounded comrade. Eric forces Rey to help him hunt down the gang in an unrelenting quest to take back the one thing that matters to him.
That's basically the plot of the whole movie and there's really not much of it as the film is really just about watching these characters survive and cope through this blasted, post-apocalyptic outback. All we know is that something terrible happened ten years ago called "the Collapse", which is not elaborated upon, and it appears to have ignited this second gold rush of all these people from all over the world coming to Australia to find a living to scratch out. So, the film is all about the survival instincts of people and how they get by.
Undeniably, the film has a strong western feel to it, being very sparse and paired down, and the film cleverly pairs up both the desolation of the outside landscape where the characters are living with their own interior landscapes that are also being wasted away. We find out that something bad happened to Guy Pearce's character's life at around the exact same time as "the Collapse", and there is some kind of unity made there: the outside world falling apart as is his own interior world.
Robert Pattinson is really coming into his own as an actor, after having landed fascinating roles since the Twilight years, having recently excelled in David Cronenberg's striking Maps to the Stars. Here, Pattinson has a good role, as he's perfectly able to play someone who's slightly crazy and dangerous, yet somewhat sympathetic and tragic underneath. You get a sense that he's been abandoned by people who he has trusted.
It does have a bleak and harsh atmosphere that brings to mind the universally acclaimed video game, The Last of Us, which featured characters in a hostile environment. Plus, the character of Joel in The Last of Us is somewhat similar to Guy Pearce's character where he's a man who hasn't many lines left to cross and isn't afraid of going too far.
Whilst the film sets up a lot of fascinating themes, it doesn't really do a whole lot more with them, and personally, the film could have given me a bit more to go on than what was delivered. In the end, The Rover is fuelled by engaging performances from Guy Pearce and Robert Pattinson, and the tension easily overcomes its narrative faults through sheer watchability.

Directed by: David Michôd
Written by: David Michôd
Starring: Guy Pearce, Robert Pattinson, Scoot McNairy
Released: 2014
Genre: Dystopian Drama
Country: Australia
IMDB
More reviews: Latest | Archive
The Rover is released on DVD & Blu-ray January 5th