Nia Jones checks out the best American Horror films including Rosemary's Baby, Dawn of the Dead and The Texas Chainsaw Massacre…
10. Dawn of the Dead (Romero, 1978)
A near-flawless zombie invasion film – fast paced, suburban and super violent. Its influence has been felt in almost every foray of zombie flick ever since. 'Night of the Living Dead' may have changed the face of the horror genre, but Dawn of the Dead is the film Romero will be most remembered for.
9. The Thing (Carpenter, 1982)
The Thing is pure nihilistic terror, a treasured Sci-Fi- horror classic with a perfect plot; a creature from another world that morphs into the likeness of those it murders. Bold and visually excessive, John Carpenter creates a claustrophobic and suspenseful cinematic atmosphere; mixed in with plenty of paranoia.
8. A Nightmare on Elm Street (Craven, 1984)
A film which largely relies on the exploration of the unconscious mind's archetypal horrors and fears. The myth of the bogeyman is personified by Freddy Krueger, an evil being from another world who kills people through their dreams with gloves that have knife blades as each finger.
7. The Texas Chainsaw Massacre (Hooper, 1974)
A group of five teenagers en route to their grandfather's (rumoured) desecrated grave encounter the homestead of the charming 'Leatherface' and his cohorts. An ultimate nightmare at the hands of a sadistic cannibal clan, what the family lack in social graces, they more than make up for in power tools.
6. Frankenstein (Whale, 1931)
Mary Shelley's classic story of man playing God has to be the most influential in regards to the horror genre. Brimming with a morally lined narrative James Whale's primitive yet chilling interpretation of Frankenstein shocked audiences in its day, but even now still enthrals with its truly eerie sequences.
5 Jaws (Spielberg, 1975)
A fast-paced nautical thriller, which made most people too horrified to venture into the sea for a dip. Before we even see the 25-foot, 3-ton great white killer shark savage its first victim our ears are a mortified by composer John Williams's menacing and unforgettable two note film score.
4. Halloween (Carpenter, 1978)
Halloween was a truly ground-breaking horror film for its time, John Carpenter paces the narrative gradually and doesn't rely on the usual gore and blood. The viewer's imagination keeps the terror flowing as we follow asylum escapee and deranged killer Michael Myers on his murderous Halloween night spree.
3. Rosemary's Baby (Polanski, 1968)
The genius of Polanski's directing immerses us completely in the view point of Rosemary herself. We share her suspicions about flamboyant neighbours the Castavets, her fears and the change in her character. Cleverly a horror film rooted not in the dungeons of a gothic castle, but in mundane everyday life.
2. The Shining (Kubrick, 1980)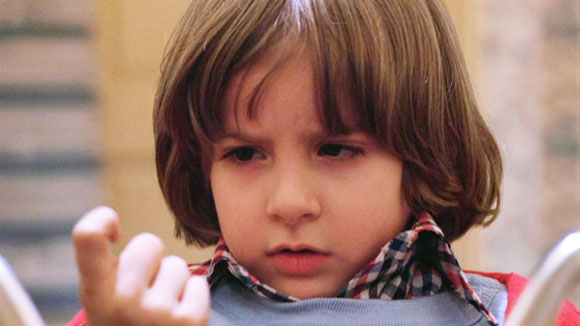 A truly scary and atmospheric horror film. Aspiring writer Jack Torrance takes employment as the caretaker of the secluded Overlook Hotel for the winter- taking along his wife and son. The situation takes a sinister turn when the demons of the hotel's past give Jack a complete and violent personality change.
1. The Exorcist (Friedkin, 1973)
A masterpiece, evoking sheer terror along with brilliant directing and performances; the film narrative itself is wonderfully gripping. Blatty's scriptwriting is sublime, representing the crisis of faith that the characters all encounter with realism. More than just a horror film that keeps us all wondering exactly who or what might be lurking out there.
Written and compiled by Nia Jones
What are your favourite American Horror Films?
Top 10 Films' WORLD TOUR OF HORROR
Top 10 British Horror Films of All Time
Best Horror Films from:
Japan | South Korea | Australia | France |
Scandinavia | Italian Giallo | USA | Canada