Canadian author and horror film fan Dan Grant takes a look at the greatest Canadian horror films ever made including Scanners, The Changeling & Black Christmas…
Making a Canadian film can be daunting at times. There's a lot of talent in the Great White North and there is funding available from different film boards, but getting that funding isn't always easy. It's like going to a bank, they want you to have money before they will lend you money, which is kind of silly when you think about it. But, in recent years, with Lionsgate becoming a major film studio, the content produced by Canadian money and Canadian ideas, has increased.
This isn't to say we don't understand the difference between a homegrown Canadian film and a film that is financed by Canadian money. Just like The Terminator is a film made and written by a Canadian, as is Ghostbusters, these are still American films as they were made with American money.
Having said that, to choose the top ten Canadian horror films of all time is very daunting. There are some films from years past that are considered classics and there are some that have come out in the last decade or so that are also considered to be as good as anything before.
To be considered Canadian, these films have to be produced by Canadian money. The talent involved doesn't have to be Canadian. Again, just as Harry Potter really seems to be made by Brits, it's 100% a Hollywood film as it was produced by Warner Brothers.
Two caveats to this is that I am not including any of the Saw sequels in this list. Even though they are produced by Lionsgate, originally, it was a completely independent film. LG bought the rights to it after they became a company. And two, I am a very big horror fan, hence my idea of quality horror film might differ from yours.
10. Prom Night (Lynch, 1980)
Starring the biggest scream queen of all time, Jamie Lee Curtis, and Canadian national treasure, Leslie Nielsen, Prom Night tells the story of a crazed masked killer (is there any other kind?) who seeks revenge against the teens who he thinks accidentally killed a little girl some six years ago. Curtis was fresh off her success in Halloween and it wasn't until she came on board that this film got the funding to proceed. This is one of the films that is considered as a Canuxploitation film – yes, this is an actual term.
9. Happy Birthday to Me (Thompson, 1981)
Following its release in 1981, Happy Birthday to Me became the highest grossing Canadian film in history. It was short-lived as Porky's took the record the very next year. There are so many things wrong with the film. The twist ending was filmed as an afterthought, there is no released soundtrack, Glenn Ford was drunk for most of his scenes and even its iconic poster which featured a male about to be impaled with a shish kebab filled with meat and veggies, was misleading. It says, "John will never eat shish kebab again." The problem is, there is no character in the movie named John. And yet, the film just works. Part of the reason it does is because the murders really are creative. Sometimes a film can be a mess behind the scenes and still deliver when it counts (See Jaws).
8. Cube (Natali, 1997)
Considered by some to be the best Canadian horror film of all time, this one is just downright creepy. It deals with seven complete strangers, all named after correction facilities, who are stuck in a cube-like prison. They have no idea why they are there or who put them there but they know they have to escape and do so quickly. This is a film that deals a lot with the human condition and the human psyche. You could even say that many films or ideas that have come out decades later, were inspired by this film. An interesting fact is that the special effects company who worked on this, did so for free. They did it because they wanted to support Canadian cinema.
7. American Mary (Soska sisters, 2012)
One of the best horror films of any nationality to come out in the last five years, American Mary goes back to horror film roots. There are no special effects and no CGI. Everything is done with makeup and real members of a body modification society. American Mary was written specifically for Katherine Isabelle of Ginger Snaps fame (a film that just missed the list). It tells the story of a Vancouver medical student who cannot pay her bills.
She starts performing illegal, underground body altering surgeries. From here, the dark and seedy world that Mary becomes part of rears its ugly head and horrific things begin to happen. It's stylishly directed and Isabelle gives a terrifyingly brilliant performance.
6. Rabid (Cronenberg, 1977)
One of the early gross out horror films that put David Cronenburg on the map, this film sounds an awful lot like The Walking Dead. A young woman develops a taste for human blood after some kind of surgery goes wrong and her victims then turn into zombies which causes a city-wide pandemic. This is kind of the who's who of Canadian directors before they got famous. Not only did Cronenberg direct this but Ivan Reitman of Ghostbusters fame, produced it.
5. Black Christmas (Clark, 1974)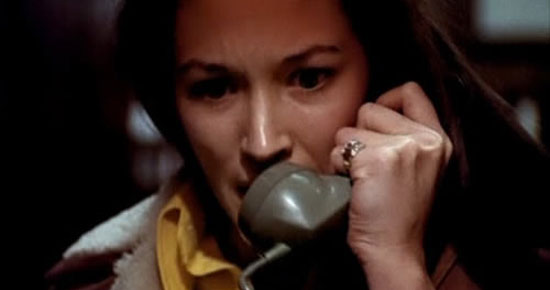 This is generally considered the first of the slasher films. Jason and Freddy owe their start to the man who gave us Porky's and A Christmas Story. Bob Clark was about as eclectic as they come. This creepy and atmospheric story is about a psychotic stranger who makes ominous and threatening phone calls to a sorority house on Christmas Eve, and then proceeds to murder each member. Writer Roy Moore loosely based the story on events that took place in Montreal, also around Christmas time.
4. Scanners (Cronenberg, 1981)
David Cronenberg's best film. Forget Dead Ringers and all of his other successes, this one is the one that tops them all and it also raised Michael Ironside's ante when it came to playing creeps in the movies. Known for its iconic head exploding scene, this is a film that is not only scary in the literal sense but it warns of things that are still relevant some 30-plus years later. Scanners is the story of humans with extraordinary psychic powers and the government wants to use them to…what else…take over the world.
3. The Lords of Salem (Zombie, 2012)
Outside of Rob Zombie's horrible interpretation of Dr. Loomis and the Halloween films, he might be one of the brightest voices for horror film in the last 20 years. He has made two fantastic films that predated Halloween and then he made this one. The Lords of Salem is essentially a story about a small town in Massachusetts that has a very dark secret. Like all horror movies, this secret can only stay dead for so long. Zombie's vision is one of dark and disturbing images that are not easy to watch at times. It's also blessed with one of the strongest casts for a low budget horror film, perhaps ever. One of the highlights is seeing Dee Wallace show that she still has it. Zombie seems to love horror films like many of us do, he's just a little more talented than the rest of us. The Lords of Salem is one of the best horror films of the last decade.
2. The Changeling (Medak, 1981)
The premise is simple and effective. A man staying in a giant and secluded house in Seattle, finds himself haunted by the ghosts that inhabit the house. It's the execution of the film that makes this one of the iconic Canadian horror films. It was also the first horror film to win best picture in the Canadian Oscar equivalent, the Genies. This is a film that utilises dark shadows, seclusion, things that go bump in the night and a plethora of other horror staples, and does it so well. But more than anything, three words can sum up this film: THE BOUNCING BALL. You've been warned.
1. My Bloody Valentine (Mihalka, 1981)
It doesn't get anymore Canadian than this. Made in Canada, starring mostly unknown Canadian actors and produced with Canadian money, this is one film that could have been lost had it not been for Lionsgate buying the rights to it. It's now widely considered the best Canadian horror film of all time. Lionsgate was responsible for adding in nine minutes of footage cut by the MPAA, due to its extreme gruesome nature. Without this footage, it's a good film but with the added footage, you get a more brutal villain and more ingenuity in the killings. This takes place in a mining town in Nova Scotia and the town is finally, after 20 years, celebrating Valentine's Day again. There was a fatal accident that killed several miners and one apparently survived. His name is Harry Warden, and he has come back to take revenge on anyone who dare celebrate this day. Directed with a keen eye for detail, what seemed like a cheap ersatz of better films from the same era, it has stood the test of time and become a classic. For sheer brilliance, check out the scene in the laundromat.
Written and compiled by Dan Grant.
What are the best Canadian horror movies in your opinion?
Top 10 Films' WORLD TOUR OF HORROR
Top 10 British Horror Films of All Time
Best Horror Films from:
Japan | South Korea | Australia | France |
Scandinavia | Italian Giallo | USA | Canada