As Jennifer Lawrence continues to fly the flag for teenage heroes in The Hunger Games movies, we celebrate the franchise's latest instalment Mockingjay with a look at our favourite young heroes.
5. The Lost Boys (Schumacher, 1987)
We begin our top five with a pair of teenage heroes the world really cannot do without. In Joel Schumacher's cult favourite The Lost Boys, we are introduced to vampire hunters the Frog brothers. With comic book lore their doctrine to finding and killing these bloodsucking fiends, their mission is to keep hometown Santa Carla safe from total apocalypse. With a little help from their friends, they just about succeed.
4. Spider-Man (Raimi, 2002 – 2007 & Webb, 2012/2014)
At four, we're swinging from New York skyscrapers with Spider-Man. Whether you prefer Sam Raimi's 2002 version of the web-flinging teenager or Marc Webb's 2012 interpretation, few can argue that the likeable Peter Parker fails to scale the heights to become one of cinema's best superheroes.
3. Kick-Ass (Vaughn, 2010)
At three, we join Kick-Ass and Hit Girl in their much-loved 2010 adventure. They are the crime-fighting heroes of director Matthew Vaughn's offbeat adaptation of Mark Miller's comic book series. Developed by the same team that brought us the romantic fantasy Stardust with Vaughn writing alongside Jane Goldman, the pair concoct a unique interpretation of the genre while delivering all the thrills you expect from the superhero movie.
2. Harry Potter (Various, 2001 – 2011)
On to second place and we have the Harry Potter series. The fascinating thing about the eight movies, released between 2001 and 2011, is how we, as an audience, have grown up with Harry, Ron, Hermione and the rest of the gang. It makes for an even more engrossing and exciting adventure thanks to the imagination of author J.K. Rowling and the skill of an assortment of directors who have so beautifully realised these tales on-screen.
1. The Goonies (Donner, 1985)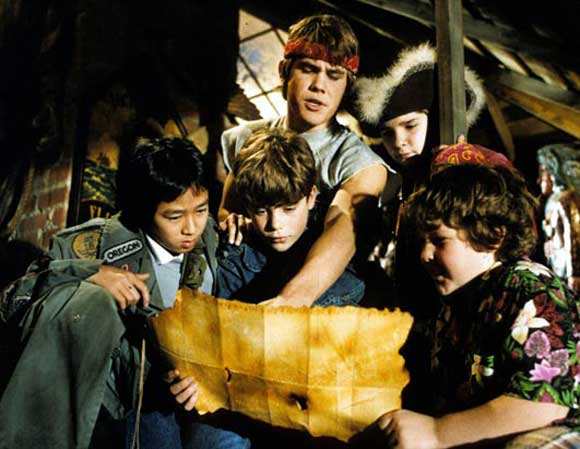 So, that brings us to number one in our top five. For this entry, we ditch magic wands and superpowers for homegrown courage as "The Goonies" head off on adventure to save their homes from destruction. This exciting tale of pirates and lost treasure is filled with great adventure, characters you'd love to be friends with in real life, and some great villains led by the incomparable Anna Ramsey as leader of the Fratelli gang.
Top 10 Films collaborated with the The Reel Deal film show for this top 5!