Doctors in cinema rarely save lives, in fact, much of the time they only make life more difficult! It's more fun that way! Here's 10 crazy movie doctors – from Doc Brown to Hannibal Lecter – you simply can't miss…
10. Dr. Josef Heiter – (The Human Centipede: First Sequence, 2009)
It probably comes as some surprise to see The Human Centipede appear on a top 10 list (unless that list is referring to the worst cinema has to offer) but in this case it is undoubtedly justifiable. That's because we are talking about crazy doctors and one of the craziest is kidnap and torture fetishist Dr. Josef Heiter. This guy has visions of the "human centipede" so surgically conjoins three very unfortunate individuals to each other by way of their rear passages (to put it as mildly as possible).
9. Doc Brown – (Back To The Future, 1985)
With his white, frizzed mop of hair, Christopher Lloyd's lovable Doc. Brown is an eccentric creator of time-travel. Problem is, he's powered his device with Plutonium nabbed from a bunch of terrorists and they are understandably miffed. When they track him down to reclaim their agent of destruction, Doc. Brown's closest friend, teenager Marty McFly is sent back in time. There he must save not only his life by ensuring his mother and father meet and fall in love, but figure out a way to save the Doc's life knowing that in the future he has just left behind, his friend is shot and killed.
8. Dr. Jekyll (Dr. Jekyll And Mr. Hyde 1931)
We go back to 1931 for this crazy doctor as Henry Jekyll finds out just what his evil side looks like when Edward Hyde emerges from within after he takes an experimental drug. Fredric March, in a much celebrated role, plays both Jekyll and Hyde with the doctor's initial transformation being one of the great moments of studio era fantasy cinema.
7. "Hawkeye" & "Trapper John" (MASH, 1970)
Inflammatory in their antics and adverse to authority, Donald Sutherland and Elliott Gould's military doctors in Robert Altman's MASH are, however, the sort of guys you'd want in a life or death situation. Why? Because if they didn't save you, they'd probably at least make you laugh. "This isn't a hospital, it's an insane asylum!"
6. Dr. Michael Michael Hfuhruhurr – (The Man With Two Brains, 1983)
Steve Martin is the crazy doctor in Carl Reiner's brilliant 1983 comedy The Man with Two Brains. His antics as a pioneering brain surgeon see him save the life of the beautiful Dolores Benedict (Kathleen Turner) who he proceeds to marry. However, she turns out to be a gold-digging sociopath who the doctor eventually leaves after falling in love with a disembodied brain which he carries around in a jar. I did say "crazy" didn't I!
5. Beverly Mantle / Elliot Mantle (Dead Ringers, 1988)
Not one mad doctor, but two! Jeremy Irons plays Beverly and Elliot Mantle in David Cronenberg's psychological mind-bender Dead Ringers. The two men abuse their position as leading gynaecologists by seducing the women who come into their care, where the more confident Elliot has first dibs before he passes them to the more reserved twin Beverly. When Beverly becomes romantically attached to one of the conquests, the brother's relationship is thrown into turmoil. Beverly, for example, has visions of mutant women attacking him with abnormal genitalia prompting him to develop bizarre surgical instruments to combat these abnormalities.
4. Dr. Carl Hill (Re-Animator, 1985 + Bride Of Re-Animator, 1990)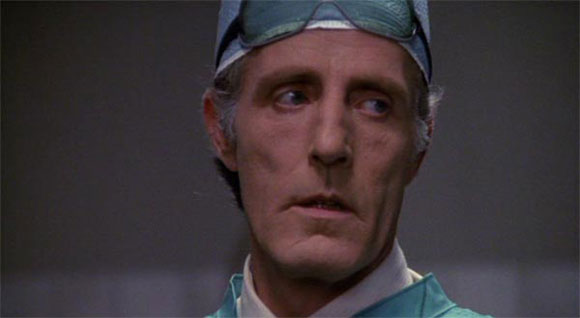 David Gale is the loopy doctor in 1985's Re-Animator, a fun, madcap horror-comedy combining elements of Romero's Night of the Living Dead with Universal's classic Frankenstein. Dr. Hill, after being killed and decapitated by Jeffrey Combs' eccentric research student Herbert West, finds himself reanimated thanks to West's revolutionary re-agent. Taking his opportunity to escape, Hill, with his head carried around blindly by his headless body, decides to wreak havoc by reanimating and controlling the corpses he finds at the local morgue to carry out his bidding.
3. Dr. Lecter (Silence Of The Lambs, 1990 + Sequel/Prequels/Remakes)
What's for dinner? On Hannibal "the Cannibal" Lecter's menu it would probably be you. Sir Anthony Hopkins is terrifyingly calculated in his role as the psychiatric doctor with a penchant for human flesh. His heart-stopping, icy stare is enough to make Lecter a terrifying creation but, when the opportunity arises to escape imprisonment, his ghastly method to relinquish himself of confinement highlights a frightening intelligence beneath such incomprehensible madness.
2. Dr. Frankenstein (Frankenstein, 1931 + many other incarnations)
The greatest of the "mad scientists" from Universal Pictures' much-loved 1931 classic Frankenstein. The well-known tale sees Dr. Henry Frankenstein (Colin Clive) and his hunchbacked assistant Fritz (Dwight Frye) piece together a human body and give it life. "It's ALIVE!"
1. Dr. Henry Walton "Indiana" Jones, Jr. (Raiders Of The Lost Ark, Indiana Jones And The Last Crusade etc., 1981- )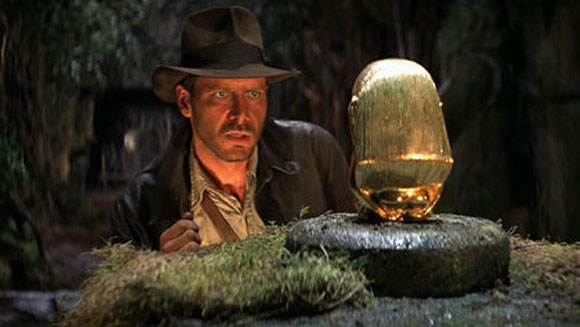 What!? You thought all doctors had to be medical professionals. Think again. Who else could top a list of crazy movie doctors but daredevil archaeologist Indiana Jones (Harrison Ford). By day he's a teacher of history and the apple in the eye of Marshall College's entire female student body; by night, he's the adventurous seeker of antiquities, the globe-trotting, whip-swishing hero, and the fly in Hitler's ointment.
MORE: Top 10 Harrison Ford In Peril Films
Over to you: what crazy movie doctors have left an impression on you?