John Cusack's varied career gets the Top 10 Films treatment as Neal Damiano checks out the actor's best performances including The Sure Thing, Say Anything and High Fidelity…
10. The Contract (Beresford, 2006)
The Contract is an entertaining cat and mouse thriller. Cusack is an ex-cop trying to spend time with his son. They plan a hiking trip across the Northwest. As chance would have it, he runs into a wounded U.S. Marshall and the convict he's assigned to send to jail. It is quite a different role for Cusack, he is very intense and confident. They face rugged terrain and obstacles along the way. Cusack holds the film very well and really shows his acting range.
9. The Sure Thing (Reiner, 1985)
I was never one for romantic comedies. But The Sure Thing I like very much because of Cusack's goofy character. He manages to be very silly and self aware, but can be serious when needed. Two college students are forced by circumstances to travel cross country together. The contrast of Cusack's goofyness and Daphne Zuniga's strait-laced demeanor is funny to watch. On the surface they can't stand each other, but the sexual tension is obvious and very entertaining.
8. Money For Nothing (Menéndez, 1993)
Based on the true story of Philadelphian millionaire Joey Coyle, this comedy-drama stars Cusack as a blue collar worker who falls into an instant fortune when he finds $1.2 million that fell out of an armored car. Well, you can probably guess what happens next. He starts living the charmed life as only someone with money can. It is interesting to see the transition of someone who never really had a dime, come across money and how it affects their life emotionally, financially, and morally.
7. Adult World (Coffey, 2013)
In my opinion, Adult World is his best role in years. Cusack plays Rat Billings, a successful poet, who does not like people very much. Emma Roberts plays a very ambitious writer, who wants to be a poet. After a chance meeting with her idol Rat Billings, she develops an unhealthy crush and begins to stalk him. Cusack generally plays very likable characters in most of his films. He really stretches himself in this role, playing a very unlikable man but he's incredibly convincing. It's interesting to see him this way. I enjoyed the story, it's quirky, original, and funny.
6. Identity (Mangold, 2003)
A group of travelers are stuck in a run down motel in the middle of a rain storm. As they wait for the roads to clear, someone has a vendetta against the guests. The patrons are killed off one by one. The who-done-it factor here is strong and not in the slight bit predictable. Cusack plays an incredibly creepy man and still remains charismatic. Identity is a fascinating film simply for the engaging quality it possesses. I remember seeing this in the theater and being completely immersed in the story. The movie reminded me of a film version of Agatha Christie's amazing novel "And Then There Were None".
5. The Grifters (Frears, 1990)
The Grifters is a seedy, intense film noir set in Los Angeles about three con artists. It includes an all star cast with Anjelica Houston playing a greedy woman on the take and always looking for the next score. Cusack is her son and wants to quit the world of grifting. Although he has a very estranged and bizarre relationship with his mother, he still cares very deeply for her. I feel this film really shows Cusack's incredible acting ability, because he is struck with a moral dilemma through the entire movie. He falls for a beautiful, smooth talking lady played by Annette Bening. In a weird incestual vibe, Houston tries everything in her power to keep Bening away from her son. You never know who's swindling whom throughout the movie and the ending will leave you a little unsettled. The acting is phenomenal while the story intrigues throughout.
4. Gross Pointe Blank (Armitage, 1997)
Grosse Pointe Blank is a very stylish and funny dark comedy. Cusack stars as a jaded hit man whose latest job brings him to his hometown of Grosse Pointe, Michigan. At the same time his high school reunion is taking place. Cusack's character is sarcastically entertaining between doing bad things and being completely school-boy romantic with his lost flame played by Minnie Driver. His character is a bad guy, but you continue to root for him. He has redeeming qualities that shine through the entire film. He tries to find love again, while running from his ex-mentor, who's trying to make him permanently retire. Cusack's undeniable charm really shines in this film.
3. Better Off Dead (Holland, 1985)
Cusack is dumped by his girlfriend, stalked by a paperboy, and dreams of singing hamburgers. His life is pretty much a drag, but the only thing keeping him from killing himself is the beautiful exchange student living with his neighbors. What can I say here, in my opinion Better Off Dead is one of the greatest dark comedies ever made. So many quotable lines and hilarious scenes throughout including Cusack on ski's being chased down a snowhill by his paperboy. Only Cusack could pull off this character while remaining morose and funny at the same time.
2. Say Anything (Crowe, 1989)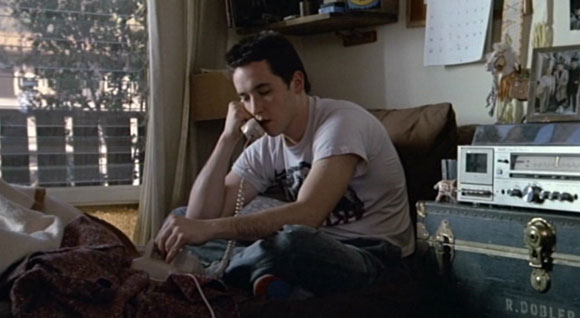 Once again, I don't like romantic comedies, however I make an exception with Say Anything. How could you not like Lloyd Dobler played by Cusack. A goofy slacker, who falls for the valedictorian good girl. Again, I don't want to be redundant here, but the amount of likable characters Cusack's played throughout his career is unbelievable. He just does this so well and Dobler is a character that really resonated with people. He is utterly silly, wearing a Clash t-shirt and trench coat with no real ambitions other than to go on a date with Diane Court played by Ione Skye. Cusack and Skye's chemistry is quite natural with many memorable scenes together. What I really like about this movie is that it shows that sometimes all you really need is someone that cares.
1. High Fidelity (Frears, 2000)
Based of Nick Hornby's popular novel, High Fidelity stars Cusack as a sarcastic and pessimistic owner of a Chicago record store who takes a look at his life after his relationship with lawyer Iben Hjejle fails. The one thing Cusack loves more than his record collection is women. A sharp comedy, Cusack was born to play this character. He spends most of his time listening to music and making top 5 lists on just about everything. Having seen many interviews with John Cusack I know he is heavily into music. So he's kind of playing himself, but is quite humorous and entertaining. Most people find list makers very annoying and anal, however Cusack displays his vulnerability in a heartfelt and redeeming way. If Cusack's character knew as much about woman as he does music, he'd be alright. He just can't seem to get it right, constantly battling between emotions and logic throughout the film. He has several witty and funny quotable lines. I really enjoyed Cusack's character in High Fidelity and found him very relatable to myself. The co-stars are hilarious and the story comes together well, with Cusack being the focal point.
Written and compiled by Neal Damiano.
What are your top 10 films of John Cusack?