The London Film Festival is in full swing. So, Top 10 Films & The Reel Deal film show check out five great movies that made a splash at film festivals around the world before becoming widespread audience favourites.
With fans flocking to the city for the BFI London Film Festival we thought we would take a look at a selection of great movies that first made a splash at these grand celebrations of cinema. These films, all winners of top prizes, set their creators, both actors and directors, on a path to super stardom while the movies themselves have become firm audience favourites.
5. Winter's Bone (Granik, 2010)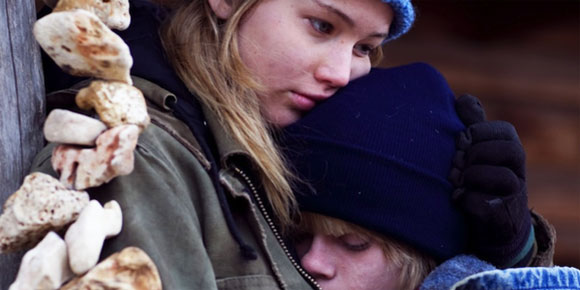 We begin with Winter's Bone at five, director Debra Granik's icy cold adaptation of Daniel Woodrell's 2006 novel. The film tells the story of a teenage girl who must protect her poor family from eviction by setting out, in the rural American Ozarks, to find her missing father. Success at a major film festival is often a step to greatness for the director but in the case of Winter's Bone, which won the Grand Jury Prize at Sundance, it was to be the film's star who would benefit most. Of course, I'm talking about Jennifer Lawrence who delivers a staggering performance as the film's young but courageous hero. Hollywood's current First Lady has not looked back since with a string of hits including The Hunger Games franchise.
Read Top 10 Films Editor Daniel Stephens' full review HERE
4. Blood Simple (Coens, 1984)
For our film at four it is very much the directors who benefited most from their festival success. Like Winter's Bone, the Coen Brothers' dark neo-noir Blood Simple took home the Grand Jury prize at Sundance, setting them on the road to stardom with their quirkily offbeat sensibilities. Cult hits Raising Arizona and Barton Fink have joined the much-admired Fargo, No Country For Old Men and The Big Lebowski in a body of work that proves they're Hollywood's most unique creative duo.
3. Sex, Lies and Videotape (Soderbergh, 1989)
At three, we see Steven Soderbergh's career take a giant leap following success at Cannes. His debut feature Sex, Lies and Videotape won the Palme d'Or, propelling him towards critical and commercial successes with the likes of Ocean's 11, Out of Sight and Erin Brockovich.
2. Taxi Driver (Scorsese, 1976)
In second place is Taxi Driver. While it's considered a classic of the American New Wave and perhaps the pinnacle of Martin Scorsese and Robert De Niro's careers, the pair were largely finding their footing in the industry when the film's release was marked by Cannes' biggest prize.
Top 10 Films about Taxi Drivers
1. Pulp Fiction (Tarantino, 1994)
[ad#Google text Ad – square no border]
The king of film festival sensations, however, is Quentin Tarantino's 1994 Pulp Fiction which debuted at London-based Raindance before taking the top prize at Cannes. Tarantino became a household name with this multi-stranded black comedy about the crime-filled lives of an assortment of oddball characters. It's a great example of a classy indie-hit becoming a mainstream favourite and it remains one of the greatest American films of the 1990s.
Pulp Fiction appears in Top 10 Spontaneous Dance Sequences in Film
You can see more from The Reel Deal on Top 10 Films or on YouTube.