Best known for his roles as a junkie in Danny Boyle's Trainspotting & as a Jedi Knight in George Lucas' Star Wars franchise, Ewan McGregor has enjoyed a career of real variety. Neal Damiano takes a look at his best work
10. Black Hawk Down (Scott, 2001)
Director Ridley Scott's heart-wrenching war drama follows the doomed 1993 mission of U.S forces in Somalia. McGregor is sent in to capture top aides of the rebel enemy. When two Black Hawks are shot down, two soldiers are outnumbered in the city streets. A very dangerous mission has started. Not generally known for action roles, I really liked Ewan's performance here; very commanding and rugged. The Scottish actor usually plays quirky and somewhat anti-hero roles; but here he's a more straightforward hero.
9. Rogue Trader (Dearden, 1999)
An intense thriller about the fall of London's Barings Bank. Ewan McGregor plays Nick Leeson, a hotshot merchant banker in Singapore. Leeson gets a little too greedy and begins playing with the company's books and moving funds around in his favor. His cockiness ultimately leads to his downfall and the company's ruin. Ewan is cunning, manipulative, and conniving to the point where you love to hate him. But he does not lose that charm he carries so well.
8. Deception (Langenegger, 2008)
A soft spoken auditor becomes very intrigued by his smooth talking fellow attorney (Hugh Jackman) when he finds himself led into the seedy underground world of sex clubs. There, his risky affair with a beautiful woman (Michelle Williams) leads to dangerous intrigue and sexual disloyalty. Deception is a very entertaining sensual thriller, due mainly to McGregor's and William's chemistry. They sizzle on screen with lust and passion, but his naive and almost schoolboy nature, steals the movie.
7. The Island (Bay, 2005)
In the same fashion of Logan's Run, The Island is a non-stop sci-fi adventure ride from start to finish. Directed by Michael Bay, and starring Ewan McGregor and Scarlet Johansson, the pair are members of an unproductive society set in the future and hope to be selected for living on a fabricated serene island. After discovering they're clones on their way to be destroyed they plan an escape, with an evil man on their trail. Once again, this movie shows McGregor can also star in action/adventure films. The story is quite interesting and there's a lot of entertaining action throughout the whole movie.
6. Velvet Goldmine (Haynes, 1998)
Todd Haynes' tribute to the era of glittery sex and drug-filled glam rock of the 70s sees Christian Bale's reporter trying to get the inside story of glam icon Brian Slade (Jonathan Meyers) who disappears years earlier after a fake assassination attempt. McGregor co-stars as Slade's obnoxious colleague – he is overly eccentric and very zany in this role, which is quite refreshing from the serious roles he often plays. I like timepiece era films and Ewan's zealous behavior just makes you laugh in a time when music really mattered and the artists were so original.
5. Stay (Forster, 2005)
After threatening to commit suicide, art student Henry Latham (Ryan Gosling) becomes the object of obsession for Sam Foster (Ewan McGregor), a psychologist, whose search for the estranged young man results in his own deep conflicts with life, death, and the existence of his reality. I feel Ewan really displayed his acting ability in this film. The movie mainly focuses on him and he really has to pull from his confident self to play a man who is losing grip with reality and his own sanity. He does such a fine job you're really routing for him in the end. A very entertaining psychological thrill ride.
4. Nightwatch (Bornedal, 1997)
This is one of my favorite psychological thrillers featuring Ewan McGregor who plays a law student who takes a janitorial job at a local morgue. A series of prostitutes turn up dead in the area. McGregor finds himself too involved with the case and becomes under suspicion by police detective Nick Nolte for the murders. A cat and mouse chase ensues that makes him possibly the next victim. I liked this movie because it really shows Ewan McGregor's ability to completely engage your attention on screen. He is very persuasive and it is one of the roles he completely immersed himself in. The film has a very creepy atmosphere and leaves the viewer on the edge of their seat with anticipation.
3. A Life Less Ordinary (Boyle, 1997)
A romantic comedy from Danny Boyle, McGregor plays an out of work janitor that tries to get his job back. This attempt turns into a zany kidnapping with help from his ex-boss' daughter played by Cameron Diaz. Adding to the renegade's problems on the journey are a pair of angels determined to bring the couple together. McGregor and Diaz, who benfit from a very quirky, original, and offbeat script, radiate on screen and their chemistry is undeniable. This particular film really shows how he is able to play a serious and funny character at the same time.
2. Shallow Grave (Boyle, 1994)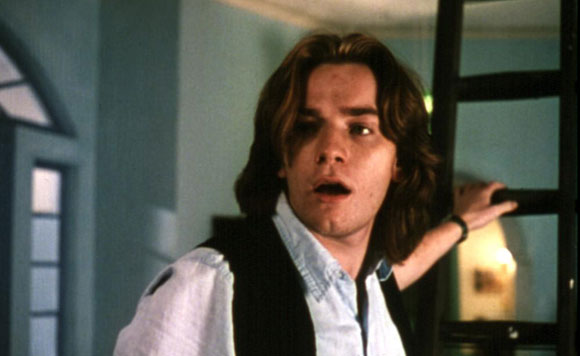 This is one of my favorite films, I fell in love with it the moment I saw it. A group of friends search for a fourth roommate for their apartment. They find a quiet, unassuming man that tends to stay in his room and never leaves. Getting intrigued they decide to enter the room only to find him dead, along with a suitcase full of money. What ensues is greed, jealousy and murder as the three plot, fight, and kill for the money. The acting is phenomenal and the story is brilliant. Ewan McGregor is totally convincing as a charismatic yet greedy, little creep; you find yourself hating him through the film. But he is also quite funny and off the wall especially at the party scene. It is such an engaging film that finds you anticipating who is going to end up with the money. A very entertaining movie about the desire for money and the lengths one will go to have it.
1. Trainspotting (Boyle, 1996)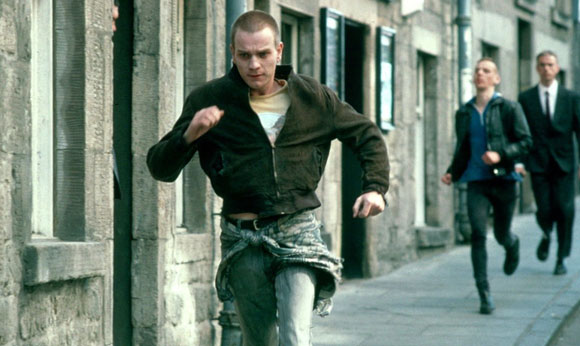 Trainspotting is the film that introduced me to Ewan McGregor's fascinating work – it's a gritty look at a group of heroin addicts in Scotland. Director Danny Boyle's adaptation of Irvine Welsh's novel follows Mark Renton (Ewan McGregor) on a journey to redemption, as he continually tries to kick a terribly intense drug habit, only to be lured back in time and time again. It features off the wall characters and insanely funny, quotable lines especially from McGregor. Once again, a film that displays Ewan's brilliant acting ability. The scenes are so vivid and surreal, for example, the world's dirtiest bathroom scene, where Renton is so addicted he dives into the dirty scum-ridden toilet to retrieve his heroin. McGregor's character really battles with moral dilemma and trying to go down the right path in life. He gets tempted with addiction, greed, and sexual perversion. He's so convincing I actually thought he had a drug habit. In the end, seduction is far too powerful and he betrays his friends, hoping to live the straight and boring life. Trainspotting proves the pairing of Boyle and McGregor is a match made in movie heaven!
Written and compiled by Neal Damiano.
What are your top 10 films of Ewan McGregor?