Scarlett Johansson comes crashing into cinemas this week in Luc Besson's new action film Lucy. To celebrate its release we check out five great kick-ass movie heroines…
This week sees the release of Luc Besson's new actioner Lucy starring Scarlett Johansson. Captured by the Korean mob, a young woman is forced to transport a powerful recreational drug from East Asia into Europe. When a large quantity of the drug unwittingly ends up in her body she develops superhuman powers allowing her to turn the tables on her captors and become a highly evolved, merciless warrior. So to celebrate the release, we check out five of our favourite kick-ass movie heroines…
5. Clarice Starling (Silence of the Lambs)
We begin with a quiet hero in psychological thriller Silence of the Lambs. Jodie Foster's physically small presence belies an overwhelming strength in the face of the worst kind of evil. Opposite the cool, calculated Hannibal "the cannibal" Lector – played with terrifying simplicity by Sir Anthony Hopkins – Foster's diminutive FBI trainee Clarice Starling must draw on her incredible resolve to work with the incarcerated madman in order to capture a similarly crazed killer who has so far alluded law enforcement. Both Foster and Hopkins rightly won Academy Awards for their performances.
4. Carrie (Carrie)
Next up, at 4, we go even darker in Brian De Palma's Carrie as an introverted suburban teenager finds out she has telekinetic powers. This stylish thriller sees her develop this newfound skill to move objects with her mind in order to battle bullies at home and at school. Sissy Spacek's incredibly vulnerable performance makes her eventual fight back all the more poignant as the sympathetic victim becomes vengeful aggressor.
3. The Bride (Kill Bill Vol. 1 & 2)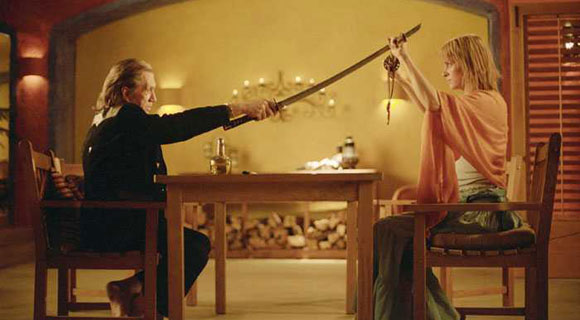 Speaking of revenge, that's the name of the game in Quentin Tarantino's Kill Bill at number 3 in our top 5. Uma Thurman plays the kick-ass heroine known only as The Bride who seeks vengeance against her former team of assassins after they attempt to murder her. It's spot the movie reference time as Tarantino draws inspiration from Hong Kong and Japanese action films, Anime and the Spaghetti Western in his stylish depiction of blood-soaked retribution.
2. Sarah Connor (The Terminator and Terminator 2: Judgment Day)
Now for a different kind of fight back as Sarah Connor from the Terminator films takes our silver medal position. When machines from a post-apocalyptic future run by artificial intelligence send killer robots into the past to destroy the future leader of the human resistance, Connor must find a steely fearlessness in the face of a seemingly unstoppable villain. It's great to see the transformation of her character across two action classics – firstly she is the inadvertent hero, her exposed frailties thrust into an out of control situation; later she's the toughened, psychologically scarred one-woman army. James Cameron has a knack of writing strong female characters and that's one of many reasons why the Terminator films are so good.
1. Ripley (Aliens)
[ad#Google text Ad – square no border]
And speaking of James Cameron – he's a big reason why Sigourney Weaver's Ripley takes our number one spot. Ripley's character satisfying evolves across the Alien franchise but it's in Cameron's 1986 film Aliens where her character truly becomes the kick-ass movie heroine. Sent to help a team of heavily armed marines investigate a distant planet after contact is lost with its terraforming community, Ripley's perceived safe passage is quickly revealed to be anything but. Finding not one terrifying alien creature but hundreds, the marines are quickly overrun. It isn't long before the surviving soldiers turn to Ripley to plan and lead their escape. Ripley's brave tenacity is perfectly framed by the crumbling machismo all around her, which is made all the more captivating by Weaver's Oscar-nominated performance.
You can see more from The Reel Deal on Top 10 Films or on YouTube.