[ad#Google for posts – rect with border]
Rob Reiner's "Stand By Me"

"I was 12 going on 13 the first time I saw a dead human being. It happened in the summer of 1959-a long time ago, but only if you measure in terms of years. I was living in a small town in Oregon called Castle Rock. There were only twelve hundred and eighty-one people. But to me, it was the whole world."
"Stand By Me" is one of the finest Stephen King book-to-screen adaptations ever made. Director Rob Reiner had a knack with King's material as he also brilliantly brought "Misery" to the screen. In "Stand By Me", a tale steeped in 1950s nostalgia, four childhood friends set off on a journey to find the missing body of one of their classmates. The friends, portrayed by young actors River Phoenix, Corey Feldman, Wil Wheaton, and Jerry O'Connell, discover more than just a body on their travels, each finding a bond within one another that would last for the rest of their lives.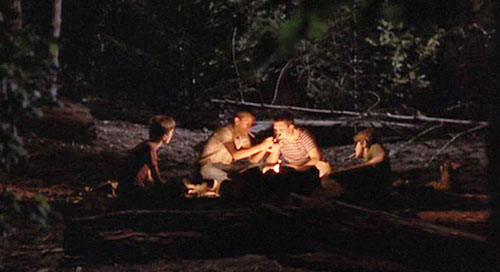 It is a wonderful film about friendship, growing-up, family, and the innocence of youth. One scene that has always stood out occurs between the late River Phoenix and Wil Wheaton. Phoenix's Chris Chambers is the school bad boy. We learn that the school suspended him over missing milk money but as Chris explains to Wheaton's Gordie Lachance, no one ever asked him if he took the money, they just assumed he had because of his reputation.
Stephen King says the idea came from a real life experience when he was in the seventh grade. Reiner has stated frequently that the scene in the movie is his favourite. He says, "It's beautifully written, with the dialogue taken straight from the book. It talks about a time when a child is let down by an adult which is a devastating thing when an adult disappoints you, or lies to you, or cheats you in some way. That is a terrible blow to a child. The other thing is the two performances, when we did that scene, River had to carry that very emotional thing where he breaks down and cries over having been hurt by this teacher in the school.
"When he did it the first couple of times he didn't have all the emotion he needed for the scene. I talked to him about some sense memory – I asked him if there was a moment in his life when he could recall an adult letting him down and betraying him in some way. I don't want you to tell me what it is, I just want you to think about it. He went off and thought about it then came back and said I'm ready to do the scene."
The take that was then recorded was the one we see in the film.

Chris Chambers (River Phoenix): "So let's just say that I stole the milk money, but Old Lady Simmons stole it back from me. Just say that I told this story. Me, Chris Chambers. Kid brother to Eyeball Chambers. Do you think that anyone would've believed it?"

Gordie Lachance (Wil Wheaton): "Did you take it?"

Chris Chambers (River Phoenix): "Yeah, I took it! I mean, you knew I took it. Teddy knew I took it. Everyone knew I took it. Even Vern knew it, I think. But maybe I was sorry and I tried to give it back. Maybe I took it to Old Lady Simmons and told her, and the money was all there. But I still got a three day vacation because it never showed up. And maybe the next week, Old Lady Simmons had this new suit on when she came to school.

Chris Chambers (River Phoenix): "I just wish I could go someplace where nobody knows me."
Reiner adds, "It was one of those times he felt comfortable enough to expose himself. After the scene I went over and hugged him."