Daring, prolific, stylistic, bombastic and performance-driven, the work of Robert Aldrich combines all these things into a body of work that stands up strongly against any of his contemporaries.
While a lot of the cinema of Robert Aldrich (1918-1983) now seems a little archaic, it's hard to deny that he ended up being one of the most daring, prolific, stylistic, bombastic and performance-driven Hollywood filmmakers of his day. Plus – when put in context – a lot of his stuff was pretty cutting edge. Mark Fraser looks at 10 high points in this idiosyncratic director's 28-year career.
10. Twilight's Last Gleaming (1977)
This saw Aldrich return to the nuclear paranoia territory he originally visited during the 1950s with his uncredited World for Ransom (1954) and 1955's pseudo noir masterpiece Kiss Me Deadly (see below). It follows the exploits of US renegade air force general Lawrence Dell (Burt Lancaster) and his small ragtag team of domestic terrorists (Burt Young, Paul Winfield and William Smith), who escape from death row and threaten to start World War III after forcibly gaining control of an underground ICBM missile silo. While a good portion of this now looks like it's been made for television (Aldrich used Robert Hauser instead of his regular cinematographer Joseph Biroc to shoot it), Twilight's Last Gleaming boasts – in true Aldrich tradition – a punchy finale as Dell and Willis Powell (Winfield) use US President David Stevens (Charles Durning) as a hostage while they try to escape the military compound. A bit clunky, talky and sometimes heavy handed (on top of being anti-nuke, it also plays its hand as an anti-Vietnam War statement), this film nevertheless boasts another solid Lancaster performance, an interesting supporting cast (including Richard Widmark, Joseph Cotton, Melvyn Douglas and Aldrich regular Richard Jaeckel) as well as moments of political commentary that are still relevant today. Additionally, it contains some interesting split screen coverage during the tenser moments – a device which helps boost this dialogue-heavy picture's tempo. Finally, it was the director's last angry movie, with his subsequent three works (1977's awful The Choirboys, 1979's dull The Frisco Kid and 1981's much better … All the Marbles* being nothing more than pseudo comedies. (*This was released as The California Dolls for the international market.)
9. Too Late the Hero (1970)
A film which could easily have been called The Incompetent Dozen. Set in the southwest Pacific during World War II, it's about a group of predominantly not-too-keen Brits and Scots that is sent on a suicide mission to knock out a Japanese radio post in the jungle during the lead up to a US invasion. Of course things don't turn out as planned and the team starts to quickly disintegrate, leaving it up to a reluctant bi-lingual American lieutenant (Cliff Robertson) and a cynical English medic (Michael Caine) to salvage the day. Co-written by Aldrich (who also came up with the idea) and his long term script collaborator Lukas Heller, this reasonably taut and well-acted jungle thriller becomes quite ludicrous in its second half when, having completed their objective, the saboteurs are subjected to some psychological warfare by a Japanese major (Ken Takakura), who orders them to surrender via a number of loudspeakers that have been rigged in the trees. Nevertheless, it ends with a rousing finale when Hearn (Caine) and Lawson (Robertson) are forced to make a perilous dash for freedom under some inexplicably delayed mortar cover. Like The Dirty Dozen three years earlier (see below), Aldrich employs an interesting cast that includes Denholm Elliott, Harry Andrews, Ian Bannen, Henry Fonda and Ronald Fraser who, as a corpse robber, has never been sleazier.
8. Emperor of the North Pole AKA Emperor of the North (1973)
Set in depression-stricken Oregon during the early 1930s, a tough-as-nails hobo (Lee Marvin) takes on the meanest freight train conductor on Earth (Ernest Borgnine) as he tries to bum free rides from the railroad company. An unsentimental, violent, but intelligent B-grade period piece with a reasonably acute eye for detail and a great sense of costume design, this one didn't do too well at the box office despite the presence of two screen greats and a climatic alpha male fight scene on board an open box car that took (according to Marvin) 14 days to shoot. As with Twilight's Last Gleaming, Aldrich includes some interesting split screen stuff to speed things up.
7. The Big Knife (1955)
In this adaptation of Clifford Odet's stagey attack on Hollywood, hot actor-superstar with a past Charlie Castle (Jack Palance) tries desperately to save both his marriage and career, despite the fact they don't seem compatible. Palance is great – as is Rod Steiger in a role that might well have suited a younger Anthony Hopkins – with the tight direction suggesting Aldrich was in the same league as the other Hollywood film makers of his generation who successfully tackled stage plays during their movie careers (like Sidney Lumet and John Frankenheimer).
6. The Dirty Dozen (1967)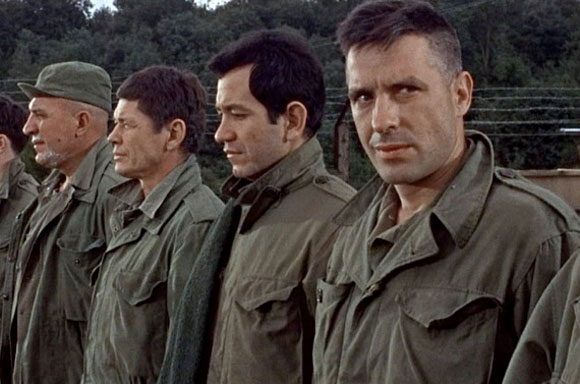 During World War II a group of American army prisoners, all of whom are either facing execution or lengthy gaol sentences, are recruited for a suicide mission in the lead up to D-Day.One of the last star-studded Hollywood extravaganzas of the 1960s, this well-paced film boasted a stellar cast (including Lee Marvin, Charles Bronson, Ernest Borgnine, Robert Ryan, Donald Sutherland and John Casavettes) and did exceedingly well at the box office. It is also quite mean-spirited – as part of their task, the felons round up a bunch of German officers and their wives, lock them in a cellar and then cold bloodedly dispense of them using petrol and grenades. Possibly Aldrich's most financially successful film until he released The Longest Yard some seven years later.
5. Ulzana's Raid (1972)
One of three major revisionist Hollywood westerns made in the early 1970s – along with Ralph Nelson's violent Soldier Blue (1970) and Arthur Penn's epic Little Big Man (also 1970) – that dealt with the plight of the American Indian during the early days of white settlement. Unlike the former, which is pretty much an out-and-out anti-cavalry film, Ulzana's Raid does not write the army off as a bunch of murderers; nor is it particularly sympathetic to the plight of the Chiricahua Apaches, of which the renegade Ulzana (Joaquin Martinez) and his men are members. It also bears little resemblance to the Penn film insofar as it's neither a sprawling biopic nor a part-time comedy. Rather, it harks back to the darker territory explored by John Ford in The Searchers (1956), when the restless savages were hunted down like dogs as the civilised world expanded west. Given Aldrich's vision was not as poetic as that of Ford's, it's no surprise that Ulzana's Raid contains none of the sentimentality which permeates The Searchers (families, for instance, do not represent stability – they exist instead as hapless victims ready to be slaughtered). Furthermore, the tone of the film is quite fatalistic as veteran Indian scout John MacIntosh (Burt Lancaster) wearily helps an ill-prepared cavalry troop hunt down a cunning adversary knowing full well that none of its members (including himself) may come back alive.
4. Hush … Hush, Sweet Charlotte (1964)
As with 1962's "hag movie" Whatever Happened to Baby Jane? (see below), Aldrich went against the Hollywood trend of the day by making a film where women had the leading roles. Furthermore, he didn't use contemporary starlets, but again turned to the talents of two actresses who had already passed their proverbial primes – Bette Davis and Olivia de Havilland. Considered by some as a foray into the Grand Guignol, Hush … Hush, Sweet Charlotte is more of a psychological thriller in the same vein as Henri-Georges Clouzot's Les Diaboliques (1955) with the look of a bona fide horror movie (as well as the plots of the two works being very similar, Aldrich also makes a brief visual nod to the seminal body-in-the-bath moment in the Clouzot film when the "corpse" of Drew Bayliss [Joseph Cotton] is dumped in a river). In terms of look, this is one of the director's most visually striking and atmospheric works, with Joseph Biroc's black and white cinematography easily matching that of John Russell's lighting for Alfred Hitchcock in Psycho (1960) and Freddie Francis' efforts in Jack Clayton's The Innocents (1961). Davis and de Havilland give great performances as feuding cousins who are caught up in a game of treachery and deceit.
3. Attack! (1956)
Another war film, this time set in Europe post the 1944 Normandy invasion. As with Too Late the Hero, Attack! essentially concerns itself with what happens in battle when those in charge crack under pressure and the consequences this has for the men under their command. As powerful an anti-war statement as Stanley Kubrick's Paths of Glory (which came out a year later in 1957), this movie also shows Aldrich at his angriest, particularly with his portrayal of the snivelling coward Captain Erskine Cooney (Eddie Albert) – a man born into privilege, but who seriously crumbles when the Germans attack – and his nemesis Lieutenant Joe Costa (a terrific Jack Palance), the real leader of the platoon who pays the ultimate price for Cooney's incompetence. Attack! also marked the first time Aldrich worked with Lee Marvin, who is quite effective as the scheming Lt Colonel Clyde Bartlett, another officer who turns out to be a liability to his men. Shot in black and white, this was the second collaboration between the director and cameraman Biroc. Together they ended up making 15 films – over half the Aldrich oeuvre.
2. Whatever Happened to Baby Jane? (1962)
What starts out as a case of severe show biz sibling rivalry ends up as an ugly descent into madness as erstwhile child star "Baby Jane" Hudson (Bette Davis) torments her crippled actress sister Blanche (Joan Crawford) to death. Another movie about Hollywood, although it's more in line with Billy Wilder's gothic Sunset Boulevard (1950) than The Big Knife. Again Aldrich elicits top performances from his actors, including Davis (who received a best actress academy award nomination for her efforts), the still attractive Crawford (who in real life was actually four years older than her haggard-looking co-star) and Victor Buono as a desperate unemployed composer who briefly gets caught up in the Hudson's decaying world.
1. Kiss Me Deadly (1955)
Film noir gets completely turned on its head when thuggish LA private investigator Mike Hammer (Ralph Meeker) gets involved in a case (involving an atomic suitcase) that ends up being way, way out of his league. More nihilist than existential, Kiss Me Deadly portrays a world where moral ambiguity no longer seems to exist. Rather, the whole world has become completely immoral. An incredible movie for a number of reasons, not least being its successful gutting of just about every standard cinematic convention known to Hollywood. If one could travel back in time, a good place to go would be this film's premiere screening circa May 1955 just to hear the audience gasp when Hammer opens the briefcase for the first time – it truly is one of the most surprising couple of seconds in American film (even Quentin Tarantino couldn't surpass this moment when he included a homage to it in his 1994 opus Pulp Fiction). While he had his share of detractors by the time of his death in 1983, there were some who remained optimistic while he was still alive that this movie maker would one day produce another work that reached the giddy heights of this over-the-top potboiler. American critic George Morris, for instance, wrote of Aldrich in 1981: "The chances are he will sooner or later direct a film that can bear comparison with Kiss Me Deadly … whose boldness and originality authenticate Robert Aldrich's position as a unique force in the American cinema." Sadly, this never eventuated.
Written and compiled by Mark Fraser
Over to you: What are the best Robert Aldrich films..?
________________________________
Heading for disaster – read more from Mark Fraser about movies where catastrophic situations see characters' lives and events spiral out of control. For instance, there's the bus and train rides to avoid featuring Speed and Runaway Train, while the Top 10 Hospital Crime Scenes sees health services everywhere become the victim of foul play. Top 10 Films involving Terrorism that were made before 9/11 takes the horror global, while Top 10 Films that share an Apocalyptic View of New York City brings the destruction home. Top 10 Films where Submarines get a Starring Role submerges itself below the surface of the ocean to find its drama, while 10 Movies Afflicted with Space Madness heads into the farther reaches of the galaxy.
Other top 10s about film directors you might like: Woody Allen | John Carpenter | Brian De Palma | Clint Eastwood | Terry Gilliam | Alfred Hitchcock | John Landis | Martin Scorsese | Ridley Scott | Tony Scott | Steven Spielberg | Oliver Stone | Robert Zemeckis