With Jeffrey Schwarz's documentary I Am Divine, about the eponymous trailblazing actor, singer and drag queen arriving in UK cinemas this week, we take a look at some of our favourite cross-dressing movie characters.
5. Mrs Doubtfire
We begin with someone who is more than at home shedding a suit and tie for a bra and a pinafore as Robin Williams is Mrs Doubtfire. After a messy divorce, a loving but unpredictable father dresses up as an old lady to dupe both his wife and his kids into thinking he's an English nanny. Sweet-toothed audiences will love the sugary sentiment on show while everyone else is likely to get a kick out of Williams' fish out of water; the actor more than convincing in one of his best comedic roles.
4. The Rocky Horror Picture Show
Now to a very frightening proposition at four in the form of the darkly seductive Tim Curry in Jim Sharman's loopy cult hit The Rocky Horror Picture Show. The film sees a newly engaged couple finding themselves stranded in the middle of nowhere after their car gets a flat tire. They inadvisably wander into the strange world of self-proclaimed transvestite Dr. Frank N. Furter and the curiously deranged group of attendees at his Annual Transylvanian Convention. For mad, camp comedy and perverse sing-a-long in black suspenders, look no further.
3. The Birdcage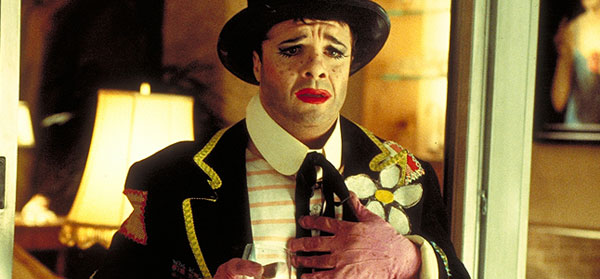 In third, Mike Nichols' delightful culture-clash The Birdcage sees liberal frivolity and men in big wigs come head to head with the tailored-suit, ultra-conservative world of US politics. After his daughter announces her engagement, Gene Hackman's Republican Senator travels to Miami to meet his prospective in-laws unawares that he's about to be introduced to the colourful world of drag queen show business. The best moment is when Hackman loses his inhibitions and dons his own sequined dress to evade lurking paparazzi. The smart humour and excellent performances make The Birdcage an endearing must-see, but the reveal of Gene Hackman in candyfloss pink wig has to be seen to be believed.
2. Tootsie
Second place sees Dustin Hoffman's struggling actor Michael Dorsey pull on a dress in order to get a female role in a hit television series. He's so convincing, no one on the show knows he's a man. But things get complicated when he falls in love with the leading lady. This much-loved comedy classic features a wonderful performance from Hoffman who slips far too easily into high heels and bouffant wig.
1. Some Like It Hot
Our number features two drag queens in the form of Tony Curtis and Jack Lemmon in Billy Wilder's brilliant Some Like it Hot. After witnessing a mob hit, the pair dress up as women to evade capture and eventually latch onto an all-female Jazz band en route to Miami. But the challenge of avoiding a bullet becomes an exercise in stalling their libido as the pair, still convincingly dressed as women, vie for the affections of the beautiful Sugar, played by Marilyn Monroe. This timeless comedy is possibly best remembered for its final line when the tables are turned and Jack Lemmon's female persona Daphne has to ditch the disguise following a proposal of marriage from a male admirer. Unable to deter his suitor, he rips off the wig and proclaims: "I'm a man!" only for his new best friend to shrug: "Well, nobody's perfect."
You can see more from The Reel Deal on Top 10 Films or on YouTube.