Top 10 Films celebrates the career of Robert Duvall, an actor who has excelled largely as a support player. The limelight has alluded him but great performances haven't…
Writing this list was a lot harder than I thought it would be, but at least it was for all the right reasons. As I started to think about which films to include, it soon became apparent that Robert Duvall has far more than ten great films under his belt. The problem therefore became what not to include. Also problematic is the fact that Duvall has acted in lots of truly great films in which he played a supporting part, sometimes even just a cameo. The question then became whether it was more important to focus on films in which he has a major part or to try to simply select the greatest films in which he has appeared, regardless of his screen time. Ultimately, I decided some of his greatest work had been in supporting roles and that I could not get away with not including at least a few of these films. That being said, there are plenty of fantastic small roles which did not make the cut and since I still wanted to mention them, I will do so here. Not included are his first appearance in the masterpiece To Kill a Mockingbird, the original True Grit, Francis Ford Coppola's The Rain People and The Conversation, Billy Bob Thornton's Sling Blade and John Hillcoat's The Road, all great movies in which the actor played memorable supporting parts. Then there's The Outfit from 1973, an underseen and largely forgotten crime film in which Duvall plays the lead role,which wasn't good enough to bump any of the films that did make it off the list but which I also could not let go unmentioned. And lastly, Lonesome Dove did not make cut as it's a TV mini-series and I decided to stick to theatrical features only. Now that I got all that out of the way, let's count down the ten movies that actually did make it onto the list.
10. Open Range (Costner, 2003)
Not the greatest film on this list (it is a Kevin Costner directed film after all), Open Range is probably Robert Duvall's best post-millennium performance in a leading role. The film is a somewhat flawed yet strikingly shot ode to the golden age of Hollywood westerns and Duvall is clearly up for the job. He imbues his character with enough gruff and elderly wisdom to perfectly embody the nostalgic feel akin to the classic Howard Hawks' and John Ford westerns of yesteryear. A bit too long and meandering at times, Open Range is well worth seeking out for its stunning cinematography, Duvall's superior performance and its final kick-ass shoot-out.
9. True Confessions (Grosbard, 1981)
Completely overlooked and underrated gritty crime drama directed Ulu Grosbard, who also made the similarly forgotten and underappreciated heist movie Straight Time with Dustin Hoffman three years earlier. True Confessions stars Robert De Niro and Robert Duvall as two brothers, the former a Catholic monsignor and the latter a cop. Apart from being brothers, the two man are connected through a web of corruption centring around the infamous unsolved "Black Dahlia" murder. A downbeat, sordid and understated crime film, the real treat here are the central performances by Duvall and De Niro, who are both at the top of their game. Add to that great period recreation, a noteworthy supporting cast and confident direction and you end up with a movie you might have missed but should definitely see.
8. M*A*S*H (Altman, 1970)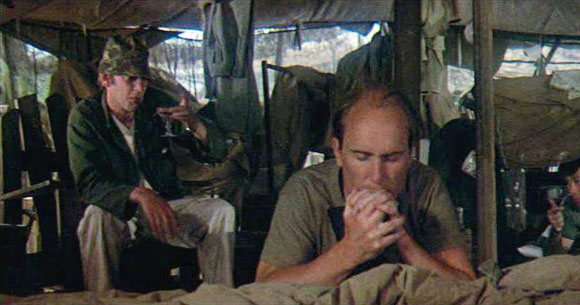 The first film that brought Duvall into the wider public eye, Robert Altman's MASH was a smash hit and cultural phenomenon, winning the Palme d'Or at Cannes and spawning the hit TV series, which would run for nine years. Duvall was a joy to watch as the moralistic, religious and dastardly Major Frank Burns who becomes the prime target for his witty and disrespectful fellow surgeons at the Mobile Army Surgical Hospital. The role was a memorable one and brought plenty of attention to Duvall, who so far had been making his living with mainly small supporting roles and television work. Duvall did a great "man you love to hate" here and the following year he would score his first lead role.
7. THX 1138 (Lucas, 1971)
Before George Lucas shot to fame with American Graffiti and Star Wars, he expanded on his own student film short and delivered a highly conceptual science fiction feature film debut with THX 1138. Set in a dystopian spare Orwellian future, Robert Duvall scored the titular role and in doing so his first major leading acting gig, after having garnered praise and attention as part of MASH's ensemble cast the year previously. The film didn't do well at the box-office at the time but strengthened Duvall's ties with Francis Ford Coppola's production company American Zoetrope, which would soon bear its fruits. The film grew in stature of the years and developed a strong cult status. An absolute must-see for all sci-fi buffs.
6. Falling Down (Schumacher, 1993)
Arguably the only good film that Joel Schumacher ever made, Falling Down almost felt like a bit of a come-back for Duvall, who hadn't really been in a major film for about a decade. The movie was met with general critical praise and co-starred Duvall as Sergeant Pendergast, who is trying to stop Michael Douglas' rampage through Los Angeles. Playing a great counterpoint to Douglas' character who is suffering a mental breakdown, Duvall anchors the film as the man on the brink of retirement whose everyday mundane problems balance out the increasingly violent and unhinged actions of D-Fens (Douglas). This might be the first role where Duvall's veteran status fed into the character he played on screen, rounding out his wise and experienced police officer role and grounding the film in the process.
5. The Great Santini (Carlino, 1979)
With a great performance by Duvall in a movie which seems to have been largely forgotten nowadays, The Great Santini earned the actor his first nomination for an Academy Award for Best Actor in a lead role. Duvall's portrayal of a tough as nails military man, who is unable to express his emotions and live a regular life with his family during peace time, is one of his career's best. The actor refuses to make his character likeable in any way but the sheer bravura of his performance still makes for utterly compelling viewing. The film itself is a bit on the sentimental side and hasn't aged extremely well but Duvall's portrayal of the tyrannical fighter pilot is worth the price of admission alone and it remains a powerful drama.
4. Network (Lumet, 1976)
Whilst Robert Duvall only had a smaller supporting role in Sidney Lumet's Network, he absolutely nailed the part of ruthless network head executive Frank Hackett in this masterpiece of a movie, which ranks amongst the best satires to have ever graced the screen and is still as frighteningly relevant today (or possibly even more so) as when it was made nearly forty years ago. In a film that is filled with towering performances, Duvall managed to make his small part stand out and seeing him freak out on screen here is a sight to behold. The role earned him nominations for Best Supporting Actor from the National Society of Film Critics as well as at the BAFTA awards. If you have never seen Network, this movie should be on the top of your list of films to see. It's magnificent.
3. Apocalypse Now (Coppola, 1979)
It's a supporting role and ultimately he doesn't have a lot of screen time but there's no way Duvall's portrayal of Lieutenant Colonel Bill Kilgore in Apocalypse Now was not going to make it on this list. Playing a small yet highly memorable and important part, the surf-loving, Viet Cong-hating Kilgore embodied the madness of the entire war all by himself. His character remains with the viewer long after the credits role and his classic lines "Charlie don't surf" and "I love the smell of napalm in the morning. It smells like…victory", the latter improvised by Duvall on the spot, have made their way into the public consciousness and popular culture. Not surprisingly he earned an Academy Award nominations for his performance as well as a BAFTA and Golden Globe win for Best Supporting Actor.
2. Tender Mercies (Beresford, 1983)
Finally receiving his Oscar for Best Actor (and the only one in his career so far) for Tender Mercies, Robert Duvall played a low-key and understated role here as a country singer who is trying to recover from his alcohol addiction and get his life back together by starting a new relationship with a widow and her son and rekindling the broken one with his long lost daughter. The first American feature for Australian director Bruce Beresford as well as the first film Duvall has a producer credit on, Tender Mercies was clearly a labour of love for both men. Duvall, himself a great country music aficionado, both wrote and performed some of the songs featured in the film. A highly naturalistic performance which in many ways deconstructs the rough persona Duvall plays in so many of his other films. In a way this movie should be in the number one spot as Duvall has the lead role here but somehow his absolute breakthrough into the mainstream in one of the most beloved film series of all time just felt more appropriate.
1. The Godfather Saga (Coppola, 1972, 1974, 1977)
Okay, I might be cheating by listing the Godfather saga here and thereby avoiding having to chose between The Godfather Part I and Part II and in fact making this top 10 a top 11 but this 1977 TV miniseries which combines the two films and cuts them in chronological order is in fact my preferred way of seeing the Godfather movies and it allows me to kill two birds with one stone. Duvall played consigliere Tom Hagen in both films and along with many of his co-stars, the first Godfather movie was his final real breakthrough into the mainstream as the movie became a giant hit and cultural phenomenon. It was also the first film to garner him an Academy Award nomination for Best Supporting Actor (along with James Caan for the same movie). Duvall's interpretation of the adopted son of Irish-German descent was one of the many stand-outs of the movie and is probably the role he is still best remembered for (although Coppola's Apocalypse Now is a real contender for that title too). Bruce Dern, Paul Newman and Steve McQueen were all considered for the role but in retrospect, no matter how great those guys are, the role couldn't have been played by anyone else. Monumental cinematic achievements, the first two Godfather movies had to take the number one spot.
Check out more film recommendations at Emilio's Facebook page Just Good Movies
Over to you: what are your top 10 films of Robert Duvall?