Time Travel has offered cinema some fascinating outlets for stories to expand outside our everyday reality. Along with the Watch Shop we have surveyed 2,000 UK film fans to find out what they love about time travel.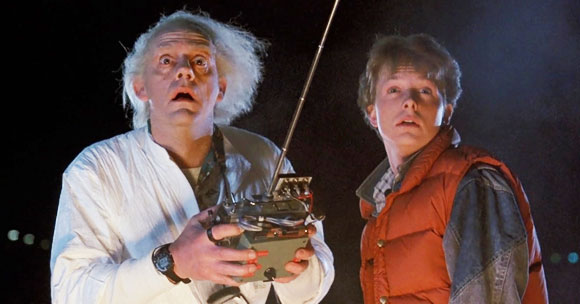 In sci-fi, there are so many things that have yet to be seen in real life. One of them is time travel, a concept which has routinely been explored in literature, TV and most prominently of all, in film. Going back and forth through the decades and centuries sounds awesome, but if it was possible to do so, how would it be used?
The favourite time travel related series/film is Back to the Future with 22.25% of the vote, closely followed by Dr Who (20.4%).
With 33.65% of the vote, The Tardis form Dr Who is the UK's favourite form of time travel. Second favourite was DeLorean from Back to the future (29.2%) followed by the Time Turner used in the third Harry Potter film (10.5%)
A survey on time-travel in sci-fi films found that 44.15% of people didn't believe it could ever be possible. Of that group, the most sceptical were those between 25 and 34 years of age, with those between 44 and 54 most likely to believe that it might happen in their lifetime. However ridiculous it might seem, there is at least some demand, but where would people go?
Feeling unambitious
The period of time most people would like to revisit is the 1960s – something 28.2% of respondents voted for. Surprisingly, less than 8% said they would go back to the 1990s, while the majority of people taking part said that, if they could, they would prefer to revisit their teenage years, possibly following the plot of Back to the Future!
Famous for the awesome DeLorean, among other things, Back to the Future helped to change the face of time travel films as we knew it. Since then, we've had Bill and Ted, X-Men: Days of Future Past and even a Harry Potter film use time travel to full effect. Meanwhile, the Doctor Who series keeps on going since its 'regeneration' over a decade ago!
The majority (28.9%) of respondents thought that Dr Who would make the best time travel companion. Hermione Granger was the next most popular (12.5%) closely followed by Star Trek's Spock (12.2%)
To make time travel more fun, a cool vehicle is needed. Most sci-fi fans, around one in three, said their preferred mode of transport was the Tardis. Marty McFly's DeLorean came a close second, but is something many of us would love to own someday!
Interestingly, unlike popular cult movies, Star Wars has never featured time travel. Our results show that 47.45% of sci-fi fans do not think that it should be added into the storyline of the upcoming Star Wars 7 film. 32.1% said that they 'don't know' and 20.45% thought that it should be added into the storyline.