Taking place during the height of football hooliganism in the UK, Cass Pennant (who pens the script) has to battle racism & social exclusion, eventually finding self-worth in the local West Ham football "firm".
In a top 10 list of football films that features fans, managers and players, the circle would not be complete, especially given the shadowy past of English football supporters, if it did not contain a nod to the football hooligan. Hooliganism across the world has plagued football for many years. While British supporters have a much better reputation nowadays, football hooliganism in the UK grew in prominence during the late 1970s and 1980s. Known as the "English Disease", hooliganism in the country became an institution as large gangs, known as "firms", were set up to run and take part in organised and unorganised fights with opposing team's firms. Hooligans also committed violent crime inside and outside football grounds.
The UK's reputation for this football affliction grew in the 1980s when the government decided it had to take a heavy-handed approach to stamping it out leading to some ugly clashes between football hooligans and police. Tragedy would occur when, during the European Cup final between Italy's Juventus and England's Liverpool, 39 people were killed and 600 injured after violent clashes broke out. This saw English football clubs banned from European competition for five years. Since then, hooliganism in the UK, and by English fans abroad, has thankfully been on the decrease.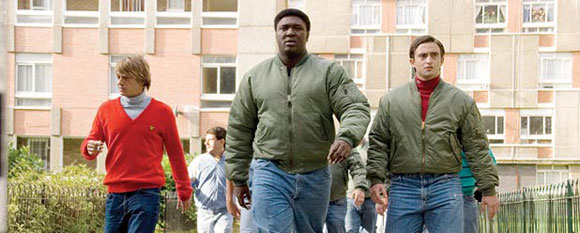 [ad#Google text Ad – square no border]
Based on the true life story of Cass Pennant, Jon. S. Baird's terrific crime-drama takes place during the height of football hooliganism in the UK. What makes the story far more interesting is Cass' back-story. After his mother emigrated from Jamaica to the UK she abandoned Cass as a six-week-old baby and he was taken in by an orphanage. Adopted by an elderly white family in Kent, Cass was racially bullied by his peers and the local community. Having to stick up for himself in the face of regular violence, he developed a steely attitude and tough physical presence. Eventually finding a sense of friendship and camaraderie with the local West Ham football hooligan firm, he ascends the ranks to lead the gang through the 1980s.
The film boasts a terrific performance by Nonso Anozie as the adult Cass, as director Baird takes us through his early childhood, his young adult life during the height of football hooliganism, and his later years when he tries to distance himself from his past misdemeanours. It's a powerful character study that works terrifically well lifting the lid on the allure of football hooliganism, and its shocking and, at times, tragic consequences. Indeed, Cass was one of the first high profile hooligans to be imprisoned for his violent activities. Yet, in addition, the struggle Cass has to face growing up in a society unable, and often unwilling, to accept him makes his admiration for football hooliganism, where he finds acceptance and worth, all the more resonant and sympathetic.
Directed by: Jon S. Baird
Written by: Cass Pennant
Starring: Nonso Anozie, Nathalie Press, Reece Allen
Released: 2008 / Genre: Drama / Country: UK / IMDB
More reviews: Latest | Archive