One of Hollywood's most talented actors, Gene Hackman has appeared in some of tinseltown's greatest films. The Oscar-winning actor's work include classics The Conversation, Superman and The French Connection.
Gene Hackman, who retired from acting in 2004 after making the comedy Welcome To Mooseport, was a performer of incredible diversity. Across a career spanning five decades he played an array of characters in every genre you can think of, excelling in character-driven morally unpredictable drama where he seamlessly mixed shades of light and dark. His ability to be both heroic and villainous allowed him to play both the good guy and the bad, with some of his best work having elements of the two. For instance, The French Connection's Popeye Doyle, perhaps his most iconic role, was hardly a protagonist you'd invite home for dinner. Similarly, as Lex Luthor, the man who wanted to take over the world and destroy its hero Superman, was an almost lovable villain whose megalomaniacal schemes were as welcome as Superman's attempts to stop them.
With an astute consideration of the roles he played, Hackman picked characters whose inner conflicts and motivations were often clouded, even unsure. It meant there was always an ambiguous edge to the people he portrayed that drew you in as a viewer. It also allowed him to play around with his characters, adjusting their moral compass in a way that left us unsure whether to love or hate them.
With an astute consideration of the roles he played, Hackman picked characters whose inner conflicts and motivations were often clouded, even unsure. It meant there was always an ambiguous edge to the people he portrayed that drew you in as a viewer.
Perhaps his greatest asset was the ability to do this on a range of stages, whether it required larger-than-life villainy in a comic book adaptation (Superman), off-centre tragedy in comedy (The Royal Tenenbaums) or heroism in action-adventure (Narrow Margin, The Poseidon Adventure). And even when the stage had many performers he'd excel amongst the ensemble (Unforgiven, for instance), or even upstage the main cast when playing second fiddle to the star (Enemy of the State).
Perhaps the fact Hackman had to make do without the refined Hollywood good-looks of his 1970s star peers was in fact a blessing in disguise. While the Newman's, Beatty's and Eastwood's drew audiences because of their star profile, Hackman had little choice but to concentrate on the character. You might go to see an Eastwood movie in the 1970s just as you would a Tom Cruise movie today but Hackman never had that kind of appeal. Yet when you consider two of the 1970s best films featured him in a leading role, you realise what an important asset he was to any production.
The longevity of the man must also be applauded. The films in my top 10 range from 1971 to 2001. His consistency is astonishing and he was able to naturally progress his career through roles that worked for his advancing years rather than against them. Enemy of the State is a great example in that his character is clearly inspired by The Conversation as Hackman gives us an older version of his paranoid surveillance expert Harry Caul from Coppola's exceptional 1974 movie. Likewise, Wes Anderson got the best out of him as a supposedly dying father in The Royal Tenenbaums while his fun turn in Heartbreakers saw maturity face-off with nubility opposite the beautiful Jennifer Love-Hewitt.
Looking back across a career that began in the 1960s and includes five Oscar nominations and two wins, three Golden Globes and two BAFTAs, few can argue Hackman's status as one of Hollywood's greatest ever actors. Alongside his contemporaries such as Dustin Hoffman, Robert De Niro and Al Pacino, Hackman more than holds his own. In this top 10 I take a look at my personal favourites…
10. The Royal Tenenbaums (Anderson, 2001)
Hackman's diverse career highlights how he is able to raise characters above that which is written on the page. Incredibly, he can do this just as well in drama as he can do in action-adventure or comedy. While his finest performances both contain obsession and paranoia in hard-hitting drama (as seen in The French Connection and The Conversation), his most memorable may well come from his flirtations with comedy. The cartoonish villain Lex Luthor in Superman or the brilliant transformation from conservative politician to drag queen in The Birdcage both bring a smile. However, his later career, before his decision to retire from acting, featured mainly amusing roles in knockabout comedy (The Replacements, Heartbreakers, Welcome To Mooseport) but his best is definitely to be found in Wes Anderson's typically offbeat The Royal Tenenbaums. Hackman perfectly captures the writer-director's quirky sensibilities as he brings the eponymous character to life.
9. Narrow Margin (Hyams, 1990)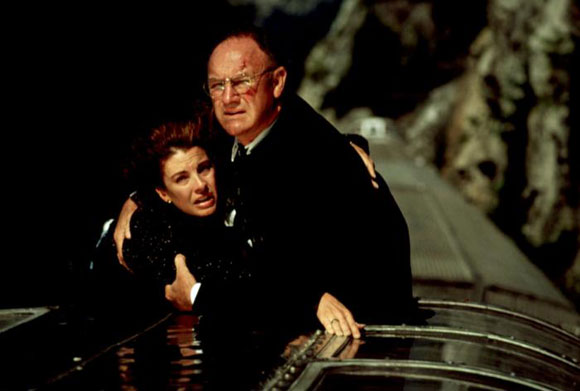 Hackman's two most enjoyable action-adventure films ended up fighting for one place on this top 10. Narrow Margin wins out over the equally entertaining Enemy of the State (which acts as a perfect indirect sequel to The Conversation) for a couple of reasons. Firstly, it's lesser known yet deserves just as much attention as it's a fast-paced, tightly constructed on-the-run thriller that grips from minute one. Secondly, it gives Hackman the starring role as a good-hearted, strong-willed Los Angeles district attorney as opposed to the solid support he provides Will Smith in Enemy of the State. Narrow Margin sees Hackman attempting to bring a murder witness safely to the stand to testify against the mob. All the while he has to evade the murderous campaign of a well-trained group of mob hit men as he journey's with the murder witness from Canada back to the United States. As an entertaining antidote to Hackman's slow-burning character studies, Narrow Margin is a must-see for fans of the actor and anyone who enjoys a good, tension-filled suspense thriller.
8. The Birdcage (Nichols, 1996)
Mike Nichols' comedy sees two very different sets of lives collide as gay drag club owner Armand (Robin Williams) and his flamboyant partner Albert (Nathan Lane) meet the conservative parents of Armand's son's wife-to-be. The father, played with refined excellence by Hackman, is a Senator whose presence is hounded by the press following a colleague's carnal misdemeanours with an underage prostitute. While Hackman's role plays second fiddle to the excellent Nathan Lane (who steals the show), The Birdcage has to be on this top 10 list because 1) it's very funny and infinitely rewatchable, and 2) the sight of Hackman in drag during the film's finale is one of the most frightening yet hilarious things I've ever seen!
7. Under Suspicion (Hopkins, 2000)
This stylish thriller plays out like a stage play with Hackman's affluent lawyer becoming the prime suspect in a rape and murder investigation. Morgan Freeman is the detective doing the interrogating as a short, informal interview becomes a gruelling clash of wills that exposes the suspect's every secret. The film features the police interview throughout, flashing back to events as they are revealed.
6. Night Moves (Penn, 1972)
This neo-noir was been described by author and film critic Michael Sragow as one of the "best films you've never seen". It features a typically toughened Hackman in the role of Harry Moseby, a retired professional football player turned private eye in Los Angeles who sets out to find the whereabouts of an actor's daughter. In doing so he gets immersed in a plot with far wider implications. This slow-burning mystery has an ambiguous edge that both grips and infuriates leaving questions unanswered but Hackman is great as the defiant, dedicated detective. His search for clues mimics our own search for meaning in this labyrinthine narrative which ultimately demands multiple viewings. Even then, the mystery of Night Moves remains frustratingly but fascinatingly out of reach.
5. Unforgiven (Eastwood, 1992)
Hackman proved he could play good guys just as well as he could play villains, and in Clint Eastwood's 1992 film Unforgiven he plays one of his nastiest characters as sheriff "Little" Bill Daggett. With a stellar cast that includes Morgan Freeman and Richard Harris, Hackman still manages to shine through as Eastwood's William Munny closes in for their "high noon" showdown.
4. Mississippi Burning (Parker, 1988)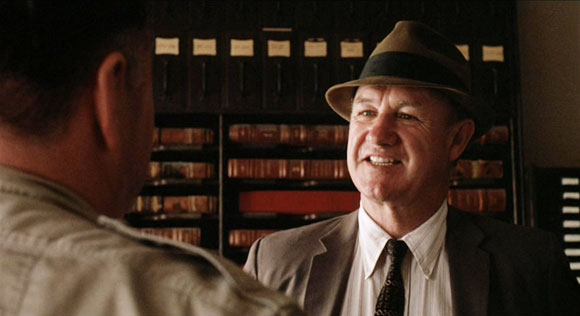 A powerful, hard-hitting drama from director Alan Parker sees Hackman play FBI agent Rupert Anderson. He, along with fellow agent Ward (played by Willem Dafoe), are tasked with investigating the disappearance of a group of civil rights activists who go missing in Mississippi in 1964. The fact the film is based on a real life case gives the story more weight but Mississippi Burning's greatest asset is capturing the mood of the period and the frightening power of the institutionalised Ku Klux Klan. This is one of American cinema's most important films about race and prejudice and despite its 1960s period setting its message still resonates today.
3. Superman (Donner, 1978)
Hackman's scheming Lex Luthor in Richard Donner's brilliant superhero film Superman is so good he threatens to upstage the main man himself. He even gives Superman's tight outfit and red cape a run for its money with some interestingly flamboyant attire of his own. The cartoonish villain he plays here is the perfect foil for Clark Kent's super-powered hero, offering enough devilish cunning to give the family-friendly action film a dark edge without harming its sense of fun and adventure.
2. The Conversation (Coppola, 1974)
Francis Ford Coppola's slow-burning thriller sees Hackman play Harry Caul, a surveillance expert who begins to believe his latest assignment to record a couple's conversation in a crowded public square might have sinister consequences. Coppola's film doesn't get the recognition The Godfather receives but is just as good, with Hackman's performance as the withdrawn, excessively private Caul proving to be one of the actor's strongest. With its plot twists and nuanced character study, this is, without any doubt, one of the best thrillers ever made. With Coppola at the helm there is a suitably unrushed sense to the action but he has us glued to our seats as the mystery unfolds, a prevailing sense of paranoia pre-empting a memorable finale.
1. The French Connection (Friedkin, 1971)
Gene Hackman's best film, and arguably his greatest performance, is found in William Friedkin's gritty NYPD thriller The French Connection. The film follows two tough-nut cops on the trail of a drug smuggling ring and the expected delivery of $32 million worth of heroine. Hackman's argumentative Popeye Doyle has become one of cinema's most iconic movie cops (rivalling Eastwood's "Dirty" Harry Callahan, Pacino's Vincent Hanna and Bruce Willis' John McClane) and it's easy to see why. The take-no-nonsense detective bites harder than most of the criminals he comes to face. When he becomes obsessed with tracking down the heroine smugglers there can only really be one outcome where Popeye Doyle is concerned. The French Connection is as no-nonsense as its lead character with director Friedkin perfectly utilising his realistic documentary-like staging to immerse the viewer in the grimy streets of New York City, culminating in one of cinema's greatest car chases.
Over to you: what are your top Gene Hackman films?