Some of the finest horror movies ever made, intended only for adult eyes, feature children as their central characters. Dan Stephens takes a look at ten of the best…
One of the best novels I have ever read is Stephen King's "It". The epic fantasy-horror spans decades but its core story takes place in two time periods separated by 30 years. In the novel's early part, a group of children band together to battle a monster terrorising their town. As social outcasts to varying degrees, they are brought together by their collective insecurities and pubescent anxieties, as well as their individual experiences of "It" and as King would have us believe a force of "good" that counters the pervading force of "evil", to fight the "beast" and save themselves and their town.
As children in the 1960s they enter the sewers underneath their town to find the monster's lair. Armed with one of their mother's silver earrings (their "silver bullets") and a slingshot, the group find the monster in its guise as Pennywise the Clown and shoot it. They cries out in pain and disappears down a drain. They believe they've killed it but just to be sure, based on its thirty-year killing cycles, they agree that if it returns, they will regroup and battle it again. When mysterious murders start up three decades later, the group, each of its members gone their separate ways and living in different parts of the country, come back together to make good on their promise as children.
It's a wonderful story with childhood friendship at its heart and one of the great fictional villains. The film version – a made-for-TV two-part mini-series – works quite well at times but is far better when it concentrates on the characters as children, as opposed to their adult counterparts. I'm definitely fond of the film adaptation but as cinematic depictions of King's work go it ranks well below the likes of The Shining, Misery and Carrie. However, it is a perfect example of how children have played an important role in films (or works of popular fiction like King's novel) made primarily for adults. And the horror genre has produced some of the finest…
10. The Devil's Backbone (del Toro, Spain/Mexico, 2001)
At a home for young orphans during the Spanish Civil War the children come face to face with a malevolent spirit who also turns out to be a child. This is a terrific thriller from a pre-Hollywood Guillermo del Toro who, in The Devil's Backbone, concocts one of the best jump-out-of-your-seat moments you'll ever see.
9. The People Under The Stairs (Craven, USA, 1991)
Poindexter "Fool" Williams, a kid from a Los Angeles ghetto, decides to break into the wrong house when he discovers the owners, who suspiciously refer to themselves as "Mommy" and "Daddy", appear to be housing some ungodly creatures beneath their floorboards. Scary, funny, thrilling and fast-paced, one of director Wes Craven's most purely enjoyable horror movies.
8. Eden Lake (James Watkins, UK, 2008)
This uncompromising, deeply troubling horror film was the directorial debut of James Watkins, who would later make the Daniel Radcliffe-fronted gothic horror The Woman in Black. Eden Lake sees the happy, comfortable and, some might say, middle class life of an ambitious and loved-up couple (played by Kelly Reilly and Michael Fassbender) destroyed at the hands of some out of control youths in the English countryside. Unapologetically violent, Watkins pulls no punches at any point, taking the audience on an uncontrollable journey towards an unforgettable conclusion.
7. The Brood (Cronenberg, Canada, 1979)
Killer children in David Cronenberg's strange, unsettling horror turn out to be the mutated offspring of a mentally disturbed patient of Oliver Reed's psychotherapist Hal Raglan. They target another child, the healthy daughter of Frank Carveth (Art Hindle), who battles to protect her from this pint-sized army.
6. Let The Right One In (Alfredson, Sweden, 2008)
This modern vampire story is actually set in the 1980s and sees a bullied, introverted 12-year-old boy befriend a vampire child who must quench her thirst for blood without drawing attention to herself. Violent at times, subtle at others, the film does celebrate the gothic roots of vampire myth thanks to the romantic friendship that emerges from the bond the two children find in each other.
5. Poltergeist (Hooper, USA, 1982)
"They're here" says the youngest daughter of the Freeling family (played by Heather O'Rourke) with an unlikely calm that begs hairs to stand on end. She's the target of some malevolent spirits who take umbrage at her real estate developer father's construction of a new housing estate right on top of their graves. While he's an unwitting participant, finding out later that his work desecrated the burial ground, but bears the brunt of the ghosts' wrath with his children caught in the middle.
4. Near Dark (Bigelow, USA, 1987)
Kathryn Bigelow breathed new life into the undead with this downtrodden, depiction of modern day nomadic vampires. A couple of brilliant turns from Bill Paxton and Lance Henrikson as "outlaw" bloodsuckers helped this film become a cult favourite. Amongst their ranks is Homer, an vampire of many years stuck in the body of a child (played by Joshua John Miller).
3. The Omen (Donner, USA, 1976)
In Richard Donner's chilling coming-of-the-devil horror movie, the U.S. Ambassador to Great Britain (played by the incomparable Gregory Peck) becomes the unwitting parent of the Antichrist in child form. A series of disturbing events take place, spiralling the American diplomat's life out of control. Harvey Stephens, whose movie career would begin and end as the pre-teen Antichrist in The Omen, has a menacing simplicity about his performance that makes it all the more unsettling and memorable.
2. The Shining (Kubrick, USA/UK 1980)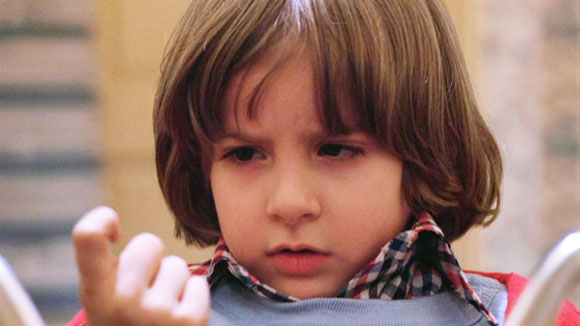 Who can forget young Danny riding around Overlook Hotel on his tricycle, the empty, foreboding corridors creating an endless sense of isolation. Stanley Kubrick's typically personal interpretation of a source novel brings the Stephen King story to cinematic life, shedding the baggage to focus on a father's slow self-destruction while his wife and child endure the madness and ultimately have to survive.
1. The Exorcist (Friedkin, USA, 1973)
Horror movies for adults that star children: could there be any other winner? William Friedkin's incredible 1973 horror The Exorcist is a very special film for many reasons. Even if you take away its box office records, its impact on pop culture at the time (put simply, it was similar to the Jaws effect two years later), or the fact renowned English film critic Mark Kermode says it is the best movie ever made, Friedkin's work is the sort of enduring classic that gives a much maligned genre the "good" name it deserves. The quality of Linda Blair's performance as a young teenager who seemingly becomes possessed by an evil entity is even more incredible given that she hadn't turned 15 when the film was shot. Its an astonishing turn by a child actress who was very new to the industry. If anyone ever asks me what the scariest film I've ever seen is, I'll always say The Exorcist, without hesitation. But it's more than that, a battle between good and evil on the outside, a celebration of maternal love and the strength of a mother on the inside, Friedkin's film is an exceptional, multi-layered experience.
Over to you: what are your fave horror movies featuring children in lead roles?