It's not all glitz and glamour in Hollywood given Los Angeles is under constant threat from all sorts off dangers. Mark Fraser looks at 10 movies where the bright lights of Tinseltown get switched off.
10. The Omega Man (Boris Sagal, 1971)
In this second adaptation of Richard Matheson's 1954 book I Am Legend, a deserted LA is both a playground and prison for biological war survivor Dr Robert Neville (Charlton Heston), who spends his days hunting down hideous sun-fearing mutants (also surviving plague victims) that populate the city and the nights barricaded in his apartment trying to hide from them. This metropolitan backdrop is nowhere near as impressive as the deserted New York in which 2007's version of the story (I Am Legend starring Will Smith and directed by Francis Lawrence) is set.
9. Volcano (Mick Jackson, 1997)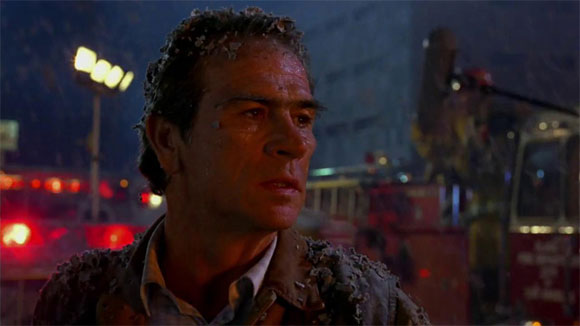 Things heat up in Tinseltown when a volcano suddenly forms in the middle of the city. As the head of an emergency management team, Tommy Lee Jones gets yet another chance to march around barking orders at people.
8. Earthquake (Mark Robson, 1974)
Downtown Los Angeles is turned into a pile of twisted steel and shattered glass after a massive earthquake hits the movie capital. Then the Mulholland Dam breaks, hampering a climatic rescue effort involving Charlton Heston, Ava Gardner, George Kennedy and Genevieve Bujold. Not even the presence of Sensurround (a short-lived audio gimmick which made the room shake) in selected theatres could disguise this film's B-grade credentials – including a ridiculously phony elevator death scene. Aside from the miscast Gardner's over-the-top performance, the funniest part of the movie is when a guy with a burning cigarette in his mouth runs into a crumbling house to shut down a leaking gas valve. Boom!
7. Terminator 2: Judgment Day (James Cameron, 1991)
Sarah Connor (Linda Hamilton) decides to change the course of history after dreaming of being incinerated in a nuclear explosion that rips through the Los Angeles basin. A brief moment in the scheme of things (it takes up a minute or two in a two-and-a-quarter-hour movie), but nevertheless a telling one.
6. Battle: Los Angeles (Jonathan Liebesman, 2011)
LA (and other parts of the world) is invaded by some seemingly indestructible aliens and it is left up to a brave contingent of human military types (led by Aaron Eckhart) to figure out how to kill them while rescuing some civilians. Needless to say, a good portion of the city gets blown to smithereens in the process. A few good action sequences interspersed with some pleasantly tense moments can't hide the fact that this whole thing ends up being quite meandering.
5. 2012 (Roland Emmerich, 2009)
Given Roland Emmerich pretty much trashes Los Angeles in Independence Day, The Day After Tomorrow and 2012, only one of these works has been allowed to make this list. Fittingly it is the end-of-the-world epic 2012. After all, an alien invasion and massive storm are no match for the massive earthquake that destroys the whole city before it is engulfed by the Pacific Ocean.
4. Zombieland (Ruben Fleischer, 2009)
A quartet of fugitives running from a zombie plague (Woody Harrelson, Jesse Eisenberg, Emma Stone and Abigail Breslin) end up in LA, where they go and crash at Bill Murray's house. Much to everyone's delight the actor is still alive, having disguised himself as a one of the living dead in order to avoid detection. Unfortunately things get apocalyptic again when one of the visitors (Eisenberg) shoots the poor thespian during a misunderstanding. While there are a few shots of the war-torn city, most of the Tinseltown action either takes place in Murray's mansion or at the "Pacific Playland", an amusement park where the final big shoot out takes place. According to one net source, however, this recreational facility isn't actually in California – it's in Georgia.
3. Escape From LA (John Carpenter, 1996)
Derivative only just begins to describe this sequel to John Carpenter's Escape From New York as it is really more of a remake of his 1981 film than a completely original work. As with Manhattan in the first movie, downtown Los Angeles is a cordoned-off island (the result of an earthquake and subsequent flooding of the San Fernando Valley), where Shining Path Peruvian Revolutionary Cuerro Jones (Georges Corraface) rules the roost (replacing Isaac Hayes as The Duke of New York in the first installment), while the main transport provider for Snake Plissken (Kurt Russell) is "Map to the Stars" Eddie (Steve Buscemi) instead of Cabbie (Ernest Borgnine). As with EFNY, Carpenter has all the action happening at night, meaning we don't get to see what the future southern Californian sunshine might look like.
2. Miracle Mile (Steve De Jarnatt, 1988)
After missing a date with a woman he has just met (Mare Winningham), an LA-based brass band musician (Anthony Edwards) accidentally discovers there's only 50 minutes remaining until the onset of a nuclear war. Instead of escaping when he has the chance, he decides to try and rescue the new love of his life as chaos slowly starts to escalate around him. At its heart Miracle Mile is an effectively poignant Odyssean love story set against the beginning of the end.
1. This is the End (Seth Rogen and Evan Goldberg, 2013)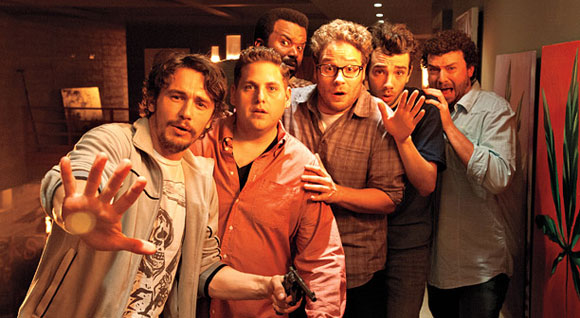 It doesn't get any more apocalyptic than this as the Apocalypse (a la the one in the Book of Revelation) hits Los Angeles on the night of James Franco's house-warming party. As a result the actor and his mates – Seth Rogen, Jay Baruchel, Jonah Hill, Danny McBride and Craig Robinson – have to go into hide-and-survive mode as the world disintegrates around them. Once again the city is trashed – this time by fire, sink holes, demonic monsters and marauding cannibals. Despite some moments of silliness, and a throwaway denouement, this is truly a funny film.
Written and compiled by Mark Fraser
Over to you: Top 10 Films asks what are your favourite "Apocalyptic Views of Los Angeles?