A great romance and a melodic ballad go hand-in-hand when it comes to the movies. In this list, Top 10 Films takes a look at the best movie love songs of all time…
It's that time of year again! The day husbands and wives pointlessly throw money at reaffirming their love for one another while singletons do likewise in the hope of finding their soul mate. The flower, greetings card and chocolate companies would have you believe Valentine's Day is an important date in the calendar but for many it's either the instigator of the proverbial "hole in the pocket" or a tragic reminder to single people everywhere that they don't have a husband, wife, girlfriend or boyfriend to share a romantic candle lit dinner with. Yuck!
…but for the romantic movie, there are few more important days in the year. This is when, if we are to believe the movies, when cupid comes along with a box of chocolate and a heart-shaped furry pillow to make your romantic dreams come true.
In 1896 William Heise directed what is widely considered to be the first romance film ever made, in which a 47 second scene called The Kiss, featuring but a small cheek-peck between a couple, graced Victorian screens. The film caused uproar and was denounced as scandalous. Nevertheless, it clearly captured imaginations. If we see The Kiss as the mother of the romance genre, then her descendants have blossomed far and wide. From Breakfasting at Tiffany's to floating away on the Titanic (the second highest grossing movie of all the time), the context and characters might change but there is something about the romance plot that tugs at the nation's heart strings time and again. For cynics like me it is incredible how romance continues to win at the box office but feel-good is feel-good and audiences love to embrace uplifting fantasy, regardless of how improbable or artificial it is.
It's true – "we" are in love with the romance movie – in fact, we're hopelessly devoted to it. And if there is one element of the movie that will ensure our love at first sight (or our eighty-seventh sight for that matter) is when it is accompanied by the perfect mood-capturing musical number. Indeed when I sift through some of my favourite moments – YES, I do have some – they are often brought to life in my mind's eye by a song. Music is strange stuff. The right combination of notes and lyrics can evoke an emotional response in a listener far more poignant than language on its own. At the risk of ruining this special moment by bringing in a bit of science – researchers have shown that listening to music provokes a profound reaction in the brain's limbic system, our body's emotional core. It also causes physiological changes in our blood circulation, respiration, skin conductivity and body temperature. Whatever the biology behind it, the fact remains that music is one of the most powerful means of communication that we, as humans, have.
So, I think, there's science behind our love for sentimental romance. Who would have thought it. Yet, it's undeniable, even for Mr Anti-Romance, that sometimes, somewhere, the unification of great cinematic moments and music come together to form an enduring slice of film that manages to warm the heart and reminds you that romance can and does exist. For those of us still seeking it, the movies are the warm embrace we're searching for (and that'll do for now…)
Catch one of my favourites Moulin Rouge, which is showing on Sony Entertainment TV on Valentine's Day: Friday 14th February 2014 at 9pm.
10. Love Actually – "All You Need Is Love"
Ok, she might be marrying the wrong guy, but Juliet (Keira Knightley) and Peter's (Chiwetel Ejiofor) wedding is still one of the most magical moments of the whole film, enough to turn any bride-to-be green with envy. After swapping their "I do"s the couple head off down the aisle only to be stopped in their tracks as a Gospel Choir bursts into a soulful rendition of All You Need Is Love. As the choir continues the wedding guests sporadically pop up on instruments to join into this joyful, affectionate bonanza. Although celebrating the love of the couple, as the guests get going, the audience too feels drawn into the fun, leaving the distinct heart-warming impression that 'Love… really is… all around'.
9. Ghost – "Unchained Melody"
Who knew that throwing a pot could be so sexy and iconic? Frequently voted the most romantic cinematic moment of all time, the pottery-wheel scene has become so familiar to modern audiences that it is easy to forget the power of the original moment itself. The love and chemistry between Sam and Molly is so poignantly expressed in this scene, that it makes Sam's subsequent murder all the more heart breaking. Representing the ultimate in mood-capturing music is the inspired choice of Unchained Melody by The Righteous Brothers as background track. Such was the popularity of this scene and song that Robson and Jerome covered the track on an infamous episode of Soldier Soldier (also on Sony TV) and hit number 1 in the UK charts. May this beautiful moment (and Patrick Swazy's chiselled abs) forever live on in the hearts of the true romantics!
8. The Lion King – "Can You Feel The Love Tonight?"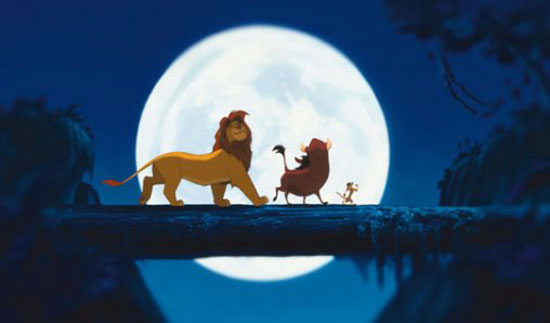 If you thought a musical animation couldn't make the cut – let alone one dealing with big cats, as opposed to walking, talking humans – then think again! No, really – we defy anyone to argue that this moment, in which true love is awakened in Simba and Nala, (to a backdrop of jungle waterfalls and Elton John lyrics), is not deserving of a place on this list. It has even been suggested that this scene could be the first animated Disney sex scene. Soon after we see Simba and Nala's frolicking a new little cub magically arrives to be held up aloft the glorious Pride Rock. Bet you didn't notice that when you were six! Regardless – old or young, one can't help but appreciate this winning combination of classic Disney animation and Elton power ballad.
7. Juno – "Anyone Else"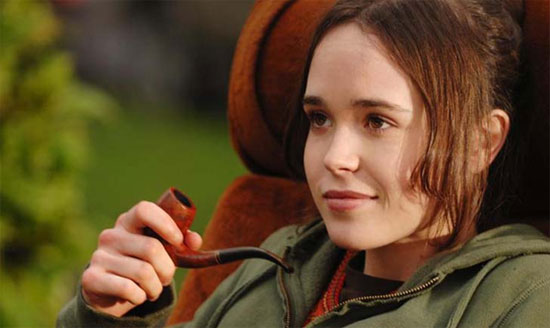 What this song lacks in exaggerated histrionics and flamboyance, it more than makes up for in sentimentality and sweet simplicity. This acoustic number, sang as a duet between Juno (Ellen Page) and Bleaker (Michael Cera) at the film's close and as the credits role on, perfectly sums up the tone and style of this movie. An outspoken declaration of love, shouted from the roof-tops is far from this quirky couple's style. As Juno aptly puts it 'I know people are supposed to fall in love before they reproduce, but, I guess normalcy isn't really our style'. This track provides the perfect anthem for real, happy, understated love everywhere.
6. Dirty Dancing – "I've Had The Time Of My Life"
With this song gracing that coveted final spot on school prom playlists up and down the country, it brings back those sweet memories of summer flings, slow dancing and puppy love, like no other. This song comes towards the end of the movie when Baby (Jennifer Grey) reveals to the holiday camp audience, including her parents, that (SURPRISE!) she is an incredible dancer – perhaps the worst kept secret in cinematic history! After announcing the infamous line, 'Nobody keeps Baby in a corner!' Jonny (Patrick Swayze) leads Baby away from her table and onto the stage, interrupting the ongoing performance. As we see the romance between Jonny and Baby reaching its passionate climax, your heart is sure to soar higher than Baby herself as she masters the magnificent lift.
5. Moulin Rouge – "Elephant Love Medley"
Nothing screams of a big screen, sing-a-lot, musical hit like the Elephant Love Medley in Moulin Rouge. I mean who would want one classic love song when you could have a heady blend of fifteen? From the roof of an elephant shaped building (no marks for guessing how this medley gets its strange title) forbidden lovers Christian (Ewan McGregor) and Satine (Nicole Kidman) battle with their emotions. Through the course of the medley we see Satine slowly overcoming her foreboding and succumbing to Christian's persistent charm. Their final, tear-jerking, duet of How Wonderful Life is When You're in the World is sure to move even the stoniest heart (or the most depressed, TB carrying, French Prostitute).
4. Titanic – "My Heart Will Go On"
How many times have you been playing Christmas charades with your Nan, seen Titanic on your bit of paper, and stood arms-stretched imitating Rose's (Kate Winslet) iconic pose, with this theme tune playing in your head? This piece of moving music has become so heavily interlinked with the film that it is hard to picture one without the other. The second those first introductory flute notes resonate through the speakers, shivers are guaranteed to shoot down the spine of even the least sentimental soul. By the time Celine actually starts singing most of us have dissolved into an emotional wreck. This song undoubtedly taps into the raw emotion of this tragic love story like no other.
3. Notting Hill – "When You Say Nothing At All"
In a combination as delicious as the best Great British Bake Off recipe what better way to capture the romantic disposition of the moment than a trademark Hugh Grant performance as the bumbling-English-gent, and a sexy Irish backing track from Ronan Keating. The song kicks in as Anna (Julia Roberts) and Will (Hugh Grant) sneak into a private London garden and discover a bench dedicated to 'June – who loved this garden, from Joseph who always sat beside her'. As the song reaches its heart-swelling, cheek flushing climax, the camera pans out to see Anna take the bench, and Will awkwardly, (but oh so adorably!) standing by her side.
2. The Bodyguard – "And I Will Always Love You"
As unbelievable as it sounds today, the ending of the Bodyguard to Whitney's And I will Always Love You very nearly wasn't to be. It was actually the Bodyguard himself, Kevin Cosner, who suggested the song, and was fought along the way by everyone from Warner Bros executives to sound track producers, who thought that a country song which began so slowly would never work. Then Whitney sang it and destroyed all doubt. Whitney's flawless acapella opening, played over her character Rachel's emotional outburst to stop the plane as she runs to kiss Frank, is enough to tug at the tightest of heart strings. You will be overwhelmed even before the real power vocals kick in.
1. Grease – "You're The One That I Want"
In this movie, as jam packed with musical hits as it is with tight leather and teenage hormones, the choice of song was a difficult one. Although there were a number of strong candidates for the role, the show-stopping finale performance of You Are The One That I Want takes pole position, as one of the most upbeat and sexy movie love songs of all time. This song not only marks Sandy's (Olivia Newton John) sexual awakening –ditching the girly pink dresses for black leggings, permed hair and a naughty cigarette – it signifies her reunion with Danny (John Travolta), who promises to 'shape up' his bad boy ways. Apparently this unforgettable moment in cinematic history took just one afternoon to shoot and provides the ultimate tribute to young love everywhere, not to mention John Travolta's pelvic thrusts.
Over to you: Fave love songs in the movies?