American teen movies of the 1980s struck a chord with a generation trying to find its own identity. Neal Damiano talks about his faves and why these films continue to resonate today.
10. Mischief (Damski, 1985)
Set in the mid-50s in Nelsonville Ohio, Doug McKeon stars as a nerdy teen who takes the advice of a slick new kid in town to impress and win the heart of the ultra desirable local sweetheart, played by Kelly Preston. In the tradition of obsessed over-sexed teen romps Mischief hits it dead center.
9. Just One Of The Guys (Gottlieb, 1985)
Hilarity ensues when a smart high school girl disguises herself as a boy to prove herself a top notch journalist. But it's one funny twist after another when she falls head over heels for a sensitive classmate. She has to decide between exposing her cover or finding true teen love. I like the lighthearted aspect of this film, not too heavy on teen issues.
8. Teen Wolf (Daniel, 1985)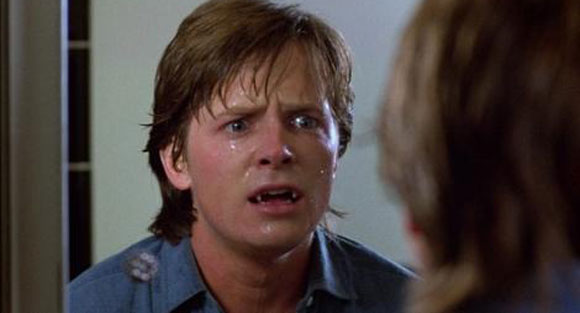 Michael J. Fox plays a nerd in high school that can't seem to get with it. He's the worst player on the basketball team, can't make a basket or score with the girls. Things change once he discovers his family's strange secret – that they're all werewolves. He's soon howling at the moon and miraculously becomes the talk of the town. But not everyone is on the teen wolf train, as friends see the monster he's really become. Teen Wolf is certainly not the greatest teen film made but it has plenty of funny moments, a tongue in cheek flare, and there is a lesson to be learned in the end. A huge hit at the box office and helped Michael J Fox become a star.
7. Can't Buy Me Love (Rash, 1987)
Patrick Dempsey's first leading role. He plays Ronald Miller, a high school nerd who tries to buy his way into the popular crowd. He comes up with a crazy plan, hiring a popular cheerleader to front as his girlfriend. A funny, charming tale of teen angst. Ronald achieves superstar status, creating the Ronald Miller Express, but ultimately pays the price for his popularity. There are definitely moments here we can all relate to and Dempsey's vulnerability is so genuine.
6. License To Drive (Beeman, 1988)
The second film among many to star the dynamic duo Corey Feldman and Corey Haim. License to Drive is full of wonderfully zany characters and situations and is yet another fresh and light movie that defines the era. The movie is very heavy on exaggeration but done in such a hilarious way you can't help but overlook it. Haim's character has two missions in life, getting his driver's license and dating Mercedes (Heather Graham), the hottest girl in high school. The chemistry between the two Corey's is undeniable.
5. Dream A Little Dream (Rocco, 1989)
Corey Feldman and Corey Haim starred in a string of films together in the 1980s and affectionately were referred to as The Two Corey's. Dream A Little Dream is my favorite because of the surreal dream like atmosphere. Dinger and Bobby are best friends. Bobby falls for Lainie, the hottest girl in school and has to convince her that she loves him before the night is over. Bobby switches his body with his neighbor, old man Coleman, living life through his eyes and vice versus. The same thing with Lainie and Coleman's wife. So it's a romantic comedy with a twist. I really enjoyed this movie because of the complex structure and story line, very unique and different than most teen angst films. You really have to pay attention to the characters and their bond. A great film about friendship and relationships in high school.
4. Ferris Bueller's Day Off (Hughes, 1987)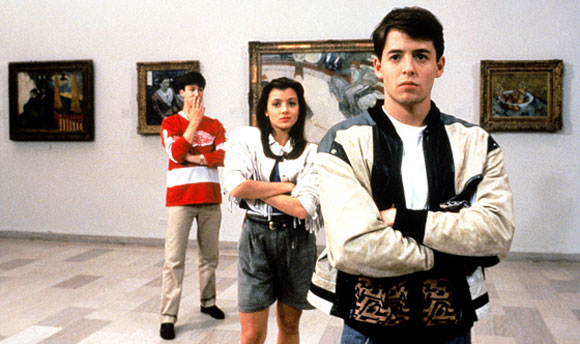 One of the most iconic films of the 1980s, Ferris Bueller became a template for every teenager who wanted to be cool. Liked by all social group burn outs, dweebs, jocks, and preps because Ferris showed them how it could be done. He knew how to outwit the adults and possessed an undeniable charm. Ferris was not going to let a school day ruin his adventure in downtown Chicago.
3. The Goonies (Donner, 1985)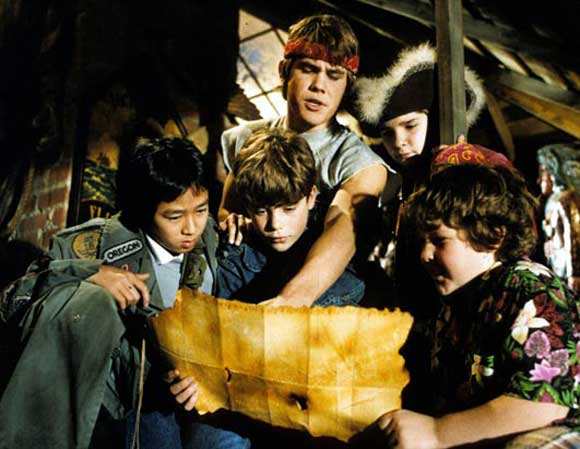 Electrifying, fun filled adventure ride produced by Steven Spielberg and director Richard Donner. A group of teenagers go on an epic search for pirate treasure. Plenty of non-stop action involving death traps, clumsy crooks, and a lovable giant. The Goonies is a movie that makes you smile; every kid wanted to be a Goonie growing up.
2. Sixteen Candles (Hughes, 1984)
The first in the Molly Ringwald trilogy from the master of teen comedies John Hughes, Sixteen Candles creates unforgettable characters like Farmer Ted, Jake Ryan, and The Donger. Ringwald stars as a young girl whose 16th birthday is forgotten by her family, she's crushing on a high school senior, and her only male friend is king of the geeks. Plenty of laughs and one-liners in this teen comedy.
1. The Breakfast Club (Hughes, 1985)
A timeless film by John Hughes. Five very different students from different places in the high school social system, spend a Saturday detention together, only to learn they have more in common than they thought. But the movie is much more than this, becoming one of the most endearing and beloved films of all generations. The film speaks volumes of what it is to be a teenager. All the insecurities and vulnerabilities displayed on the table, open wide for the audience to feel and believe. As we watch the characters develop, we can relate to their fears and desires and how they connect with each other emotionally. The movie broke down barriers in social groups in a very genuine, heart felt way.
Written and compiled by Neal Damiano.
Many talented people have contributed to the success of these, and many other, 1980s teen movies. Neal would like to pay tribute to two of those who we lost in 2009 and 2010 respectively – John Hughes and Corey Haim. One was a star behind the camera, the other, a star in front of it. Their legacy is forever recorded in the films that have become long-time favorites of so many.