Living in the suburbs isn't always about sharing cups of sugar and neighborly chats over the fence as Neal Damiano finds out in the Top 10 bizarre suburban movies list…
10. Pleasantville (Ross, 1998)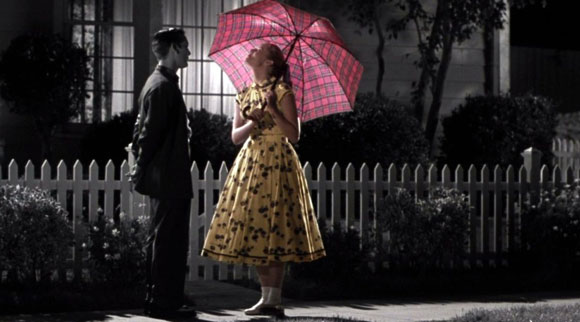 Two siblings played by Toby Maguire and Reese Witherspoon living in the 1990s, get mysteriously zapped back to the 1950s by way of a strange TV repairman. They must adapt and learn the ways of this very different time period. What makes Pleasantville so bizarre is the collision of decades. They're trapped in this wholesome suburban nightmare in black & white, almost a "Father Knows Best" atmosphere.
9. Disturbia (Caruso, 2007)
A modern day take on the Alfred Hitchcock classic "Rear Window", Shia LaBeouf plays a suburban teenager on house arrest. To avoid going crazy from boredom, he begins to spy and observe his neighborhood, seeing all sorts of interesting things. While this becomes a source of entertainment, he witnesses something very disturbing. All hell breaks lose as he tries to escape from his next door neighbor.
8. The Stepford Wives (Forbes, 1975)
A shrewd businessman and wife move to the quiet suburbs after he suffers from a nervous breakdown. Trying to free himself of the hustle and bustle of city life, he takes refuge in the slow moving town of Stepford. However, his wife notices something very different about the housewives in this strange community. Perhaps the most bizarre aspect of the film is the creepy submissive and robotic dreamlike state all the women seem to be in, each one's behavior emulating the other.
7. Happiness (Solondz, 1998)
Todd Solondz's second film. A happily married shrink tries to suppress his fantasies of serial killing and pedophilia. He develops a thing for his son's friend. There are plenty of moments here where you just have to turn your head and look away! Depravity and dysfunction ensue throughout the film, while the characters seem somewhat normal on the surface. Happiness is so over the top it tips over the bizarre scale.
6. Suburbia (Spheeris, 1984)
Suburbia is more like a documentary chronicling the lives in a group of punk rock kids that seem to be thrown out by modern society. Filmed on a very low budget the movie does a great job on capturing the carefree kids, as they shun authority on a regular basis. It's is also Flea from the Red Hot Chili Peppers debut performance as an actor.
5. Edward Scissorhands (Burton, 1990)
Tim Burton brought to life a fascinating character played by Johnny Depp. Edward Scissorhands has scissors for hands and falls in love with a human being, played by Winona Ryder, a pretty girl bored in middle suburbia with a misogynistic boyfriend (Anthony Michael Hall). Not one believes Edward has real feelings, but he does, just as any real human being. Depp's performance is so brilliant in part because he doesn't speak allowing his emotion to come through movement, expression and mannerism. And, he's so convincing.
4. Over The Edge (Kaplan, 1979)
The film reminded me somewhat of an after school special but far more fascinating. Set in the 1970s, a group of rebellious kids embark on a war with authority. One of the first films to really show kids with a complete anarchistic and out of control attitude, with little parental supervision in their bored-out-of-their-minds state. They unfortunately find self destructive ways to keep themselves entertained. One of Matt Dillon's first leading roles and he provides an amazing performance.
3. Daydream Nation (Goldbach, 2011)
Kat Dennings plays Coraline Drexler, a mature 17-year-old high school student from the big city who moves to an eerily quiet suburban town. Stricken from boredom in middle suburbia Caroline is unable to relate to her immature peers, developing a passionate relationship with her English teacher (Josh Peck). At the same time she leads on an eccentric classmate named Thurston (Reece Thompson). The love triangle creates intense jealousy leading to dangerous consequences. While all of this is happening, an industrial fire continues to burn just a few towns away, threatening to work its way toward Caroline's home, and high school girls keep turning up dead, at the hands of a sociopath. Kat Dennings is so convincing, she really owns the role.
2. American Beauty (Mendes, 1999)
Kevin Spacey plays Lester Burnham, a married corporate drone in his mid-forties living in suburbia USA, fed up with the structured mundane existence of his everyday life. Lester, having a semi mid-life crisis, wakes one day with an epiphany – nothing really matters. While this new found perspective affects his family, Lester makes a few changes – he quits his job, begins exercising and lifting weights, starts smoking pot, and begins fantasizing about his daughter's best friend (Mena Suvari). His wife (Annette Benning), frustrated beyond belief, becomes obsessed with self-motivation tapes. His daughter falls for the eccentric boy next door played by Wes Bentley, who films random things and has a homophobic military father. American Beauty is the near perfect portrait of suburban hell and won the Oscar for Best Picture in 1999.
1. Imaginary Heroes (Harris, 2004)
Imaginary Heroes is about a severely dysfunctional upper class suburban family. Sigourney Weaver plays Sandy Travis, who is estranged from her father and her marriage to Ben (Jeff Daniels) is crumbling. She has two kids Matt and Tim. Matt, a potential Olympic swimmer commits suicide in the beginning, we don't know why? Tim feels distant from his father, who centered all his attention on Matt's swimming. Kyle, a negative influence, is Matt's best friend. Seen through flashbacks, Matt and Kyle get in trouble with the law and things come to a halt. Tim (Emile Hirsch) stricken by guilt spends his time mostly in a dream-like trance through the film. The layers are deep here; on the surface it seems like a happy loving family, but peeling away the surface we see an inner darkness that is slowly revealed throughout. I really enjoyed this film, good story and exceptional acting.
Written and compiled by Neal Damiano.