Love him or hate him, there's no denying that Nicolas Cage is one of his generation's most prominent leading men. Mark Fraser looks at the actor's best work with some of the world's top filmmakers…
10. Rumble Fish (Francis Ford Coppola, 1983)
Nic may have been one of the leads in his Uncle Frankie's subsequent Peggy Sue Got Married (1986), plus he enjoyed a more prominent supporting role in Coppola's 1984 disaster The Cotton Club, but Rumble Fish gets on this list as it is a way better movie for a slew of reasons – none of which really involve Cage.
9. Snake Eyes (Brian De Palma, 1998)
Cage revs up the histrionics in this murder-melodrama that – aside from its streadycam-dominated virtuoso beginning – ends up being quite a dull affair. Having said that, had Nic not been in this one it may have turned out a whole lot worse.
8. Wild at Heart (David Lynch, 1990)
Despite being wired to the hilt throughout most of this pseudo-noir double-cross potboiler, Nic ends up being the romantic voice of reason when he closes the movie with his second Elvis impersonation. Whatever one may think of Cage and Lynch's excesses, it says something about the actor when he can hold his own in a cast that includes Laura Dern, Willem Defoe, Isabella Rossellini and Harry Dean Stanton.
7. World Trade Center (Oliver Stone, 2006)
A solid performance in a strangely lacklustre film about a huge historical event. The fact he spends most of it pinned under rubble means the more mobile rescuer Michael Shannon somehow manages to steal the show in the movie's second half.
6. Birdy (Alan Parker, 1984)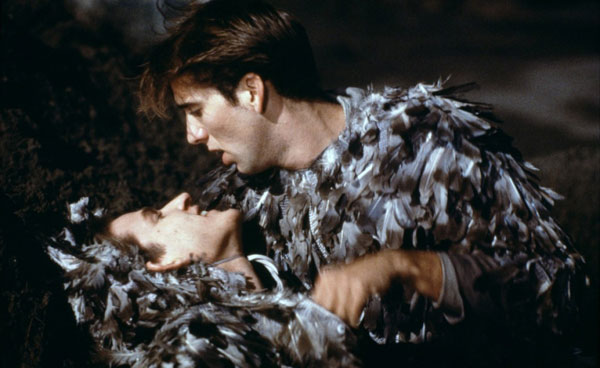 Putting Valley Girl (1983) aside, this was arguably Cage's first major leading role (which he shares with Matthew Modine) and he didn't do a bad job of it. Of course he is helped by the fact that it's a pretty good movie.
5. The Bad Lieutenant: Port of Call New Orleans (Werner Herzog, 2009)
Sure – Nic ain't no Harvey Keitel … and he doesn't get his gear off. Nor does he go through moments of gruelling self-inflicted anguish. Furthermore, his character isn't hit at the end of the movie. Indeed, when one thinks about it, Herzog's version is really nothing like Abel Ferrara's 1992 study of drug-fuelled despair and depravity. Nevertheless, it is a robust performance by Cage.
4. Windtalkers (John Woo, 2002)
While most would probably prefer Woo's identity switcheroo Face/Off (1997) to this intelligently-made World War II actioner, Cage delivers a stunning performance as the battle weary sergeant who, until his demise near the end, proves he has balls of steel.
3. Matchstick Men (Ridley Scott, 2003)
Cage is great as the obsessive-compulsive disordered Roy Waller, an LA conman who ends up getting completely shafted by those he assumes are closest to him. A measured and sympathetic performance in a film which suffers from a plot twist that is kinda preposterous.
2. Raising Arizona (Joel Coen, 1987)
A solid comic performance in the Coen brothers' second movie – one that truly suggested he was destined for bigger things.
1. Bringing Out The Dead (Martin Scorsese, 1999)
Arguably one of Nic's greatest screen performances ever as the burnt out New York paramedic whose life teeters precariously close to the edge of psychological meltdown. Once again Cage's abilities shine in a talent-ridden environment that includes director Scorsese, writer Paul Schrader, cinematographer Robert Richardson and fellow thespian John Goodman. Pity it was all mis-read at the box office.
Written and compiled by Mark Fraser.