As 2013 draws to a close Top 10 Films' Ryan Pollard looks back at his favourites including American Hustle, 3D's first "classic" Gravity, and two great new Tom Hanks movies…
The Mayans were wrong, we made it into 2013, and what a year it has been. It turned out to be a good and interesting year for cinema. There may have been a few stinkers along the way (Pain & Gain, Movie 43, etc.), but some strong films made it through. Hollywood produced its share of enjoyable blockbusters (Despicable Me 2, Man of Steel, Iron Man 3 and Pacific Rim), whilst Britain got their share of great films like Good Vibrations and The Selfish Giant. There were loads of great films to choose from, but here is my Top 10 of 2013. Hope you enjoy.
10. American Hustle (David O'Russell)
Goodfellas meets Boogie Nights, American Hustle is one of David O'Russell's best films along with The Fighter and Silver Linings Playbook. The men look terrible, the women look stunning, and the film delivers its own brand of American psychosis. Both Amy Adams and Jennifer Lawrence were the centre of the film and it was a blast from start to finish.
9. The Hunger Games: Catching Fire (Francis Lawrence)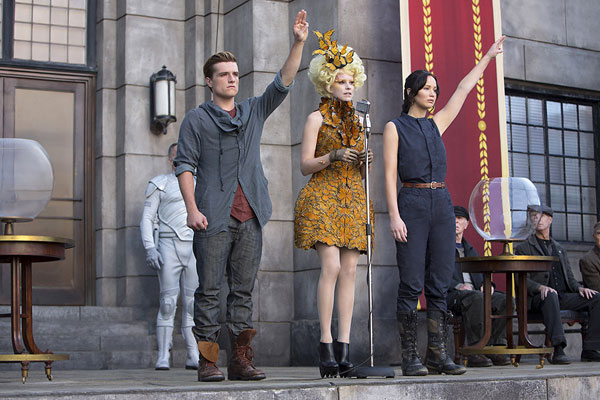 And Jennifer Lawrence strikes again with another astounding performance in the second instalment of The Hunger Games saga. Brilliantly designed, wonderfully played, and paying a significant debt to 1975's Rollerball, Catching Fire is a strong sequel to the equally impressive first film.
Read Ryan's full review of The Hunger Games: Catching Fire here
8. Frozen (Chris Buck, Jennifer Lee)
The first animated feature in Walt Disney Studio's glorious history to offer two princess heroines in the same film, Frozen transforms Hans Christian Andersen's tale into a fable of modern, timeless sisterhood. It had a timeless nostalgic feel of the classic Disney movies before, with the 'Let It Go' sequence among the most memorable sequences in Disney history with the ballroom scene in Beauty and the Beast.
7. Star Trek Into Darkness (J. J. Abrams)
An absolutely enjoyable experience that leaves you coming out with a huge smile on your face, JJ Abrams takes his Star Trek sequel to new heights, delivering amazing spectacle, a fully satisfying story, and a superb performance from Benedict Cumberbatch as the lizard-mouthed adversary.
6. Saving Mr Banks (John Lee Hancock)
The divine Emma Thompson absolutely nailed the role of P.L. Travers, and the film dealt with the story of Travers' conflicts with Walt Disney brilliantly in a way that doesn't really whitewash the real facts of what actually happened. But most of all, the film plays as a beautiful companion piece to the equally wonderful Mary Poppins.
5. Rush (Ron Howard)
One of Ron Howard's best films, Rush was an exhilarating and breathless experience, from the sheer volume of sound to the intense driver's meetings, displaying the conflict between James Hunt and Nikki Lauda. Even if you're not a Formula 1 fan, you will still be involved in the pure drama of the film.
4. Blue is the Warmest Colour (Abdellatif Kechiche)
A beautiful and truthful depiction of what it's like to be in love, Blue is the Warmest Colour is a raw, honest, and deliciously intense film, with powerful performances from Adèle Exarchopoulos and Léa Seydoux, and offers some of modern cinema's most elegantly composed and emotionally absorbing drama.
3. Stoker (Park Chan-wook)
Park Chan-wook delivers an edgy, twisted psychological horror thriller that turns the coming-of-age story on its head. It has the most fantastic performance by Mia Wasikowska as an ethereal angel-turned-demon and Matthew Goode's Uncle Charlie gives Norman Bates a run for his money. Stoker is a generic serial killer movie elevated to an astounding work of art.
Read Ryan's full review of Stoker here
2. Captain Phillips (Paul Greengrass)
Paul Greengrass is at the top of his game as he takes a recent true story, gets the best performance out of Tom Hanks and a dynamite supporting performance from Barkhad Abdi, and does a brilliant job of seeing both sides of the story. He puts you right in the heart of the action and is genuinely nail-biting in a way that leaves you gripping the edge of your seat. A fully rounded satisfying thriller with proper political depth.
1. Gravity (Alfonso Cuaron)
Gravity was the first 3D movie that actually proved that the 3D format could do so much more, and it's a film that demands to be seen in 3D (and Imax). What also makes Gravity so special and unique is that it had at its heart a stripped-down, 90 minute, B-movie script that is cheesy and cod-philosophical in tradition of pure B-fiction, and yet it's brought to life by huge A-list talent, with Alfonso Cuarón directing his masterpiece in a way that has you drinking in the full experience, and Sandra Bullock delivering the performance of her career. Not only the first 3D classic, but also the film of the year.
Read Ryan's full review of Gravity here
What did you think? Do you agree with the list? What were your favourite films of the year? Feel free to comment, but until then, have a Happy New Year. Bring on 2014!
Written and compiled by Ryan Pollard.