Poker has always had a place in movies; sometimes heavily dramatised and other times in a much grittier form. Here's 3 great Poker scenes that show the different portrayals of the game.
Mel Gibson starred in the 1994 comedy Maverick which involves a fantastic if unlikely Wild West Casino Poker scene. Bret Maverick wins the culminating Poker game by beating his rival, Duvall, with a Royal Flush. Gibson executes what is known in Poker as 'the slowroll'. This is where the player slowly reveals his cards; in this case Gibson takes over a minute turning out the cards one-by-one before finally throwing down the Ace of Spades; the ultimate iconic hand in the ultimate dramatized Poker scene.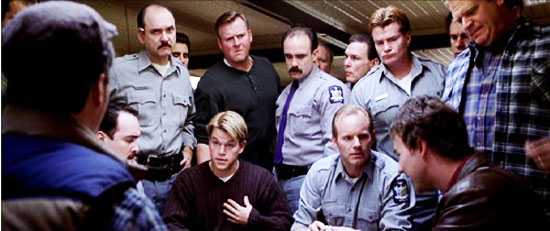 For more grit you may wish to take a look at the Poker scenes in Rounders, particularly the final scene where Matt Damon beats his adversary, Teddy KGB to win back his freedom. The game is outside the controlled confines of the Casino and has a particularly hard edge. The stakes are high and the tension huge as 'Mikey' (Damon) wins a complicated hand of Texas Hold 'em with what appears to be a Flush. For an insight into the workings and psychology of gameplay, this scene is one of the greats.
Paul Newman seems like the go-to guy when it comes to Hollywood gamblers in film. He featured in The Sting which concerned the underhand aspects of the game, but his best role was in the much more watchable Cool Hand Luke. He beats his jailhouse rivals with one of the great film bluffs, and in doing so he exhibits all of his urbane silver screen charm.