Neal Damiano continues his celebration of American and World independent cinema with a look at a collection of modern movies that have fallen under the radar…
10. Interstate 60 (Gale, USA, 2002)

Interstate 60 is a film about the infinite possibilities of life and the choices we make. The movie stars James Marsden as a young man caught between the expectations of his demanding father to become a lawyer and his passion to pursue painting. He heads out on a road trip to find the answer, along the way meeting all sorts of quirky characters who may or not be giving him the right answers. James Marsden just radiates with charisma on every film he's in.
9. The Trouble With Bliss (Knowles, USA, 2012)

Michael C. Hall star as Bliss, an underachieving slacker, living in an apartment with his father in New York. Bliss has absolutely no ambition and future plans, spends most of his days sleeping and hanging around in a local record store. One day he crosses paths with a feisty young girl in high school. All trouble unfolds when he develops a relationship with her. A major moral dilemma at hand, he is conflicted realizing she is the only motivation he holds to get up in the morning. Michael Hall's acting performance here is the best I have seen from him by far.
8. Winter Passing (Rapp, USA, 2005)

Reese Holdin (Zooey Deschanel) is a troubled girl, who returns home to retrieve love letters written by her reclusive father, who is a legend in the literary world. Reese comes home to find her father in the worse shape ever. He can hardly talk with anyone, but she tries to establish a deeper connection with him, despite coming home for bad intentions. Deschanel's acting is quite amazing in this film, even though her character has no redeeming qualities.
7. Murder Party (Saulnier, USA, 2007)

A lonely geek in Brooklyn finds an invitation to a Halloween party, hosted by local artists. He makes a Sir Lancelot costume out of cardboard and finds the party in an abandoned warehouse. He gets knocked out. Upon regaining consciousness he finds himself tied to a chair realizing he's the subject for a group of art students that want to murder someone for the sake of art. Several references to pop culture, it's one of the best dark comedies I've seen. If Quentin Tarantino directed The Breakfast Club you would have Murder Party.
6. Some Girl (Kelly, USA, 1998)

Finding love in Los Angeles… Claire (Marissa Ribisi) is searching for a decent guy anyway she can after having her heart broken several times. Her best friend April (Juliette Lewis) is having sex with any man she can find while stringing Neil (Rapaport) along who is completely in love with her. My favorite character is Giovanni Ribisi, who plays Claire's eccentric brother Jason who he is totally in love with the older, but jaded, Jenn. Due to his social awkwardness, his dialogue is genius. The ending is outrageously funny. A unique script and amazing acting by the whole cast. Some Girl is Cameron Crowe's Singles set in LA without the grunge.
5. Lonesome Jim (Buscemi, USA, 2005)

Casey Affleck stars as Jim, a writer from New York, who returns home to Chicago with his parents after he runs out of money. While there he falls for a nurse played by Liv Tyler. She is a single mother raising a son. Jim develops a bond with the child surprising himself that he can actually commit to something. In my opinion, this is the best from Casey Affleck. Simply amazing performance for such a complex character.
4. The Rules Of Attraction (Avary, USA, 2002)

Sean Bateman (James Van Der Beek) is a student at Camden College in New England. He is handsome, charming and lacks all emotion, having slept through half of the female population, and with eyes on the remainder. A series of unanimous love letters continually surface in his mailbox. He's pretty certain of the girl who is writing the letters and fixates on making a connection with her. Bateman gets himself into all sorts of crazy situations without any regard for other people's feelings but seems to always make it out alive. Not the most popular Bret Easton Ellis film, I found it to be very entertaining because Van Der Beek's character is so complex and compelling on screen, you can't help but watch. It might leave you feeling empty but what do you expect from a Bret Easton Ellis film.
3. Rory O'Shea Was Here (aka Inside I'm Dancing) (O'Donnell, UK/Ireland, 2004)

Michael has cerebral palsy and is a patient at Carrigmore Home for the disabled in Ireland. His life changes when he meets a punk rocker in a wheelchair named Rory O'Shea. Rory lives every moment to the fullest despite his handicap and introduces Michael to the joys of music, girls, and drinking. I really enjoyed this film, such a powerful story about living life!
2. The Art of Getting By (Weisen, USA, 2011)

Freddie Highmore plays a loner in high school, his outlook on life is dismal. He doesn't believe in anything or anyone. All Freddie cares about is music and art. Emma Roberts plays a sophisticated girl wise beyond her years. A chance meeting between the two, starts a unique bond. I really enjoyed this movie, well written script and incredible performances from both Roberts and Highmore.
1. In Search Of A Midnight Kiss (Holdridge, USA, 2007)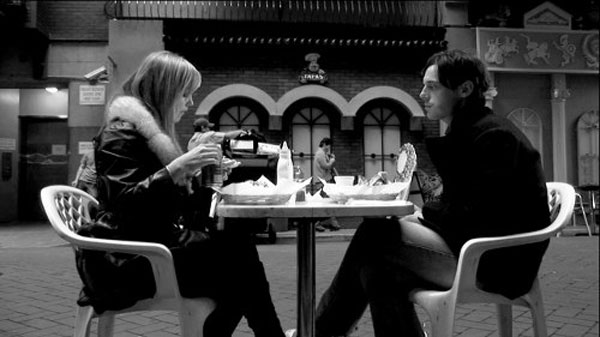 [ad#Google text Ad – square no border]
Wilson (Scoot McNairy) is a twenty-nine-year-old who just moved to Los Angeles. He has no solid plans, and no motivation to do anything. His best friend convinces him to post an ad for a date. The ad reads "Misanthrope seeking a misanthrope for a night of no fun". He meets his match on New Years Eve – Vivian (Sara Simmonds), a woman as cynical as him. They spend the whole night walking around Los Angeles playfully antagonizing each other. An amazing script with beautiful cinematography and a phenomenal performance from Scoot McNairy. It won the John Cassavetes award at the Independent Spirit Awards. In Search Of A Midnight Kiss is the Annie Hall of Los Angeles.
Written and compiled by Neal Damiano.