I'm on a tour of small American towns to discover the best "feel good" movie set in these picturesque hamlets. We'll laugh, we'll cry, we'll meet some wonderful people. Above all we'll be happy.
Whether you're a casual film fan or a connoisseur of cinema, there's nothing quite like a "feel good" film. Whether it's a happy ending, a charismatic and lovable character, a laugh-riot or the overall presence of optimism, it is the films that make us feel good that become instant favourites. Of course, some films make us feel good because they work on a more personal level, eschewing laughs and happy endings for stories that tell us: we're not the only ones to have experienced this event, situation or emotion. Like a warm hug they reassure us. In fact, the best movies of this type probably make us laugh and cry in equal measure. In this list I take a look at the top 10 feel good movies set in small town America.
Discover More: Top 25 Films To Make You Happy | Make Me Happy – Best of the 1980s | Top 10 Suburbia In Peril Films
10. Doc Hollywood (Caton-Jones, 1991)

There are few Michael J. Fox films that aren't instantly likeable. Doc Hollywood is definitely one of them as he gets audiences "feeling good" with love and laughter and a healthy dose of that always entertaining conceit – the fish out of water. Here he plays a hotshot surgeon on his way to a new job in Los Angeles when he crashes his car in a sleepy South Carolina town and is forced to carry out community service as the town's general practitioner.
Discover More: Top 10 Michael J Fox Films
9. Housesitter (Oz, 1992)

Director Frank Oz is the king of feel good movies. For example, he made the delightful Steve Martin/Michael Caine con-man movie Dirty Rotten Scoundrels, musical-comedy Little Shop of Horrors, and fish out of water romp What About Bob starring Bill Murray and Richard Dreyfuss. Housesitter sees his long-time collaborator Steve Martin enjoy a one-night stand with Goldie Hawn only for Hawn to secretly move into his abandoned house and pass herself off as his new wife. This charade not only pulls the wool over the eyes of the close-knit townspeople but Martin's well-to-do parents.
Discover More: Top 10 Steve Martin Films
8. Pleasantville (Ross, 1998)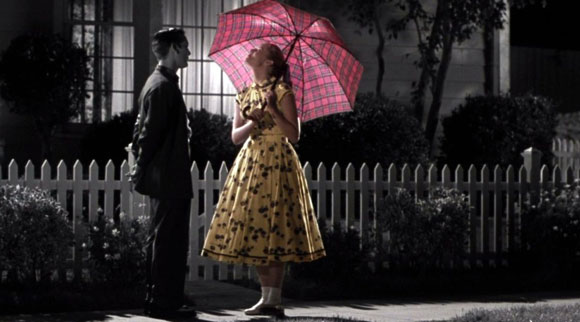 Reese Witherspoon delights in her breakthrough role opposite Tobey Maguire in a film about two siblings who get magically transported into the world of a 1950's sitcom called Pleasantville. In this ultra conservative world, which appears in black and white like the television show, life occurs like clockwork and wholesome family values are upheld at all times. Maguire and Witherspoon as sister and brother Jennifer and David adopt the roles of the siblings in the show while David tries to figure a way back into the real world. Following the show's plot, of which David knows like the back of his hand, Jennifer begins dating a boy from high school. However, against the family ideals of its target audience, there's no sex in Pleasantville. It therefore comes as a major shock to the boy in question and the town itself when Jennifer sleeps with her new boyfriend. Suddenly, anyone enjoying a bout of emotion turns to colour, as do flowers, books, and works of art. Pleasantville's idyllic monochrome is splattered with colour and the peaceful tedium is turned upside down.
Discover More: Top 10 Suburbia In Perils Films
7. Roxanne (Schepisi, 1987)

Arguably Steve Martin's finest film, Roxanne is the sort of movie that gives the romantic-comedy, a much maligned genre in recent years, a good name. He plays eccentric fire chief C.D Bales, a man loved in his home town for his intelligence, kindness and wit. Set in a dainty, perfectly manicured Pacific Northwest town, everyone knows Bales and he knows them. So the fact he has an unusually oversized nose is something the townspeople have become accustomed to. And while Bales is happy in his own skin, and he has no problem making friends, he has found the love of a woman difficult to come by. When beautiful astronomer Roxanne Kowalski (Daryl Hannah) comes to town she immediately attracts the attentions of every single bachelor. Chris, a newly acquired member of staff at Bales' fire unit, is the man Roxanne initially falls for. However, Chris feels intellectually inferior to Roxanne and fears rejection so Bales helps him write love letters to her, which eventually win her over. Of course, as this is going on, the fire chief is becoming more and more enamoured with Roxanne. Will he profess his love for her? Will she ever find out who really won her heart with those love letters? I think you already know…
Discover More: Top 10 Steve Martin Films
6. Groundhog Day (Ramis, 1993)

Punxsutawney in Pennsylvania is the location of this feel good film as Bill Murray's cantankerous weatherman is forced to live the same day over and over again until he sees the error of his ways. He might be a self-centred wretch but he's a strangely likeable self-centred wretch – some would argue it is the sort of character Murray has made a career out of. The concept of time travel, or in this case time standing still, is something Hollywood has been having fun with for generations. You can see co-writer and director Harold Ramis smiling with glee as he puts Murray through his paces, creating some wonderfully inventive moments that bring out the best in human nature. The fact this amusing journey is repeated again and again might be a nightmare for the protagonist but it's a dream come true for the audience.
Discover More: Bill Murray's Top 10 Sarcastic Remarks
5. The Sandlot (Evans, 1993)

David Mickey Evans' film about the adventures of a group of kids during their summer vacation in the early 1960s is impossible not to like. Filled with delightful characters who journey along the much-travelled road of childhood firsts together, The Sandlot transports you back to an innocent age when the scariest things in life were the opposite sex and the neighbour's humungous dog. It has that warm, fuzzy, golden-hued ambience reminiscent of Stand By Me without the dead body.
4. E.T. The Extraterrestrial (Spielberg, 1982)

Adventure comes to a small American town in Steven Spielberg's dazzling fantasy E.T. When a young alien is left behind by his parents during their exploration of earth, he befriends a quiet teenage boy. The boy teaches the alien about life on earth – the important things such as trashy television, fast-food and sugary sweet – while the alien, in its own understated way, helps the boy come out of his shell. Eventually, with unscrupulous federal agents closing in on the alien, the boy must help E.T. contact his mother ship so that he can escape and return home. Perhaps that sense of returning home is what makes E.T. such a "feel good" movie. Home is where the family is – warmth, security, love. The ending always brings a tear to my eye…but at least it's a tear of joy.
Discover More: Top 10 Steven Spielberg Films
3. Breaking Away (Yates, 1979)

Breaking Away is as much about pursuing your dreams as it is about the friendships and communal coming-of-age you're likely experience in high school and college, particularly when it comes to team sports. Winner of the 1979 Academy Award for Best Original Screenplay, Peter Yates' film brings together the conventions of the typical sports film and adds a terrific character study focused on the lives of four nineteen-year-olds who find their lives at a crossroad. They have finished high school but their future remains uncertain – is it a job next, if so what job; or is it college, if so what course? What brings these young men together is their collective battle to earn back respect lost on the rich university students who belittle them as working class nobodies. When the opportunity arises to race in the university team cycle challenge. The Little 500 puts teams of four up against each other as they ride around a circular track for 200 laps. The race gives these nineteen-year-olds the chance to earn respect, but it provides much more than that. Feeling like they haven't accomplished anything in their lives, taking part in the race is one way to alleviate that frustration, and winning is a dream come true.
Discover More: Top 10 Inspirational Sports Films
2. Field of Dreams (Robinson, 1989)

When you think of Field of Dreams what is the first thing that comes to mind? Sun-kissed cornfields, supper on the porch and homemade lemonade, the love of a man for his wife and child, the game of baseball? Or is it dreams coming true and the words "if you build it, he will come". When a farmer (Kevin Costner) decides to dispose of his cornfield in order to build a baseball diamond after hearing ghostly voices telling him to do so, he risks everything – his marriage, his family, his livelihood – to follow a dream. But the dream becomes reality as the farmer begins to put right the fallen ambitions of others. The romanticised supernatural story allows Costner's Ray to fulfil the dreams of those both alive and dead, brought together by a collective love of baseball. And by sacrificing so much for others, Ray's own forgotten ambitions come to light and are ultimately fulfilled.
Discover More: Top 10 Inspirational Sports Films
1. It's A Wonderful Life (Capra, 1946)

The number one feel good movie of all time is an easy winner in this list of happy, optimistic cinema set in small town America. When a depressed family man (James Stewart) decides to commit suicide, his guardian angel appears to take him back through his life to see how he has helped those around him enjoy a better existence. He comes to realise that despite what he thinks about himself, without him, so many other lives could have gone sour. Ultimately, he begins to appreciate life and can find happiness again.
Discover More: Top 25 Films To Make You Happy
Written and compiled by Dan Stephens.
More Top 10 Films about… Animals In Film | Anti-Heroes | Brits On Holiday | 1980s Childhood Adventure Films | Clowns | Drug Addiction | Girl Power | Marriage | Prostitution
For all the latest top 10s, reviews and competitions follow Top 10 Films on Twitter!
What are your favourite feel good movies set in small town America?
Discover More on Top10Films.co.uk:
Search our collection of Top 10 lists sorted by type:
THEME | ACTOR | DIRECTOR | TIME PERIOD | GENRE | COUNTRY | SPECIAL INTEREST | FUNNY
See the A – Z of films featured on Top 10 Films / Check out our film review database