Terrorists were rearing their ugly heads in movies well before a bunch of hijackers changed the course of history on September 11, 2001. Mark Fraser takes a look at a few examples.
10. True Lies (James Cameron, 1994)

Despite being a crowd pleasing, multi-million dollar blockbuster starring the gun-touting Arnold Schwarzenegger when the big fella was pretty much at the top of his game, True Lies can lay claim to being a genuine Hollywood curio, being one of the few studio films of the 1990s to turn the fight against some Middle Eastern fundamentalists into a spectacular action-packed romp. Given the release of another of Arnie's similar vehicles – Andrew Davis' Collateral Damage – was postponed just after 9/11, one can only wonder how the American public would have responded to this Cameron film had it been released circa September 7or 8, 2001.
9. The Siege (Edward Zwick, 1998)

In some ways, The Siege is kind of a nemesis or counterpoint to True Lies, depicting a war against disgruntled Muslims sans the fast-paced frivolity. Released three years before 9/11 and some four after the World Trade Centre bombing, this movie is proof that the enemy had been identified well before Bush Junior and the Neocons took over the White House in early 2001. Having said that, as a thriller The Siege is not too bad, despite the fact its script has to maneuver between moments of criminal suspense and (sometimes racist) crackpot conspiracy.
8. The Crying Game (Neil Jordan, 1992)

Although this film will probably by remembered for the appearance of Jaye Davidson's penis, as a story about a group of somewhat uppity IRA kidnappers/terrorists it's not half bad. Indeed, I would argue that the movie's best part is its opening sequence, when Fergus (Stephen Rea) first hears about Dil (Davidson) from the hapless British soldier/prisoner Jodi (Forest Whitaker) before the latter is accidently killed by his own army while trying to escape. Meanwhile, the final shootout between two of the group's members (Miranda Richardson and Adrian Dunbar) and the English authorities pretty much sums up the futility of their political cause.
7. Patty Hearst (Paul Schrader, 1988)

I've always thought Schrader's cinema is kind of hit and miss, and this movie – which looks at the kidnapping, brainwashing and recruitment of US newspaper baron Randolph Hearst's daughter (played by Natasha Richardson) by the Symbionese Liberation Army – is no exception. Having said that, I nevertheless appreciate his cerebral approach to film making, as highlighted in this quote from the man back in 1990: "If you abuse a character enough, eventually you get into the concentration camp-guard syndrome – you don't care about the victim anymore because you only see their degradation; they've become a non person. So I set out to create a style (in Patty Hearst) that abused the audience." Needless to say, with Patty Hearst he pretty much achieved this.
6. That Obscure Object of Desire (Luis Bunuel, 1977)

It would have been strange if terrorism did not appear in the works of one of cinema's greatest anarchists. In his final film, Bunuel treats terrorism as something of an ongoing and somewhat absurd inconvenience; a sort of running gag (especially as the terrorists are part of the Revolutionary Army of the Infant Jesus). When Mathieu (Fernando Rey) witnesses a car bombing that results in the death of his mirror image (a well dressed rich man who lives in a mansion and gets chauffeured around in a large black car), his immediate reaction is to order his own driver to turn around and drive the other way so he won't be late for his train. Later his magistrate cousin Edouard (Julien Berthean) complains that the justice system isn't harsh enough on terrorists. Even a late night gun fight outside his apartment, or an article in the paper on a plane hijacking, fails to move Mathieu; he simply seems annoyed. As for the final explosion, it is strangely fitting that Bunuel – one of the greatest motion picture directors to have ever lived – concluded his oeuvre with an image of chaotic destruction. In effect, his close to 50 year body of work ended with a random act of terror – with a bang, not a whimper.
5. Sorcerer (William Friedkin, 1977)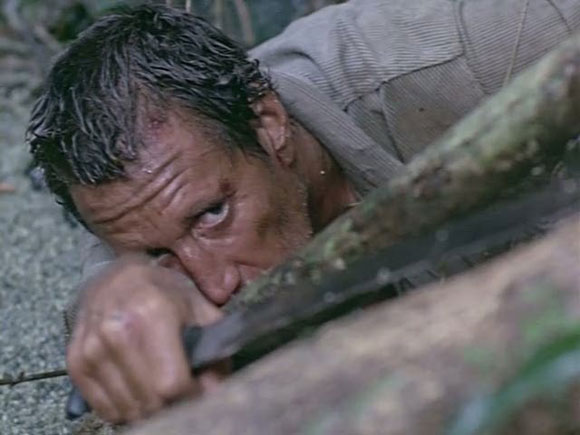 In this somewhat existential remake of Henri-Georges Clouzot's 1953 classic La Salaire de la Peur (The Wages of Fear), Amidou plays Kassem/"Martinez", a Palestinian terrorist on the lam who finds himself in a squalid Latin American backwater (along with three other unrelated international outlaws) after he helps blow up a bank in Jerusalem.
An intriguing aspect of the film is the fact that none of the characters, all of whom are criminals, are judged by their past actions. Rather, their individual mettle is measured by the way in which they react to the challenges put before them during a suicidal rescue mission involving 200 miles of hostile jungle terrain, two dilapidated trucks, a few deadly cases of shaky nitroglycerin, frayed nerves and an oil well fire. In this regard Kassem truly comes to the party when – thanks to his background in guerilla demolition – he clears a massive fallen tree that is blocking the party's road to salvation. Interestingly, there is another terrorism subplot in the film's radically re-cut international print (aptly called Wages of Fear), in which it is made abundantly clear that the American-owned oil well is blown up by a group of terrorists via a scene in which its members impassively watch the carnage from a nearby mountain ledge. Coincidently, just two years before appearing in Sorcerer, Amidou played a meaner incarnation of a Middle Eastern-looking terrorist in Otto Preminger's abysmal Rosebud (1975). And, in both films, he utters the same line of dialogue: "Perfect!"
4. Black Sunday (John Frankenheimer, 1977)

In a racing-against-the-clock plot, an Irish-sounding member of Mossad (Robert Shaw) tries to thwart a disgruntled Vietnam veteran (Bruce Dern) and his female German-sounding Palestinian colleague (Marthe Keller) from crashing a booby-trapped Goodyear blimp into a crowded Miami super bowl game. Like the episodic opening of Sorcerer, the story initially jumps across the globe, giving the film's first 20 or so minutes a strangely pleasant disorientating feel. But unlike the Friedkin movie, there is no hint of honour for the murderous terrorists in this fast paced and sometimes brutal action thriller.
3. The Day of the Jackal (Fred Zimmerman, 1973)

If ever there was a litmus test for an audiences' ability to sit through a movie involving terrorism (this time in the form of political assassination), it's this film. Long, slowly-paced, conservatively directed with a relatively unglamourous cast – plus with very little action and just a glimpse of nudity to boot – TDOTJ had a surprisingly good theatrical run when it was first released in 1973. Part of the reason for this may have been the allure of the real Carlos the Jackal (Ilich Ramirez Sanchez) who was, at the time, arguably one of the world's best known terrorists. (And, in a somewhat ironic twist during the film's dénouement, the police admit they have no idea who the Jackal – played by Edward Fox – really is.) Another factor behind the movie's popularity might have been the fact it was based on a best-selling novel by Frederick Forsyth. However, I would argue that TDOTJ was a big hit because of the impeccable performance of Mr Fox, whose portrayal of the pedantic and ruthless hit man was nothing short of spellbinding. If anything, he should have at least received a Best Actor Oscar™ nomination for this role.
2. The Third Generation (Rainer Werner Fassbinder, 1979)

A grimly satirical tale about the members of a not-so-bright terrorist cell in Berlin (not exactly Hamburg, but it sounds familiar, right?) who attempt to kidnap a German industrialist, only to find themselves being manipulated by both the authorities and their target as their plan deteriorates around them. An interesting aspect of this film is how Fassbinder shows, via contemporary racist and homophobic graffiti, the kind of hatreds that are manifesting themselves throughout society and which are seemingly helping fuel the fire of the hapless bunch of anarchists. As an aside, the director was also the film's cinematographer, and a damn fine job he does of it.
1. The Battle of Algiers (Gillo Pontecorvo, 1965)
[ad#Google text Ad – square no border]
I suspect if this was made today, the loony right across the world would somehow try to outlaw it. In fact, it was originally banned in France for years, which is not surprising given it is about the overthrow of French colonialism by Algerian Muslims during the 1950/60s. No doubt there are plenty of things in the film that the current crop of Republicans and Tories would find loathsome, particularly the random acts of violence and Pontecorvo's depiction of women willingly planting bombs in public bars and eateries frequented by civilian mothers and their children – acts he doesn't try to condemn. At the end of the day it is to the film's credit that – after almost 50 years – these scenes remain a strong slap in the face for any colonial force occupying a Muslim country.
Written and compiled by Mark Fraser.
More from Mark Fraser on Top 10 Films:
10 Fruitful Collaborations Between Non-US Directors And Their Cinematographers | 10 Fruitful Collaborations Between Hollywood Directors And Their Cinematographers | 15 More Great Second Films by Directors | 11 great American film quotes that rarely (if ever) get mentioned in top 10 film quote lists
For all the latest top 10s, reviews and competitions follow Top 10 Films on Twitter!
Your turn – in this fascinating and often hard-hitting sub-genre, which films are the best in your opinion?
More Top 10 Films about… Animals In Film | Anti-Heroes | Brits On Holiday | 1980s Childhood Adventure Films | Clowns | Drug Addiction | Girl Power | Marriage | Prostitution
Discover More on Top10Films.co.uk:
Search our collection of Top 10 lists sorted by type:
THEME | ACTOR | DIRECTOR | TIME PERIOD | GENRE | COUNTRY | SPECIAL INTEREST | FUNNY
See the A – Z of films featured on Top 10 Films / Check out our film review database