James Bond's introduction is one of the most iconic images in film. It has changed slightly over the years but the essence of the sequence (and the shot) remains the same.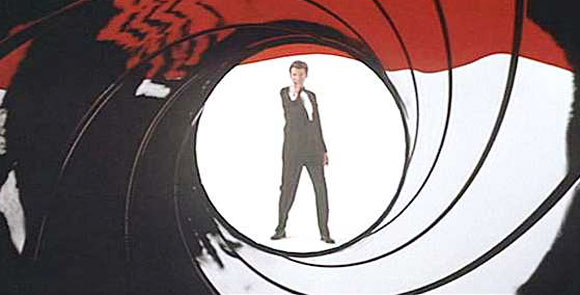 This image needs no introduction. The pre-title shot that introduces us to the world of James Bond is one of the most iconic images in cinema. The eponymous secret agent walks across screen, fires his weapon directly at the audience and then watches as blood drips across the screen before we are plummeted into his next adventure.
Discover More on Top 10 Films: The Best James Bond Films | Bond Girls | Gadgets | Opening Credit Sequences | Vehicles | Henchman | Quips
More Iconic Images
E.T. the Extra-Terrestrial – Trying to escape the authorities, Elliott takes flight thanks to E.T.'s magical powers. With E.T. sat in the bicycle's front-mounted basket, the pair fly in front of a beautiful blue moon.
_____________________________
Jaws – Shark expert Matt Hooper gets a big surprise when investigating the wreck of a local fisherman's small boat. One of Jaws' most memorable moments.
_____________________________
Jurassic Park – Even without the low rumble of an approaching dinosaur, and the resulting ripple of the water in the cup, this simple image sends shivers through audiences who have witnessed Jurassic Park.