What is the funniest film ever made? We all have our faves and many have tried to argue which comedy stands out as No.1. For Ragil Pembayun, he just wants to laugh. Here is his top 10.
Ragil Pembayun takes a look at some of his favourite comedy films from recent years. You can discover many more top 10s devoted to comedy on Top 10 Films such as our look at the best comedy films inspired by British television. If you're in the mood for Chevy Chase or Steve Martin or Adam Sandler or Bill Murray, we have lists covering their greatest films plus many more actor top 10s. Or perhaps you fancy a 1980s comedy or more specifically a film from the 1980s featuring a comedy double act? Whatever you're after, you'll find a great recommendation right here!
If you want to purchase any of these great comedies, you can do so online. Purchasing these classic comedies online allows you to have the films delivered right to your door, so that you are not left spending time trying to hunt them down. It is becoming increasingly difficult to find DVDs and Blu-rays because most rental stores have gone out of business. Therefore, you might struggle to find some of the lesser known titles on this list. You will usually save money by buying your movies online, as internet retailers do not have the same overhead as other stores, and can thus sell for less.
Discover More: Top 10 Pick-Me-Up Films | Top 25 Films to Make You Happy
10. National Lampoon's Christmas Vacation (Jeremiah S.Chechik, 1989)
A classic Christmas film which can be found gracing the small screen almost every year, National Lampoon's Christmas Vacation is a fun packed, tongue-in-cheek favourite which will be sure to get you in the festive spirit. Chevy Chase plays the lead character Clark Griswold who tries to create a family Christmas to remember but instead finds himself in all sorts of hilarious scrapes. This is a lighthearted movie which the whole family can enjoy.
9. Office Space (Mike Judge, 1999)
If you have ever worked in the humdrum of an office environment, Office Space is a classic comedy film you can't afford to miss out on. The lead character is Peter Gibbons, who has absolutely no motivation or desire to do well in his job and finds the day to day routine completely pain staking. Office Space is so real to life that you can't help but chuckle as you find yourself comparing the characters to people you know!
8. The Naked Gun 2 ½: The Smell of Fear (David Zucker, 1991)

A sequel to the original Naked Gun, this is a film most suited to people with a bit of a wacky sense of humour. The main character is played by Leslie Nielsen, a police officer who sets out to put the police world to rights. As with the other Naked Gun films in the series, the humour is very much tongue-in-cheek and it will be sure to give you more than a few outward laughs!
7. Elf (Jon Favreau, 2003)

Another Christmas movie which people of all ages seem to adore, Elf is about a simple man (played by the hilarious Will Ferrell) who has been mistakenly brought up by elves and decides to go on a voyage to find his real family. Elf has just the right dose of rude humour with a tear jerking and funny story line to make it one of the funniest Christmas movies of all time.
6. Austin Powers : International Man of Mystery (Jay Roach, 1997)

The first Austin Powers sees Mike Myers as the International Man of Mystery who makes this movie what it is through his sexual innuendos, constant face pulling and memorable catchphrases such as 'do I make you horny, baby.' As the unexpected lothario who fights the force of Dr Evil, Austin Powers: International Man of Mystery is a film with endless laughs and will be sure to brighten up even the dullest of days.
5. There's Something About Mary (Bobby and Peter Farrelly, 1998)

Cameron Diaz plays the lead role of Mary, who has men falling at her feet (some of which are more than a little deranged.) There are plenty of hilarious, memorable scenes in this movie which people still talk about to this day and a good love story which will leave you reaching for the hankies at times! There's Something About Mary has a great cast and is a film you can watch over and over without getting fed up.
4. Ace Ventura : Pet Detective (Tom Shadyac, 1994)

In his own unique way, Jim Carrey uses his physical skills to make this a comedy which will leave your sides splitting. As a pet detective who goes in search of a missing mascot, Ace Ventura takes you on a journey full of comic moments and madcap adventures. This comedy film was a hit at the box office and is still a favourite to this day.
3. Dumb and Dumber (Peter Farrelly, 1994)
A comedy film which still pulls in huge viewing figures when it's shown on the small screen, Dumb and Dumber follows the adventures of two of the most stupid people on the planet, as they mistakenly inherit a suitcase of stolen cash. Jim Carrey and Jeff Daniels work incredibly well together as a duo who you can't help but love despite their obvious shortcomings.
2. The Hangover (Tod Phillips, 2009)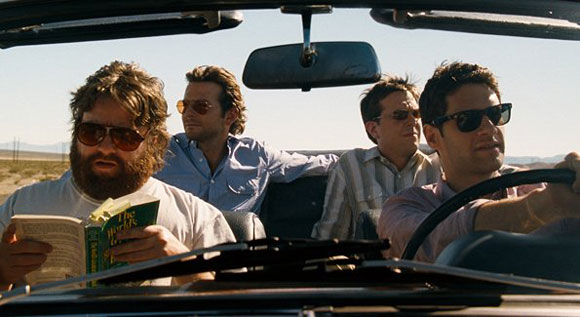 Set in Las Vegas, this comedy film follows the adventures of a group of men on a stag weekend who try to remember what they did the night before and how they have managed to lose the groom along the way. We can all relate to 'the hangover' in this film which is one of the many reasons it has made it to the top of the best comedy movies around. The Hangover III will be showing in cinemas soon.
1. Superbad (Greg Mottola, 2007)

You can't help but love this movie which is centred around a couple of high school friends who haplessly attempt to meet some girls who will help them become the men they long to be. In typical high school comedy film fashion, there is lots of adult content and embarrassing moments which will leave you cringing and laughing at the same time. A similar film to Superbad that's out soon is 21 and Over, by Jon Lucas and Scott Moore.
Discover More: Top 10 Pick-Me-Up Films | Top 25 Films to Make You Happy
What are your favourite comedy films?
Written and compiled by Ragil Pembayun.
Discover More on Top10Films.co.uk:
Search our collection of Top 10 lists sorted by type:
THEME | ACTOR | DIRECTOR | TIME PERIOD | GENRE | COUNTRY | SPECIAL INTEREST | FUNNY
See the A – Z of films featured on Top 10 Films / Check out our film review database