Mark Fraser celebrates the work of great director-cinematographer partnerships in a top 10 featuring collaborations between US filmmakers and their directors of photography.

ABOVE: Janusz Kaminski advises Steven Spielberg on a shot
If it's true that behind every great man there is a just-as-great woman, then the same could be said about some of the world's most influential film directors and their lighting cameramen. In part one of this installment (see part 2 here), Mark Fraser takes a look at some standout examples of this relationship in US cinema.
See more film director top 10s – including Martin Scorsese, Clint Eastwood, Steven Spielberg and Alfred Hitchcock – by visiting our "Directors" page.
10. Robert Aldrich and Joseph Biroc

The pairing of Joseph Biroc with Robert Aldrich may, in some ways, be a strange one given the idiosyncratic American director made what was arguably his best work – 1954's Kiss Me Deadly – with another cameraman with whom he also shared a close association. During the first decade of his career, which started in earnest with The Big Leaguer in 1953, Aldrich not only used Ernest Lazlo to shoot the 1954 noir classic, but also three other significant Hollywood films from the 1950s – Apache and Vera Cruz (both also in 1954) and The Big Knife (1955). While Lazlo's tenure with the producer/director sadly ended with the rather unadventurous and star-driven western Four for Texas in 1963, Biroc remained close to Aldrich, shooting his second "feature" (World for Ransom in 1954, for which he was uncredited), his 1955 anti-war movie Attack as well as his last movie …All The Marbles (an audience rouser which was re-labeled California Dolls for the international market) during 1981. In the end, Biroc shot over half of Aldrich's feature films and most of the last 15 he directed. These included some of the most interesting Hollywood anti-establishment potboilers of the 1970s – namely Too Late the Hero (1970 – anti-war), Ulzana's Raid (1972 -anti-western), Emperor of the North (1973 – anti-railroad) as well as 1974's The Longest Yard (or, as part of the world knows it, The Mean Machine, a movie that was genuinely anti-authority). Interestingly, Biroc did not shoot one of Aldrich's most popular films (The Dirty Dozen in 1967); nor was he responsible for the director's best known works outside of Kiss Me Deadly (Whatever Happened to Baby Jane? – 1962). Finally, he was also not behind the camera for 1977's Twilight's Last Gleaming, arguably Aldrich's last almost good film. Fortunately Biroc's efforts as a cinematographer did not go unrecognised by Hollywood for, along with Fred Koenecamp, he received an Oscar™ for his work on John Guillermin's mid 1970s disaster epic The Towering Inferno.
9. Spike Lee and Ernest Dickerson

African-American cinematographer Ernest Dickerson had a profound influence on the early work of sometimes controversial director Spike Lee, shooting not only his first six features from 1986-1992, but also the movie he made for his masters degree thesis while at the Tisch School of Arts (Joe Bed-Stuy Barbershop: We Cut Heads in 1983). Three years later, in 1986, came Lee's quirky black and white debut film She's Gotta Have It, followed by the not-so-well received School Daze (1988), the acclaimed Do the Right Thing (1989), Mo Better Blues (1990), Jungle Fever (1991) and the epic bio-pic Malcolm X (1992). Since splitting with Dickerson, Lee's career has been varied, albeit pretty interesting, with perhaps his next most interesting collaboration with a cinematographer being Malik Hassan Sayeed in both 1996's Clockers (which in many ways is a stunning film and contains some lighting tricks pioneered by Robert Richardson) and He Got Game (1998).
8. Robert Zemeckis and Dean Cundey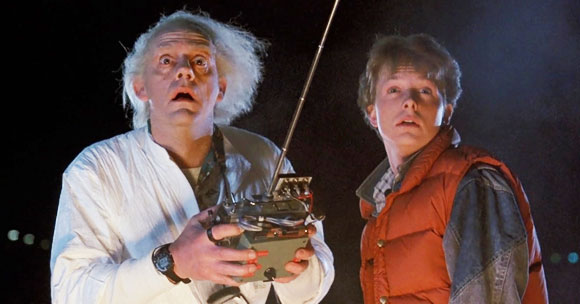 Although director Robert Zemeckis won his Best Picture Oscar™ after working with director of photography Don Burgess on 1994's ground-breaking Forrest Gump, his success as a film maker was more or less established after completing six back-to-back films with cinematographer Dean Cundey, the cameraman who came to prominence after an almost-as-fruitful collaboration with horror maestro John Carpenter. The Zemeckis-Cundey run started in 1984 with the highly successful Romancing the Stone, and continued across the Back to the Future trilogy (1985, 1989 and 1990) as well as the effects-heavy Who Framed Roger Rabbit? (1988) and Death Becomes Her (1992). This is not to say that the Zemeckis- Burgess collaboration has not been impressive. However, works such as Contact (1997) and What Lies Beneath (2000) – while interesting – fell short of Forrest Gump's initial promise.
Discover More: Top 10 Robert Zemeckis Films
7. (TIE) Woody Allen and Gordon Willis

For those who have gone off Woody Allen over the past two decades for whatever reasons, it is still undeniable that he produced some stunning cinema during the late 1970s and early 1980s, starting with the Oscar™-winning Annie Hall in 1977 and moving through the black and white works of Interiors (1978), Manhattan (1979), Stardust Memories (1980), Zelig (1983) and Broadway Danny Rose (1984), before returning to colour with The Purple Rose of Cairo in 1985. During this extremely creative "Bergmanesque" period, Allen used cinematographer Gordon Willis, the man who – up until that point – had photographed the two installments of The Godfather (he also did the inferior number three in 1990) as well as a few other influential Hollywood movies of the 1970s like Alan Pakula's Klute (1971) and All the President's Men (1976). Of course it is arguable that Carlo Di Palma – in films like Hannah and Her Sisters (1986), Radio Days (1987), September (also 1987) and Husbands and Wives (1992) – has played just as an important role in the Allen oeuvre. However, it is also fair to suggest that Allen, during the second half of the 1980s, did not reach the same cinematic heights that he had achieved the previous decade. Films like Shadows and Fog (1992) and Manhattan Murder Mystery (1993), for instance, were pretty lightweight, while his two best two pictures made at the end of the decade of excess – Another Woman (1988) and the beautifully-realised Crimes and Misdemeanors (1989) – were shot by Ingmar Bergman regular Sven Nykvist. During the past 10 years Allen has continued to use a number of prominent cameraman, from veteran Oscar™ winner Vilmos Zsigmond to Darius Khondi (the DOP whose work on David Fincher's 1995 grisly murder tale Se7en was nothing short of magnificent), on a less recurring basis. Nevertheless, it was his 1977-85 period that truly cemented his position as one of America cinema's greatest living auteurs.
Discover More: Top 10 Woody Allen Films
7 (TIE) Clint Eastwood and Jack N. Green
Like Woody Allen, Clint Eastwood has become one of modern America's most prolific film makers and, like Allen, he has primarily relied on the talents of a core group of people from project to project. Since 1971, Eastwood has directed over 30 films and, throughout this period, he has utilised three principle cinematographers – Bruce Surtees (who lit his first movie, Play Misty for Me, back in 1971), Jack N. Green and, during the past decade, Tom Stern. Given Eastwood's somewhat old fashioned directorial style has remained fairly consistent (comprising fairly straight-forward coverage, even (and sometimes slow) pacing, undeniable sentimentality and an avoidance of cinematic histrionics), making a decision between these three could be a challenging task. However, given, his breakout film behind the camera was 1988's Bird (some might say it was Pale Rider in 1985, but I disagree), that rules out Surtees. And when comparing the films shot by Green (from Heartbreak Ridge in 1986 through to Space Cowboys in 2000) with those by Stern (Blood Work in 2002 to 2011's J. Edgar), it is arguable that the latter period was in fact more fruitful. After all, these years yielded Oscar™-winning works like Mystic River (2003), 2004's Million Dollar Baby (which won both Best Picture and Best Director), the ambitious 2006 WW II double Letters of Our Fathers and the much more ambitious Letters from Iwo Jima as well as Gran Torino (2008), a film which somehow failed to garner a Best Actor nomination for its iconic director. Having said this, the Green years produced what were arguably Eastwood's better collection of films – from Bird and Black Hunter, White Heart (1990), to A Perfect World (1993), The Bridges of Madison County (1995) and Space Cowboys (2000). The clincher for the Green era, however, is 1992's Unforgiven, the movie that turned the Western on its head, won a bunch of Oscars™ (including Best Film but, unfortunately, not Best Cinematography) and saw Eastwood the actor give the performance of a lifetime as a murderer (and meanest bastard on Earth, as Green lights him in the climatic shootout) who is brought out of retirement for one last score, only to bring a sense of old world justice to the new frontier. Certainly audiences forgave both the director and his cameraman for The Rookie, the abysmal cop-buddy action flick they had made some two years earlier.
Discover More: Top 10 Clint Eastwood Films
6. Martin Scorsese and Michael Ballhaus
German-born Michael Ballhaus had already been in a significant director/cinematographer partnership with the late German film maker Rainer Werner Fassbinder before he started working with Martin Scorsese, their first effort being the under-appreciated After Hours (1985). After that, their track record was something of a mixed bag, with The Colour of Money (1985) being pretty crappy and the visually-rich The Last Temptation of Christ (1988) coming off as a tad esoteric. All was forgiven, however, when they made GoodFellas (1990), an incredible and sometimes deceivingly complex work that today stands out as one of the best modern gangster films ever made. While many were divided about their next two efforts – The Age of Innocence (1993) and 2002's ambitious The Gangs of New York (which seemed so much better in the cinema than on VHS … I have yet to watch it on DVD) – their work on The Departed (2006) not only brought Scorsese his first long-awaited Best Director Oscar™, but it picked up the Best Picture gong as well. Whether the director will choose to remain with his current cinematographer Robert Richardson for future projects is anyone's guess. Nevertheless, one thing remains certain – Ballhaus' contribution to the Scorsese oeuvre should never be understated.
Discover More: Top 10 Martin Scorsese Films
5. Brian De Palma and Stephen H. Burum

There was once a rumour going around that after the not-so-gratifying critical response to his gangster magnum opus Scarface (1983), Brian De Palma threatened to make a violent in-your-face hardcore porno Hollywood blockbuster just to piss off his dissenters. The result (if one believes this story) was the not-so-spectacular Body Double (1984), a work that – while featuring a bit of the director's usual rough and tumble misogyny – ended up looking like nothing more than a fancy rip-off of Alfred Hitchcock's 1954 Rear Window. One notable outcome from all of this, however, was it turned out to be the first collaboration between the director and DOP Stephen H. Burum, a cinematographer who had recently filmed the beautiful black and white Rumble Fish (1983) for Francis Coppola. The pair went on to make what are arguably De Palma's best films – The Untouchables (1987), Casualties of War (1989) and his masterpiece Carlito's Way (1993). Burum also photographed one of the most outlandish steadycam openings thus far seen in any Hollywood film in Snake Eyes (1988), his efforts arguably surpassing the drunken Bruce Willis exposition sequence in the director's 1990 adaptation of The Bonfire of the Vanities (on that occasion the DOP was Vilmos Zsigmond, who has also had a long-standing relationship with De Palma, having shot Obsession (1976), Blow Out (1981) and the abysmal adaption of James Ellroy's The Black Dahlia in 2006). To date, the last De Palma/Burum effort was 2000's Mission to Mars, a movie pretty much regarded as something of a mixed bag by the director's fans.
Discover More: Top 10 Brian De Palma Films
4. The Coen Brothers and Roger Deakins
For their first three films (Blood Simple – 1984, Raising Arizona – 1987 and Miller's Crossing – 1990) – all of which were directed by Joel – the Coen Brothers (Joel and Ethan) used DOP-turned-director Barry Sonnenfeld as their cameraman. This changed in 1991 when they utilized the English-born Roger Deakins for Barton Fink, an arrangement which has pretty much stayed in place since. With the exception of 2008's Burn After Reading (when the boys employed Emmanuel Lubezki as their cinematographer), Deakins has photographed all of their films – including two of their most loved (Fargo – 1996; The Big Lebowski – 1998), their big Oscar™ winner (No Country for Old Men – 2007), their strangest (A Serious Man – 2009) and their good ol' Hollywood remake (True Grit – 2010).
3. Oliver Stone and Robert Richardson

The stark difference between Oliver Stone's second film The Hand (1981) and Salvador (1986) – his third – pretty much speaks for itself. While the former is a somewhat turgid, unimaginatively-lit and predictable one trick psychological horror pony that fails to make any meaningful impression (except, perhaps, to remind us that Michael Caine can spit out fairly embarrassing performances on cue), Salvador is a lively, polemical and somewhat flamboyant action-packed pseudo docudrama that at times looks as if it really is taking place in a Central American war zone. Such is the skill of Robert Richardson, the DOP Stone used from 1986 through to 1997, when their decade-long collaboration resulted in Oscar™ winning stuff like Platoon (1986), Born on the Fourth of July (1989) and JFK (1991). After establishing his credentials in the world of documentaries, Richardson emerged as one of the world's greatest living cinematographers due primarily to his tenure with Stone. While the first two above-mentioned Vietnam war films were interesting, it really wasn't until The Doors (also 1991) that the pair really started to break some interesting boundaries when it came to using multiple film stocks and innovative lighting set ups. This culminated in three seminal Stone works – Natural Born Killers (1994), JFK and Nixon (1996). It's fair to say that the director's films post this period have never reached the same giddy heights, despite some interesting moments in movies like Any Given Sunday (1999) and Alexander (2004). Richardson, however, has continued to stun filmgoers with his camera mastery in his collaborations with other auteurs like Martin Scorsese (Casino – 1995; Bringing Out the Dead – 1999; The Aviator – 2004 (for which he won his second Oscar™); Shutter Island – 2010; and Hugo – 2011 (bringing him his third Academy Award)) and Quentin Tarantino (Kill Bill 1 and 2 – 2003/04; Inglourious Basterds – 2009; and Django Unchained – 2012). Plus, he is probably the only man left on the planet who can legitimately say: "I shot JFK".
Discover More: Top 10 Oliver Stone Films
2. Alfred Hitchcock and Robert Burks
Between 1951 and 1964 Alfred Hitchcock used DOP Robert Burks for all of his films except for Psycho (1960), when John Russell was behind the camera. All up, this period covered 12 of the director's works – from Strangers on a Train (1951), Dial M for Murder and Rear Window (both 1954), To Catch a Thief (1955), The Man Who Knew Too Much (1956), Vertigo (now as acknowledged by some influential critics as the best film ever made – 1958), North by Northwest (a movie that had a huge influence on Spielberg – 1959) and The Birds (1963) to cult favourite Marnie (1964). If anything, these movies truly reflected a golden age in the life of Hollywood. Unfortunately, Burks and his wife died in a house fire during 1968. Therefore, it was not surprising that after Marnie until his own death, Hitchcock never used the same DOP twice again.
Discover More: Top 10 Alfred Hitchcock Films
1. Steven Spielberg and Janusz Kaminski
[ad#Google text Ad – square no border]
Steven Spielberg and Polish-born Janusz Kaminski have been making films together since 1993 when they collaborated on (and won Oscars™ for) the much-lauded Schindler's List. Since then they have teamed up for a number of other modern American classics including Saving Private Ryan (1998 – the film for which they both won their second Academy Awards), AI Artificial Intelligence (2001) and Minority Report (2002); a few not-so-good block busting fantasy adventures like The Lost World: Jurassic Park (1997) and War of the Worlds (2005), as well as some handsome-looking grown-up fare such as Amistad (1997), Catch Me If You Can (2002) and Munich (2005). At the start of last year they hit audiences with the double whammy of War Horse and The Adventures of Tintin; this year they wooed the Oscar™ crowd with the period drama Lincoln. In the past Spielberg has displayed a penchant to work with the same DOP on a number of films (namely Allen Daviau and, to a lesser extent, Vilmos Zsigmond, Doug Slocombe and Dean Cundey). With Kaminski, he has arguably helped establish the strongest – and arguably one of the most profitable – director-DOP collaborations in Tinseltown's modern age.
Discover More: Top 10 Steven Spielberg Films | Top 10 Steven Spielberg Characters | Top 10 Films Produced by Steven Spielberg | Top 10 Scenes in Steven Spielberg Films
Written and compiled by Mark Fraser.
More from Mark Fraser on Top 10 Films: 15 More Great Second Films by Directors | 11 great American film quotes that rarely (if ever) get mentioned in top 10 film quote lists
For all the latest top 10s, reviews and competitions follow Top 10 Films on Twitter!

ABOVE: Alfred Hitchcock directs star Tippi Hedren and fellow actors Veronica Cartwright, Rod Taylor and Jessica Tandy on the set of The Birds. Robert Burks, his cinematographer, is seated behind the camera.
Your turn – what are your fave US director-cinematographer collaborations?
Other top 10s about film directors you might like: Woody Allen | John Carpenter | Brian De Palma | Clint Eastwood | Terry Gilliam | Alfred Hitchcock | John Landis | Martin Scorsese | Ridley Scott | Tony Scott | Steven Spielberg | Oliver Stone | Robert Zemeckis
Discover More on Top10Films.co.uk:
Search our collection of Top 10 lists sorted by type:
THEME | ACTOR | DIRECTOR | TIME PERIOD | GENRE | COUNTRY | SPECIAL INTEREST | FUNNY
See the A – Z of films featured on Top 10 Films / Check out our film review database