Mark Fraser continues his celebration of the work of great director-cinematographer partnerships in a top 10 featuring non-US film-makers and their directors of photography.

ABOVE: Andrei Tarkovsky mulls over his next shot
If it's true that behind every great man there is a just-as-great woman, then the same could be said about some of the world's most influential film directors and their lighting cameramen. In part two of this installment (see part 1 here), Mark Fraser takes a look at some stand out examples of this relationship in non-US cinema.
See more film director top 10s – including Martin Scorsese, Clint Eastwood, Steven Spielberg and Alfred Hitchcock – by visiting our "Directors" page.
10. Pier Paolo Pasolini and Tonino Delli Colli

Of all Italian Pier Paolo Pasolini's dozen films – from Accattone in 1961 through to the grim Salo in 1975 – cinematographer Tonino Delli Colli helped shoot eight. Aside from his association with the above-mentioned two works, Colli also collaborated with the writer/director on a number of his other best known movies – namely Mamma Roma (1962), The Gospel According to St Matthew (1964) and the first two entries in his medieval trilogy (The Decameron in 1970 and The Canterbury Tales in 1971). Given it's easier for idiots like me to discuss Pasolini in terms of history and politics rather than style, perhaps it's instructive in this instance to refer to English critic Julian Petley who, in 1981, described Accattone as a film that employed "seemingly neo-realist devices (fragmentary narrative, non professional actors, seedy locations etc)", but was significant "precisely for its departures from the genre". While some of this aesthetic recurred in Pasolini's subsequent works – and was apparent a decade later in the medieval trilogy – Salo marked a departure from much of this. Not only was an easy going cinematic narrative thrown out the window in favour of more symmetrical and formal compositions, but the director's overall outlook had became far more bleak, embracing a level of bitter cynicism that even the torture porn proponents of the modern era are finding difficult to match.
9. Federico Fellini and Guiseppe Rotunno

Italian film making maestro Federico Fellini used quite a few cinematographers throughout his career. Otello Martelli, for example, co-shot The Road (1954) with Carlo Carlini and Nights of Cabira (1957) with Aldo Tonti before tackling La Dolce Vita by himself in 1960. Meanwhile, two other seminal Fellini works – 8 ½ (1963) and Juliet of the Spirits (1965) – were photographed by Gianni Di Venanzo. Then there are his last three efforts – Ginger and Fred (1987), Intervista (1987) and The Voice of the Moon (1990) – which were shot by Tonino Delli Colli. From 1969-1983, however, all of his features were filmed by Guiseppe Rotunno, a body of work which embraced Satyricon (1969), Roma (1972), Amarcord (1973), City of Women (1980) and … And the Ship Sails On (1983). Like Japanese director Akira Kurosawa (see below), just about everyone – fans, film makers and critics alike – all have their own favourite Fellini film, and usually their choices emanate from different phases of his career. For me, Satyricon is the highlight. Furthermore, it took a few viewings over a number of years before the film's final shot really struck me. Sitting alone in the cinema, all I could think was: "Wow!"
8. Rainer Werner Fassbinder and Michael Ballhaus

It's undeniable that Rainer Werner Fassbinder is one of modern film's greatest tragics. A talented actor, writer, director and cinematographer, the prolific Fassbinder was a leading light in the so-called New German Cinema of the 1970s before his untimely drug-fuelled death during 1982 at the relatively young age of 37. During the last few years of his life, he utilised the talents of cinematographer Xaver Scharzeberger on Querelle, Veronica Voss (both 1982), Lili Marleen (1981) and the TV series Berlin Alexanderplatz (1980). Lili Marleen also marked the end of his association with Michael Ballhaus, the cameraman he had collaborated heavily with since 1970 when they made Whity. After this Ballhaus went on to film some of Fassbinder's better-known works such as The Bitter Tears of Petra von Kant (1972), Fox and His Friends (1975), Chinese Roulette (1976), Despair (1978) and The Marriage of Eva Braun (1979) as well as lesser known ones like the TV movie Martha (1974) and Mother Kuster's Trip to Heaven (1975). Additionally, the German director also employed Ballhaus in other films where he relied on two cinematographers – namely World on a Wire (with Ulrich Prinz – 1973) and Satan's Brew (1976), in which another Fassbinder regular, Jurgen Jurges (the man who shot 1974's Fear Eats the Soul), was also behind the camera. Another lighting cameraman who worked closely with the director was Dietrich Lohmann, who filmed his first six features (from Love is Colder Than Death in 1996 to the co-directed The Niklashausen Journey in 1970 as well as a good deal of his substantial television work during the 1970s).
7. Jean-Luc Godard and Raoul Coutard

Apparently Raoul Coutard was a war photographer in Indochina before he became Jean-Luc Godard's chief cinematographer circa 1959-1967 – a kind of strange development given it was after the US/French/Vietnamese Paris peace talks of 1968 that Godard sort of went off the rails, drifting into his Maoist period and breaking from the cameraman who not only had hands-on experience in the revolution's front line, but also served this king of auteurs so well during the first part of his career. Coutard shot what are arguably Godard's best films during what is arguably his most accessible period. From 1960's Breathless, A Woman is a Woman (1961) and My Life to Live (1962) through to 1967's Weekend and La chinoise, the French film maker also churned out some genre-driven stuff that was at least entertaining. This included a film about film making (Contempt – 1963), a black and white science fiction detective story (Alphaville – 1965) a pseudo gangster film (Pierrot Le Fou – also 1965) as well as a homage to American noir movies (Made in the USA – 1966). After that – and this may well depend on what film school you went to, what age you are or where your politics lie – he either became problematically interesting or just a complete leftie bore. Nevertheless, whichever way one looks at it, the Godard-Coutard collaboration broke new ground in film making, providing plenty of food for thought when it came to narrative (partly through redefining notions pertaining to mise-en-scene and montage) and the political implications of film's ontological nature. Since 1967, they have only made two films together – Passion (1982) and First Name: Carmen (1983).
6. Bernardo Bertolucci and Vittorio Storaro

No list involving cinematographers could ignore the work of Italian director of photography Vittorio Storaro, the man who shot Apocalypse Now (1979) for Francis Coppola and Reds (1982) for Warren Beatty, but who really cut his teeth through his work with fellow countryman Bernardo Bertolucci. From 1970 through to 1994, this pair collaborated on eight movies, their efforts rewarded when they both won an Oscar™ in 1988 for The Last Emperor (a film which also garnered the Best Picture award). Their other significant collaborations included The Conformist (1971), Last Tango in Paris (1973) and 1900 (1976), Bertolucci's long-winded take on the rural Italian class struggle before and after the two world wars. Although this collaboration has yielded a few misfires (1979's La Luna is particularly dire, while Little Buddha [1993] is really quite tedious), Storaro has always succeeded in making Bertolucci – and other Italians like Dario Argento – look really good.
5. (TIE) Akira Kurosawa and "Fill-In-The-Blank"

Only the true fans of Japanese director Akira Kurosawa will be able to decide which cinematographer best served one of film making's master story tellers. Over a career spanning some 50 years, Kurosawa used three key cameraman – Asakazu Nakai, Takao Saito and Kazuo Miyagawa. The latter appeared the least on his film list, but his contribution was significant given he was responsible for shooting the essential Rashomon (1950) and Yojimbo (1961). Nakai, on the other hand, not only shot the director's first feature No Regrets for Our Youth in 1946, but also other classics like Seven Samurai (1954), Throne of Blood (1957) and 1975's Dersu Uzala (along with Yuri Gantman and Fyodor Dobronravov). Meanwhile, Saito was the DOP for Sanjuro (1962), Dodeskaden (1970) and the great Kagemusha (1980). As for 1985's Ran, Kurosawa's last great historical epic, the director not only used both Nakai and Saito, but also Masaharu Ueda, who worked later with Saito on 1990's Dreams.
5. (TIE) Luis Bunuel and Gabriel Figueroa

Like Kurosawa, Spanish director Luis Bunuel seemed to use different cameramen on many of his best known works. And, at the end of his career, he relied on Edmond Richard to shoot three highly acclaimed films (The Discreet Charm of the Bourgeoisie – 1972, The Phantom of Liberty – 1974 and That Obscure Object of Desire – 1977). Another name which keeps popping up in the Bunuel oeuvre, however, is Gabriel Figueroa, who the director used to such great effect for the tragic Los Olvidados, the second movie from his Mexican period which won the 1951 Official Jury Prize for direction at Cannes (1950). This was followed by the much maligned El (1953), Nazarin, Fever Mounts at El Pao (both 1959), The Young One (1960), The Exterminating Angel (1962) and Simon of the Desert (1965). Bunuel once famously remarked: "Thank God I am still an atheist!" As film buffs, we can be thankful to the heavens that we have his works to look back on.
4. David Cronenberg and Peter Suschitsky

It's been reported that after making a number of films together – including cult horror favourites like The Brood (1979), Scanners (1981), Videodrome (1983) and The Fly (1986) – cinematographer Mark Irwin quit working with Canadian director David Cronenberg during pre-production on Dead Ringers (1988), leaving the door open for English-born Peter Suschitsky, who not only shot the Jeremy Irons tour de force, but has been involved with all of the director's subsequent nine films. And what a journey this has been. Their efforts have involved the adaptation of a few literary works (William Burroughs' The Naked Lunch in 1993, JG Ballard's Crash in 1996, John Wagner and Vincent Locke's graphic novel A History of Violence in 2005, Christopher Hampton's stage play The Talking Cure [A Dangerous Method] in 2011 and Don DeLillo's Cosmopolis in 2012), the recreation of a Broadway play (M. Butterfly – again with Irons – in 1993), a pseudo sci fi-horror treatise on gaming (eXistenZ in 1999), a post apocalyptic psychological murder mystery (2002's Spider) as well as a docklands gangster movie involving the Russian mafia (2007's Eastern Promises). Violent, surreal, melodramatic, alienating, confusing and sexually-charged – plus exercising a keen eye to outstanding costume and set design – the Cronenberg/Suschitsky canon most surely go down as one of the most bizarrely creative director/cinematographer collaborations in modern English-speaking cinema.
3. Werner Herzog and Thomas Mauch

(NB – this deals with Herzog's feature films only, not his numerous documentaries or shorts). Between 1968, when he made the poetic black and white WWII yarn Signs of Life, and 1984, German-born Werner Herzog directed 11 features – all of which were photographed by either Thomas Mauch or Jorg Schmidt-Reitwein. Of these, Mauch shot what are arguably his five best ones from this era – the above-mentioned Signs of Life, Even Dwarfs Started Small (1970), the masterful Aguirre, the Wrath of God (1972), the sad, hilarious and quirky Stroszek (1977) as well as the jungle epic Fitzcarraldo (1982). This isn't to say the Herzog-Schmidt-Reitwein collaborations (Fata Morgana – 1970; The Enigma of Kasper Hauser – 1974; Heart of Glass – 1976; Nosferatu The Vampire and Woyzeck – both 1979) were in anyway shoddy … it's just that any list with Aguirre in it should come first in my book. Interestingly, Herzog has used the same cinematographer – Peter Zeitlinger – for all of his more US studio-orientated stuff since 2001.
2. Ingmar Bergman and Sven Nykvist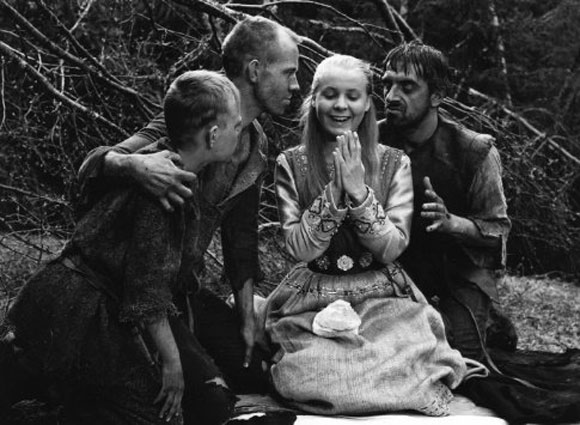 It wasn't until something like his 14th film as a director and ninth year as a film maker that Ingmar Bergman employed Sven Nykvist to co-shoot Sawdust and Tinsel (1953) along with Hilding Bladh. Over the course of his previous 13 movies, Bergman had predominantly used Gunnar Fischer (who eventually shot The Seventh Seal and Wild Strawberries in 1957), Goran Strindberg and, on a few other occasions, Bladh as his key cameramen. After 1960, however, this changed dramatically, with Nykvist shooting practically all of the Swedish director's films over the next 24 years. These included a number of highly significant projects – from The Virgin Spring (1960), Through a Glass Darkly (1961), Winter Light and The Silence (both 1963), Persona (1966), Hour of the Wolf, Shame (both 1968) and Cries and Whispers (1973) through to 1982's Fanny and Alexander, a work which garnered both the Best Foreign Film Oscar™ and the academy's cinematography gong (it was Nykvist's second one after Cries and Whispers). During this time, they also collaborated on Bergman's only American film, The Serpent's Egg (1977), one of the most strangely difficult, oppressive, spooky and downbeat masterpieces ever made. Including Scenes From a Marriage (1973) – a television program which became a feature length film for the international audience – the pair collaborated on over 20 works. Sadly, when Bergman made his final film Saraband in 2003, he employed the services of five DOPs, but none of them were Nykvist. Unfortunately, Sweden's best known lighting cameraman had wrapped up his career in 1998 after being diagnosed with aphasia. He eventually died in 2006.
1. Andrei Tarkovsky and Yadim Yusov
[ad#Google text Ad – square no border]
Although Andrei Tarkovsky and Yadim Yusov only made a small number of feature films together (the director's first three: Ivan's Childhood – 1962; Andrey Rublev – 1966 and Solaris – 1972), these seminal works represent almost half of Tarkovsky's complete oeuvre (he made just seven movies by the time of his death in late 1986). Furthermore, not only do they contain some of the Russian director's best moments, but they stand out (in my biased and sometimes warped opinion at least) as three of the greatest films ever made. With its focus on a complex web of relationships formed between four central characters on the Eastern Front during the Second World War, Ivan's Childhood turns out to be nothing short of devastating. Meanwhile, Andrey Rublev – with its six part narrative structure that includes the vicious Tartar sacking of a Russian village and the building of a bell by a nervous teenage novice in plague stricken 15th century Russia – is not just epic in its vision, but remains one of the most profound reaffirmations of the human spirit ever committed to celluloid. As for the mind bending conclusion of the futuristic Solaris, it's about as Dostoyevskyan as they come. Interestingly, Tarkovsky once wrote that Yusov refused to work on his fourth film, Mirror (1975), because, after reading the script, the cameraman "found the frankly autobiographical nature of the work distasteful from an ethical point of view". When he saw the finished product (which was shot by Georgi Rerberg), however, he told the director: "I hate to have to say it, Andrei, but it is your best film". Admittedly Mirror is pretty good, but personally I beg to differ.
Written and compiled by Mark Fraser
More from Mark Fraser on Top 10 Films: 15 More Great Second Films by Directors | 11 great American film quotes that rarely (if ever) get mentioned in top 10 film quote lists
For all the latest top 10s, reviews and competitions follow Top 10 Films on Twitter!

ABOVE: Alfred Hitchcock directs star Tippi Hedren and fellow actors Veronica Cartwright, Rod Taylor and Jessica Tandy on the set of The Birds. Robert Burks, his cinematographer, is seated behind the camera.
Your turn – what are your fave non-US director-cinematographer collaborations?
Other top 10s about film directors you might like: Woody Allen | John Carpenter | Brian De Palma | Clint Eastwood | Terry Gilliam | Alfred Hitchcock | John Landis | Martin Scorsese | Ridley Scott | Tony Scott | Steven Spielberg | Oliver Stone | Robert Zemeckis
Discover More on Top10Films.co.uk:
Search our collection of Top 10 lists sorted by type:
THEME | ACTOR | DIRECTOR | TIME PERIOD | GENRE | COUNTRY | SPECIAL INTEREST | FUNNY
See the A – Z of films featured on Top 10 Films / Check out our film review database