2012 gave us some memorable summer blockbusters with Skyfall, The Avengers and The Dark Knight Rises grabbing the headlines. What's in store for 2013? Top 10 Films takes a look…
[ad#Google text Ad – square no border]
2012 was an absolutely spectacular year for the cinema, and with many of last year's best films now available in streaming services and on DVD and Blu-Ray, lots of film fans are excited to watch them at home. However, before you set your sights entirely on picking out a hit film from 2012 and curling up on the couch, you may want to take a look at what's in store for the cinema in 2013. From highly anticipated sequels to intriguing adaptations, the summer of 2013 is full of potential hits. Here's a look at ten of the most intriguing films for the summer that's just around the corner.
More on Top 10 Films you might like: Top 10 Grossing Films of 2012 | Top 10 Films of 2012 | 50 Films Better Than The Dark Knight In 2012
10. The Lone Ranger

Frankly, the trailers for this long-anticipated, semi-historical western adventure film have been a bit underwhelming. Additionally, Johnny Depp appears to be up to his slightly-too-familiar quirkiness in the role of Tonto. That said, however, Depp still draws a crowd, and the cast surrounding him is full of actors and actresses who tend to deliver: Armie Hammer will play John Reid (the Ranger), and Tom Wilkinson, Barry Pepper and Helena Bonham Carter will also appear. Plus, the last time Gore Verbinski started a franchise with Depp, we got the wildly popular original Pirates of the Caribbean!
9. The Wolverine

Of all of the comic book film franchises flooding cinemas these days, none has been more disjointed than the X-Men/Wolverine combination. It's no longer very clear which films in this franchise are connected, which are spin-offs, and what order they're to be taken in. But here's what we know about "The Wolverine" – Hugh Jackman is massively muscular and apparently very angry. That ought to be enough to pack the box office.
8. The Hangover Part III

Many fans were a bit disappointed by Part II, simply because it followed more or less the same script as the original – just in a different setting. Regardless, the laughs were still there, and Part III promises to shake things up a bit for the finale. The trailers indicate that the gang will be heading back to Vegas to close the book on their hilarious and life-altering misfortunes.
7. World War Z

Brad Pitt stars as Gerry Lane in this adaptation of the popular book of the same title. Lane is a United Nations employee who seeks to stop the rapid and devastating zombie takeover that is threatening to cripple humanity as we know it. Given the combination of a popular book, a zombie theme (also wildly popular these days), and Hollywood's biggest star, this seems like an automatic hit.
6. Fast & Furious 6

What was once a tired and drawn out franchise received a massive shot of adrenaline thanks to the success of Fast Five in 2011. The whole team is back for more in Fast & Furious 6 – Vin Diesel, Paul Walker, Tyrese Gibson, Ludacris, and, yes, The Rock – and it looks as if this latest installment is as adrenaline-packed as any of its predecessors. Diesel recently hinted that early reception to the 6th film has been so positive that a 7th is already in the works!
5. Star Trek Into Darkness

Barely a month before the film's release, the plot and trailers for this latest Star Trek sequel remain clouded in relative secrecy. What we know is that 2009's Star Trek reboot was extremely successful and Captain Kirk (Chris Pine) and Spock (Zachary Quinto) are back for more. Throw in Benedict Cumberbatch, whose turn as Sherlock Holmes in TV's "Sherlock" led to worldwide fame, and this sequel looks quite promising, albeit mysterious.
4. 300: Rise Of An Empire

Kept largely in the dark until recently, this sequel to 300 is likely to become a very hot topic in cinema as the year progresses. Of course, most of our heroes from the original film perished at the Hot Gates, but some characters, such as Queen Gorgo (Lena Headey) and Xerxes (Rodrigo Santoro) are returning, and the film will take on the same graphic novel in motion style of the original. 300 was masterful in part because it was so unique and unexpected, and a sequel can never achieve the same shock value – but fans will certainly pay to see more muscled Greeks facing down waves of Persians.
3. Iron Man 3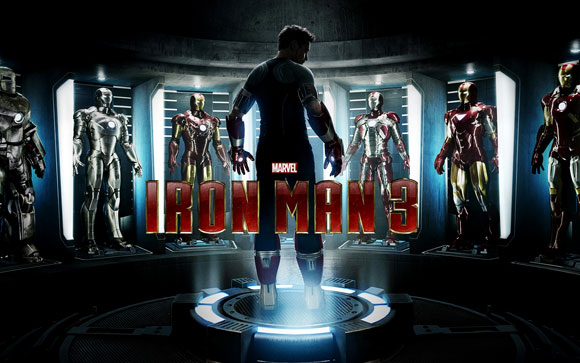 Iron Man 3 is almost here, and judging by trailers and early buzz, the franchise is taking a dark turn. It appears that we'll finally see Tony Stark (Robert Downey, Jr.) down and out in this third film, and a bit of darkness might be just what this almost-too-goofy franchise needs to stay hot. Throw in a villain in The Mandarin (Ben Kingsley) that is already getting very positive buzz, and Iron Man 3 is looking like a can't-miss 2013 summer film.
2. The Great Gatsby

Gatsby has in the past proven to be a very difficult book to adapt, and Baz Luhrmann's 2013 attempt looks to be the most daring and bold one yet. Expectations are actually quite low, as many people see The Great Gatsby as a book that simply shouldn't be attempted in film – but with Leonardo DiCaprio in the title role, film fans can't help but be intrigued. Tobey Maguire and Carey Mulligan will also star as Nick Carraway and Daisy Buchanan, respectively, and we'll see if this excellent crew can finally achieve the extremely unlikely: make one of modern history's best books a wonderful film.
1. Man Of Steel

One thing that made Christopher Nolan's Batman trilogy so interesting and successful was that Batman was truly a flawed and vulnerable hero. This is where, to many fans, Superman has never stood up as an intriguing character – he often seems to lack vulnerability. "Man Of Steel" will be the latest attempt to bring Superman to life on the screen, and it looks to be the most serious – and most real – attempt in a very long time. Directed by Zack Snyder and executive produced by Christopher Nolan himself, the film stars Henry Cavill as Superman, with a supporting cast featuring Amy Adams (Lois Lane), Kevin Costner, Diane Lane, and Russell Crowe. It certainly seems that if Superman is ever going to enjoy the success of Batman on screen, this is the film in which he will do so – and that makes "Man Of Steel" possibly the most intriguing summer film of 2013.
Read our review of Man of Steel here
More on Top 10 Films you might like: Top 10 Grossing Films of 2012 | Top 10 Films of 2012 | 50 Films Better Than The Dark Knight In 2012
What films are you looking forward to?
Written and compiled by Rory Fish.
Discover More on Top10Films.co.uk:
Search our collection of Top 10 lists sorted by type:
THEME | ACTOR | DIRECTOR | TIME PERIOD | GENRE | COUNTRY | SPECIAL INTEREST | FUNNY
See the A – Z of films featured on Top 10 Films / Check out our film review database