Top 10 Films takes a look at the "world's oldest profession" through a bunch of great films featuring iconic characters working as prostitutes.
It isn't surprising to see cinema addressing prostitution throughout its history since the subject has distinct weight attached to it. Completely illegal in some countries while being legal and regulated in others, prostitution is an interesting subject particularly in how its inherently intimate nature can open avenues to investigate character. Perhaps its greatest attribute as a story concept is how someone gets into the business of prostituting themselves in the first place, and how it impacts on their lives. However, while some films try to understand the motivation behind prostitution (the best of these feature highly on this top 10 list), male and female self-discovery for example, others use it as a device for comedy, adventure and even romance. In Top 10 Films' list, we take a look at some of the best films to feature prostitutes as key characters within the story.
10. Night Shift (Howard, 1982)

Night Shift sees Happy Days colleagues Ron Howard (in the director's chair) and Henry "The Fonz" Winkler (in the leading role) bring this delightful comedy to life. The film also features an ensemble of strong comedic performances – particularly from Michael Keaton in his first starring role and Shelley Long – as Howard and co. approach working girl life with entrepreneurial but decidedly light-hearted flair. Winkler plays Chuck, a man who decides to reduce the stresses of working the stock markets to take refuge as an attendant at the local morgue. When he's forced to work the night shift he meets Keaton's Bill "Blaze" Blazehowski whose neighbour Belinda, a prostitute, is having trouble with her pimp. They decide to work together to give Belinda and her fellow prostitutes a safe haven to conduct their "business" in the morgue.
9. Unforgiven (Eastwood, 1992)

If you need help in the old west who better to hire than Clint Eastwood. When a group of prostitutes realise the authorities won't do anything about the men who violently attacked one of them (leaving her scarred for life), they seek private retribution and offer $1,000 to whoever kills the perpetrators. Step up Mr Eastwood.
8. McCabe and Mrs Miller (Altman, 1971)

Robert Altman's self-proclaimed anti-western tells the story of John McCabe whose self-assurance and smart opportunism sees him set up home in Presbyterian Church. Set sometime in the early 1900s, the man, rumoured to be a sharp-shooting gunman, establishes a brothel to further milk the town of its money. When a professional "madam" turns up promising to make the brothel more profitable, McCabe and his prostitute-by-trade right-hand-woman Constance Miller make the business even more successful.
7. Taxi Driver (Scorsese, 1976)

What is most provocative in Martin Scorsese's film isn't the squalid living conditions of the prostitute Robert De Niro's Travis Bickle befriends. Nor is it her wayward, drug-peddling pimp. What really hits home is her age. She's twelve-years-old. Jodie Foster, who plays the young girl, displays street-smarts way beyond her age, but no matter how mentally strong she appears, that skinny, childlike stature highlights her lost innocence and ultimate fragility.
6. American Gigolo (Schrader, 1980)

Enter the "working guy" stage left. Richard Gere, in a reverse of the role that he would later become so famous for in Pretty Woman, takes up work as a male escort in Paul Schrader's American Gigolo. He achieves gratification from the job – he enjoys being able to serve his clients' needs, and is drawn to the prestige that comes with the money he makes. However, his life is turned upside down when he becomes a prime suspect in a murder case. Unable to get the alibi he needs from a client he was with, Gere's Julian Kaye begins to run out of ways to clear his name. Schrader's world of prostitution features high rollers and the high life, its sordidness remaining within the bedroom. Gere's gigolo Kaye is a man whose desires can be understood, his plight sympathised with. Ultimately, this has lighter tones than Schrader's other great film featuring a prostitute (Taxi Driver). However, just like Travis Bickle's overarching loneliness in the Martin Scorsese-directed film, Julian Kaye appears similarly empty.
5. Pretty Woman (Marshall, 1990)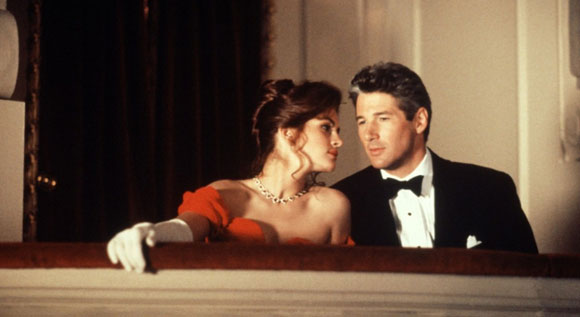 Pretty Woman paints its picture of the life of a Los Angeles based prostitute in much lighter shades than, for example, Martin Scorsese in Taxi Driver. Julia Roberts plays the call girl who answers Richard Gere's plea for by-the-hour companionship. What transpires is true love; or at least true love in the sense that few people can turn down endless streams of cash, lavish socialising in the best restaurants, and expensive clothes.
4. Midnight Cowboy (Schlesinger, 1969)

Jon Voight plays new-to-the-game gigolo Joe Buck who leaves rural Texas behind for the bright lights of big city New York. However, life as a male prostitute is harder than he thinks. His target market – wealthy women – fails to respond in kind, forcing him to turn his attentions to more sordid acts. The film is best remembered – rightly so – for the blossoming oddball friendship between Joe and the equally lonely Rizzo (played by Dustin Hoffman who delivers one of his finest performances). Rizzo becomes a sort of surrogate pimp and the pair's unlikely friendship blossoms from, firstly, a moment of kindness on Rizzo's part to allow Joe to stay with him, and then their petty crime business ventures.
3. Risky Business (Brickman, 1983)

The film that thrust Tom Cruise to super stardom is the film about a teenager running a high class brothel. Privileged, bright and somewhat unpredictable, Cruise plays Joel Goodson, a young man tasked with looking after his mother and father's home while they are away on a trip. Living in Reagan-era America, the onus was on doing it for yourself in a commercially rich, materialistic world ready for the driven to earn their power and wealth. It is therefore fitting that Joel should turn his family home into a profit-making enterprise when prostitute Lana (Rebecca De Mornay) and her friends begin serving customers there. It is all too good to be true but that's the charm of this 1980s classic.
2. Working Girls (Borden, 1986)

Nominated for the Grand Jury Prize at 1987's Sundance Film Festival, Lizzie Borden's film explores a single day in the lives of a bunch of high class prostitutes in Manhattan. The film has been praised for its portrayal of strong female characters alongside its even-handed presentation of a modern day brothel. Like the title suggests, these "working girls" are there to do a job which Borden shows as being as ordinary and mundane as any other. The film's simple, straight-forward realism leaves little room for eroticism as Working Girls focuses on the "work" of "the oldest profession".
1. Belle de Jour (Bunuel, 1967)

The name Belle de Jour derives from the French title given to the daylily which means "beauty of the day". This relates to Séverine Serizy (Catherine Deneuve), a young woman who decides to bring something different into her daily routine by secretly working as a prostitute while her husband is at work. Bunuel's film explores Severine's inability to be intimate with her husband despite her love for him, while fantasising about being dominated by other men. At first reluctant, she is drawn to Madame Anaïs's brothel where she begins to work. While her husband knows nothing of her secret life during the day, their physical relationship improves. But can Severine keep her alternate life secret from her husband? Indeed, does she really want to? In revealing her life as a prostitute, she could once again be forced to suppress her ingrained desires, fantasies and fetishes.
Written and compiled by Daniel Stephens.
More on Top 10 Films you might like: Top 10 Drug-Themed Films | Top 10 Films about Alcoholism | Top 10 Teenage Rebellion Films | Top 10 Male Adventures in Self Discovery | Top 10 Cult Films
For all the latest top 10s, reviews and competitions follow Top 10 Films on Twitter!
Your turn – what are your favourite films about prostitution?
Discover More on Top10Films.co.uk:
Search our collection of Top 10 lists sorted by type:
THEME | ACTOR | DIRECTOR | TIME PERIOD | GENRE | COUNTRY | SPECIAL INTEREST | FUNNY
See the A – Z of films featured on Top 10 Films / Check out our film review database