The Oscars always gets it right…doesn't it? The Academy voters know everything there is to know about film so their winning choices must be correct… Er…maybe not…
In light of Ben Affleck not being nominated for best director even though he won the DGA, the BAFTA and the Golden Globe, I have assembled a list of the top 10 greatest Oscar nomination omissions of all time.
It was hard limiting it to just ten as there are literally dozens of candidates if you take into consideration all the deserving actors, directors, writers, editors and composers who should have been nominated over the years. But since this is Top 10 Films here are the ten biggest snubs of all time.
See our picks for the best films to miss out on Best Picture Oscars
10. Henry Thomas not being nominated for E.T. in 1982

E.T. was carried by this young actor. When he cried, you cried. When he was wide eyed and elated flying past the moon, you were there with him. E.T. was nominated for nine Oscars, sadly Thomas' acting was not among them.
9. Collective Stanley Kubrick snubs

Best Picture for The Shining, Full Metal Jacket, 2001: A Space Odyssey; Director for The Shining, Full Metal Jacket and so on. Stanley Kubrick is a genius. He has been heralded as such by great directors including Spielberg, Scorsese, Reiner and many others. There are films that are good in spite of their director, and then there are Stanley Kubrick films. His obsessive compulsive behaviour makes it hard on his actors, but when you achieve the results he gets, it's hard to argue his method. Any of these films should have garnered a nomination.
8. Angel Heart – Acting, Directing, Screenplay and Best Picture

If there was ever a picture that the great Alan Parker should have won something for, it's this one. He was recognised in 1978 for Midnight Express, but this one is far better. Not a very well known film but brilliant in every way. With Robert De Niro chewing up every scene he's in and Mickey Rourke with the performance of a lifetime (even better than The Wrestler), it's sad to see this film all but forgotten from 1987. Michael Douglas was good in Wall Street, but he wasn't better than Rourke. Wall Street was a good film but not better than this one. It's a travesty it got overlooked.
7. Psycho not being nominated for Best Picture

Psycho not being nominated for best picture even though Hitchcock was for best director in 1960 is a horrible decision by the Academy. Hitchcock wasn't respected enough in his living years and Psycho certainly wasn't in 1960. This is a film that is still copied to this day. And that is the sign of a film's legacy. What footprint has it left? The answer for this one is that it left an enormous one and this is one decision the Academy made that they should be ashamed of.
6. Singin' in the Rain – 1952

It's considered to be one of the best musicals of all time and yet it received no nomination for Best Picture. Make 'em Laugh is one of the all time greatest sequences in any motion picture and yet the Academy didn't even recognise the film with a nomination.
5. The Dark Knight and Christopher Nolan not being nominated in 2008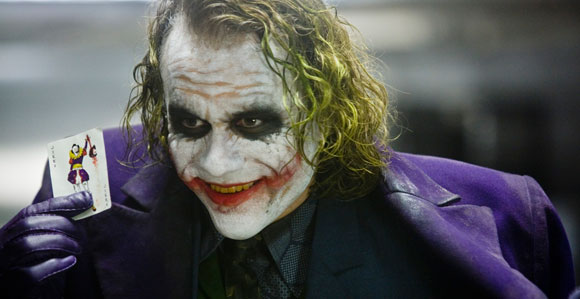 The Dark Knight was more than just a movie; it was an event. It managed to transcend genre and become much more than a simple comic-book movie. Heath Ledger's performance as The Joker is one of the all time greats. The fact that this film got overlooked so other inferior films like The Curious Case of Benjamin Button (which not only has the same story as Forrest Gump, it's done by the same writer) and Frost Nixon and worst of all THE READER, is just plain sad.
4. The collective Spielberg snubs

Like Ben Affleck and Argo in 2013, Spielberg was not nominated for Best Director for Jaws in 1975 even though the film was up for Best Picture. Spielberg was not nominated for Best Director for The Color Purple even though it had 11 nominations in 1985. Unfortunately, it lost every single one of them. That it was tied with Out of Africa for most nominations that year and yet Spielberg was not nominated in the director category can only be viewed as a collective middle finger to Spielberg. As many of you might remember, there was a lot of resentment towards him before he did Schindler's List. How dare this young punk come along and change the way films were made. Spielberg not winning anything until 1993 is just silly.
3. Halloween not being nominated for anything in 1978

Horror is not a genre that the Academy appreciates. John Carpenter not only had the best direction in 1978, he also had the best film of 1978. When you look at the films nominated in 1978 and then you place them up against perhaps the greatest horror film ever made, it's disheartening to know that the Academy completely overlooked this one. I realise horror is something that is very subjective but put Carpenter's direction in this film up against anything in 1978 and to me there is no contest.
2. The Empire Strikes Back not being nominated for Best Picture, Director or Original Screenplay in 1980

Star Wars blew it up. It, along with Jaws, was the dawning of a new era of film-making. But for some reason, the artists who made the films were not taken seriously. A microcosm of that is the blatant snubbing of Empire Strikes Back. 33 years later this is not only considered the best Star Wars film but it is on many people's list as one of the 50 best films ever made. Superior in ever way to Star Wars, this should have not only been nominated but it should have won Best Picture.
1. Val Kilmer not being nominated for Best Supporting Actor in Tombstone in 1993

Tommy Lee Jones was the deserved winner for The Fugitive that year. There were even some very good nominations for Supporting Actor. But none of them gave a career performance like Val Kilmer did in Tombstone. He lost more than 40 pounds to play the gunslinger. He studied his mannerisms, his movements and his speech. Kilmer embodied the very spirit of Doc Holliday. Kurt Russell was so impressed with Kilmer's interpretation of Holliday that he bought him a small piece of land in Arizona after filming was done. Tombstone wasn't very well reviewed by the critics in 1993 but it was a very big success at the box office and even bigger on home video. Val Kilmer was often spoken about as one of the bright spots in Tombstone. As mentioned, Jones was a good choice for supporting actor that year. But Kilmer should have at least been nominated and if he had won, no one would have questioned it. He was simply outstanding. "I'm your Huckleberry."
Honourable mentions:
The Matrix not being nominated for anything significant
Basic Instinct not being nominated in 1992
Judy Garland and Margaret Hamilton not being nominated for acting awards in the Wizard of Oz
The African Queen not being nominated for Best Picture in 1951
Thelma and Louise not being nominated for Best Picture in 1991
Boyz N The Hood not being nominated for Best Picture in 1991
When Harry Met Sally not being nominated for anything except Best Original Screenplay in 1989
First Blood not being mentioned at all in 1982
Discover More: Top 10 Films to be Snubbed for Best Picture at the Oscars
What Oscar snubs did we miss? Which films, directors, writers, composers, editors and actors have been shunned by the Academy?
Written and compiled by Dan Grant
Discover More on Top10Films.co.uk:
Search our collection of Top 10 lists sorted by type:
THEME | ACTOR | DIRECTOR | TIME PERIOD | GENRE | COUNTRY | SPECIAL INTEREST | FUNNY
See the A – Z of films featured on Top 10 Films / Check out our film review database