Reach for the tissues because we're going on a journey of tearjerking heartbreak in the ten best weepies!
[ad#Google text Ad – square no border]
Warner Bros. drama Now is Good is set for DVD release on Jan 21st.
The film introduces us to Tessa (Dakota Fanning), a young girl dying of leukemia as she makes her way through a bucket-list of experiences. When she meets Adam (Jeremy Irvine) she sees the chance to cross 'losing her virginity' off the list.
This tearjerker tugs at every heart-string, so in this feature we will take a look at the top 10 films that work those tear-ducts. What films get the tears gushing – is it a sad ending, a happy ending, lost love, found love, rekindled friendships, heartbreaking goodbyes..?
10. Beaches

When the New York child performer CC Bloom (Bette Midler) and San Francisco rich kid Hillary (Barbara Hershey) meet in a holiday resort in Atlantic City, it marks the start of a lifetime friendship between them. The two keep in touch through all the ups and downs of life, in a film that makes audiences laugh and cry in equal measure. If you manage to get to the final credits of this film without shedding a tear then it may be time to get in touch with your emotions.
9. Steel Magnolias

Set around Truvy's Beauty Parlor in a small parish in modern-day Louisiana, Steel Magnolias is the story of a close-knit circle of friends whose lives come together there. Filled with humour and heartbreak, these "Steel Magnolias" make us laugh and cry as they live out their lives in tiny Chiquapin Parish.
8. Billy Elliot

If you were a young boy growing up in County Durham in 1984 the last thing you would take up is ballet. So when Billy Elliot (Jamie Bell) turns out to have a talent at ballet rather than boxing, it causes quite a stir. Billy Elliot is the tale of a boy finding his feet among the turmoil of family life and an economic downturn that threatens all his family holds dear. This award-winning British drama with have you reaching for the tissues every time.
7. Dead Poets Society

When teacher John Keating (Robin Williams) comes back to his old prep-school to teach English he makes an immediate impact. He inspires his students to embrace a love of poetry and to seize the day. Unfortunately this outlook on life is not one shared by all and when tragedy strikes a group of friends; both Keating and the boys' worlds come crashing down. This inspiring story of making every minute count will have you weeping for sure.
6. Shawshank Redemption

When Andy Dufresne (Tim Robbins) is convicted for a crime he didn't commit, he is sent to Shawshank prison where he becomes friends with the long-serving Red (Morgan Freeman). Shawshank Redemption follows Andy's time in Shawshank and how this unconventional prisoner inspires hope in a place where there is none. If you are able to get through this epic-tale without a tear being shed then you're a stronger person than I.
5. The Notebook

This ultimate date movie has all who watch in tears as it takes you on Noah's (Ryan Gosling) and Allie's (Rachel McAdams) journey through love, life and everything in-between. As an old man tells the story to a stranger at a nursing home we hear of Noah and Allie's passionate beginnings, the social-divide that separates them and their reconciliation and passionate love for one-another. Watch out for an epic-weepie of an ending.
4. Toy Story 3

Toy Story and Toy Story 2 did not have audiences reaching for the tissues so Toy Story 3 took many by surprise. With Woody, Buzz and the gang threatened with destruction Disney Pixar really amped up the tear-factor with one of the most emotional scenes in animation history. Whether you grew up with these films or not Toy Story 3 will have you floods of tears. The perfect ending to this iconic franchise.
3. Green Mile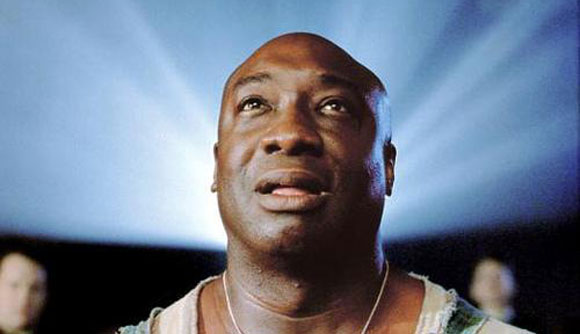 Set in 1930s America, The Green Mile tells the story of how the lives of guards on Death Row are affected by one of their charges: a mammoth-of-a-man called John Coffey, accused of child murder and rape, yet who has a mysterious gift. As his date-with-death comes ever closer the guards begin to wonder what actually happened and experience Coffey's mysterious gift first hand. This epic drama has moved many-a-man to tears over the years and continues to effect the lives of those who watch.
2. Titanic

James Cameron had a history of aliens and terminators before he embarked on making Titanic, released in 1997. This epic tale of a love that defied the strict social boundaries brought in a record box office that has only been beaten by Cameron's recent masterpiece, Avatar. Between the two of them, Jack (Leonardo DiCaprio) and Rose (Kate Winslett) produced an ocean of tears from the public's collective eyes and Titanic fully deserves its #2 spot on the list.
1. Schindler's List
This winner of 7 Academy Awards fully deserves its place at the top of this list. Steven Spielberg set a new boundary in filmmaking when he depicted the horrors of the Holocaust in Schindler's List. Defined by many as one of the best films ever made, this tale of one man making a difference has me in tears every time.
For all the latest top 10s, reviews and competitions follow Top 10 Films on Twitter!
Your turn – what are your favourite weepies?
Discover More on Top10Films.co.uk:
Search our collection of Top 10 lists sorted by type:
THEME | ACTOR | DIRECTOR | TIME PERIOD | GENRE | COUNTRY | SPECIAL INTEREST | FUNNY
See the A – Z of films featured on Top 10 Films / Check out our film review database