From Thelma and Louise and A League of Their Own to Walking and Talking and Career Girls, Top 10 Films takes a look at the best female buddy movies.
Buddy films are often crowd-pleasing and fun. The genre's celebration of friendship, particularly how it develops and evolves to overcome adversity and obstacle, has provided filmmakers and storytellers with the perfect backdrop to tell captivating character-centred tales.
Male dominance within the genre perhaps suggests the concept works better for male audiences but there has been some significant entries that feature female "buddies".
Thelma and Louise is a good example in that it not only stands out as one of the best female buddy movies of all time, it's one of the most significant and memorable films of the 1990s.
In this top 10 I take a look at some of my favourite female buddy films. The list includes, among others, a female baseball team, a group of Women's Institute organisers stripping for a calendar, the ladies of Truvy's Beauty Parlour and Bette Midler times two.
10. Romy and Michele's High School Reunion (Mirkin, 1997)

Kooky pals Romy and Michelle, played by Lisa Kudrow and Mira Sorvino, have been best friends for years. When their ten-year high school reunion arrives, instead of telling their fellow classmates about their individual failures since leaving school, they invent successful careers to try to impress them.
9. A League of Their Own (Marshall, 1992)

Tom Hanks has to somehow stay clear of the "bottle" as a washed up ex-baseball player who is tasked with coaching a women's baseball team during the Second World War. The star of Apollo 13, Forrest Gump and Philadelphia makes an entertaining appearance in one of the best female buddy movies which features delightful performances from the likes of Madonna, Geena Davis, Lori Petty and Rosie O'Donnell. This is a lovable, funny and endearing sports comedy that merits repeat viewing.
8. Outrageous Fortune (Hiller, 1987)

Bette Midler and Shelley Long star as warring actresses who have to settle their differences when the man they were both sleeping with disappears. Adversity brings this pair together and what begins as hatred quite quickly turns into blossoming friendship.
7. Big Business (Abrahams, 1988)

Bette Midler and Lily Tomlin play two roles each as identical twins who are mismatched at birth and discover the existence of their twin later in the life. Based loosely on Shakespeare's The Comedy of Errors, the comedy farce focuses on the clash between one set of sisters from a rich family and the other from a poor one. The delightful performances of Midler and Tomlin in their dual roles make this one of the best female buddy movies.
6. Career Girls (Leigh, 1997)

Mike Leigh's Career Girls focuses on the friendship of two women as they spend a few days together in London. They reminisce about their university days together as events in their past begin to intrude on the present. Katrin Cartlidge and Lynda Steadman deliver exceptionally natural performances that are representative of the great body of work by Leigh, particularly his ability to work collaboratively with actors.
5. Walking and Talking (Holofcener, 1996)

Catherine Keener does not get the credit she deserves and it is films like Nicole Holofcener's Walking and Talking that highlight why. Recently voted as one of the finest cult films of all time by Entertainment Weekly, the film further highlights Keener's shunning of the sorts of blockbuster roles that bring with them the big pay packet and mainstream appeal. She favours independent, character-driven, offbeat or obscure works by writers and directors operating outside of the studio system. She's excellent here; alongside Anne Heche, Keener is one half of a pair of friends dealing with life, love and all things in between.
4. Calendar Girls (Cole, 2003)

Helen Mirren leads the "Calendar Girls" in this true story of a group of women raising money to support the local hospital in its treatment and care of leukaemia sufferers. This sweet-natured and funny tale sees the women having to endure initial scepticism in order to produce a poster of themselves posing nude in a variety of domesticated settings.
3. Steel Magnolias (Ross, 1989)

Starring a strong ensemble cast that features Sally Field, Dolly Parton, Shirley MacLaine, Daryl Hannah, Olympia Dukakis and Julia Roberts, Steel Magnolias focuses on the close-knit friendship of a group of women whose lives criss-cross at Truvy's Beauty Parlour.
2. Ghost World (Zwigoff, 2001)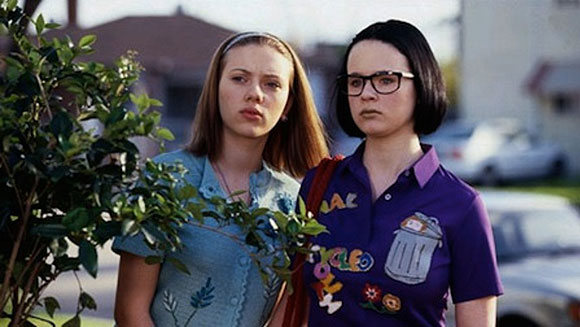 Director Terry Zwigoff's offbeat comedy sees best friends Enid (Thora Birch) and Rebecca (Scarlett Johansson) trying to work out the many conundrums of life from the outskirts of social conformity.
1. Thelma and Louise (Scott, 1991)

The quintessential female buddy movie sees Susan Sarandon and Geena Davis hurtling across country in their 1966 Ford Thunderbird convertible. Trying to escape their bored, small town lives, they head off for a two-day vacation. However, their trip takes a turn for the worse when they kill a man after he attacks them outside a bar. Deciding to hotfoot it across the border into Mexico, the pair are pursued by Harvey Keitel's Detective Hal Slocumb. It culminates in one of cinema's most memorable endings and undoubtedly one of the best female buddy movies.
Written and compiled by Dan Stephens.
For all the latest top 10s, reviews and competitions follow Top 10 Films on Twitter!
Your turn – what are the best female buddy movies?
Discover More on Top10Films.co.uk:
Search our collection of Top 10 lists sorted by type:
THEME | ACTOR | DIRECTOR | TIME PERIOD | GENRE | COUNTRY | SPECIAL INTEREST | FUNNY
See the A – Z of films featured on Top 10 Films / Check out our film review database