Murder and Mayhem. There's a killer on the loose and someone is out to catch him or her. Will the murderer be brought to justice in Top 10 Films' favourite 1990's Murder Investigations?
[ad#Google text Ad – square no border]
"Elementary, my dear Watson" – those immortal lines forever associated with Sir Arthur Conan Doyle's famous sleuth but never actually spoken by him – is the perfect introduction to Top 10 Films' list of mystery and murder. The nineties were a particularly good decade for the murder-mystery movie as thrill-seeking audiences enjoyed the sight of some decidedly nasty but undeniably inventive killers alluding police. But for every Hannibal Lector there's usually a Clarice Starling, a power-figure fighting to uphold the law and put the killer in jail. These are my favourite 1990's murder investigations.
Here are a few more lists on Top 10 Films you might be interested in: Top 10 Blockbusters of the 1990s | Top 10 Christmas Films of the 1990s | Top 10 Science-Fiction Films of the 1990s | Top 10 1990's Films I'd Like to See in Theaters
10. The Bone Collector (Noyce, 1999)

Denzel Washington and Angelina Jolie (a twosome that, given the media's penchant for compounding names, could be called "Denzelina") team up to solve a murder-mystery involving a number of killings in New York City. The unique nature of this partnership is that one is paralysed and bedridden while the other carries out the investigation, connected by two-way radio.
9. Kiss The Girls (Fleder, 1997)

Morgan Freeman delivers a fine performance as writer James Patterson's detective Alex Cross. He is assigned to track down the person responsible for abducting and murdering a number of beautiful women in North Carolina.
8. Basic Instinct (Verhoeven, 1992)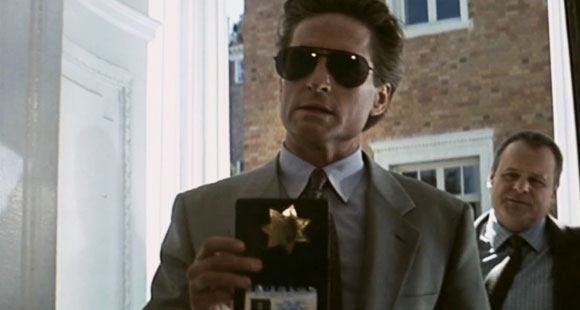 Michael Douglas gets too close to his chief murder suspect Sharon Stone in Paul Verhoeven's sexually charged thriller. Stone is mouth-dribble-inducing in her portrayal of a beautiful novelist with a penchant for rough sex and ice picks.
7. Primal Fear (Hoblit, 1996)

Richard Gere stops chasing Julia Roberts for a moment and tries to defend Edward Norton's alter boy after the young man is accused of viciously murdering an archbishop. The film features a "killer" twist!
6. The Fugitive (Davis, 1993)

Harrison Ford loves to play characters accused of murder – rightly or wrongly. In The Fugitive he's on the run as he tries to clear his name after being accused of murdering his wife. Exciting, action-packed and fuelled by the mystery of who committed the crime, the film is a simple pleasure with top-notch performances.
5. Presumed Innocent (Pakula, 1990)

Harrison Ford has an affair with the wrong woman in Presumed Innocent (has he been taking cues from Michael Douglas?). After his colleague and former lover is found brutally murdered, the man who played Indiana Jones and Han Solo is hauled before a judge as the culprit. He must fight to clear his name as director Alan Pakula plays with audience expectation – did he do it? If not, who did?
4. JFK (Stone, 1991)

One of the most talked about murder investigations ever was adapted for film by Oliver Stone in 1991. Who shot John F. Kennedy? Why did they do it? And, who helped them commit the crime?
3. Twin Peaks: Fire Walk With Me (Lynch, 1992)

Director David Lynch weaves this strange tale concerning the investigation into the murder of Teresa Banks. The story precedes the events that take place in Lynch's Twin Peaks television series and follows the same macabre, dreamy aesthetic that unsettles and disorientates.
2. Seven (Fincher, 1995)

Morgan Freeman and Brad Pitt go on the hunt for a killer targeting victims based on the seven deadly sins. There is an impenetrable darkness about the film, both in its execution and its visual aesthetic. The twisted conclusion always delights, no matter how many times you've seen the film.
1. Silence of the Lambs (Demme, 1991)

Jonathan Demme's classy adaptation of Thomas Harris novel isn't just one of the best films of the 1990s, it is one of the best films of the last fifty years. Staggering performances from Jodie Foster as a rookie FBI agent assigned to hunt a sadistic serial killer, and Anthony Hopkins as institutionalised cannibal Dr. Hannibal Lector, form the basis of this icy thriller.
Discover More: Top 10 Alfred Hitchcock Films
Here are a few more lists on Top 10 Films you might be interested in: Top 10 blockbusters of the 1990s | Top 10 Christmas Films of the 1990s | Top 10 Science-Fiction Films of the 1990s | Top 10 1990's Films I'd Like to See in Theaters
Written and compiled by Daniel Stephens.
For all the latest top 10s, reviews and competitions follow Top 10 Films on Twitter!
Your turn – what are your favourite murder investigation films from the 1990s?
Discover More on Top10Films.co.uk:
Search our collection of Top 10 lists sorted by type:
THEME | ACTOR | DIRECTOR | TIME PERIOD | GENRE | COUNTRY | SPECIAL INTEREST | FUNNY
See the A – Z of films featured on Top 10 Films / Check out our film review database