Robots…man's best friend or worst enemy? Here I take a look at some of the most memorable robots to grace the cinema screen from sadistic Ash in Alien to friendly nice-guy R2-D2.
Robots are a curious character. If film is anything to go by, it is clear we are fascinated by them. They've frequented films from around the world and played a vital role in the make-up of many science-fiction, horror and fantasy movies. We've seen good ones, we've seen bad ones, we've seen ones that want to help mankind, we've seen some that want to destroy it. We've even seen some that think they're human!

The best, and most memorable robots, have not only appeared in films with lasting appeal, but have played a front and centre role, driving or determining the direction of the story. Here are my ten favourites.
More on Top 10 Films you might like: Top 10 Robots | Top 10 Robots Who Think They're Human | Top 10 Scariest Robots, Cyborgs and Artificial Intelligence
10. Huey, Dewey and Louie (Silent Running, Trumbull, 1972)

Three of the most undemanding robots you could ever wish to know. These three service machines stand by the side of botanist Freeman Lowell (Bruce Dern) through thick and thin as the crewman tries to save the last remaining ecological keepsake – a giant, greenhouse orbiting Saturn – preserved from a futuristic earth where all plant life has become extinct.
9. The Iron Giant (The Iron Giant, Bird, 1999)

Based on the 1968 novel The Iron Giant by Ted Hughes, this part-traditional, part-computer animated feature film sees a young boy befriend a robot alien who crash lands on earth.
8. Ed 209 (RoboCop, Verhoeven, 1987)

Ed 209's introduction is one of the most devastatingly effective in modern science-fiction. This prone-to-malfunction prototype aspires to bring law and order to the streets of a crime-ridden metropolis but only seems to create further destruction.
7. Hector (Saturn 3, Donen, 1980)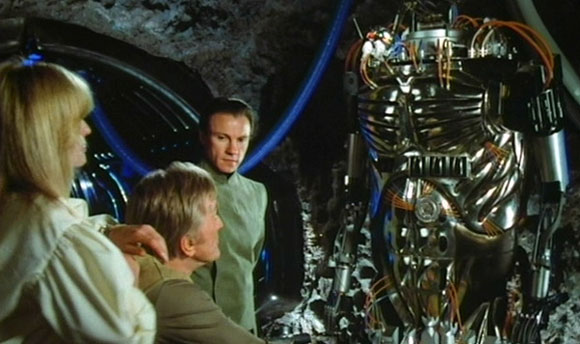 Due to overcrowding on earth, scientists carry out research on distant planets across the solar system to maintain the planet's survival. When Harvey Keitel's Captain Benson arrives with a robot to replace one of the scientists at a research station on Saturn's third moon, Kirk Douglas and Farrah Fawcett's sedate existence is turned upside down.
6. Evil Maria (Metropolis, Lang, 1927)

Undeniably iconic, robot Maria's appearance is one of classic cinema's most indelible images. Her ability to inspire lust in the men she comes into contact with sets in motion the events that bring the city to its knees.
5. RoboCop (RoboCop, Verhoeven, 1987)

Part-man, part-machine RoboCop is the guy you'd want as your partner on a tough nightshift in a near-future crime-ridden Detroit. Murdered while on duty, a courageous police officer returns to life as a robot (although he doesn't realise this at first). Once his memories return, vengeance is on his mind. Having an almost indestructible body, hugely increased strength and firepower to rival a small army unit, he's not someone you want to mess with.
4. The Terminator (The Terminator, Cameron, 1981)

Arnold Schwarzenegger's limited range as an actor was perfect for his career-defining role as the Terminator, a robot sent from the future to kill in the past to protect the "computer's" rule following the destruction of mankind. His significant stature and unbreakable desire to kill makes the character a frightening proposition.
3. Robby The Robot (Forbidden Planet, Wilcox, 1956)

Robby the Robot's intellect and wit make him instantly lovable despite his physical limitations.
2. Ash (Alien, Scott, 1979)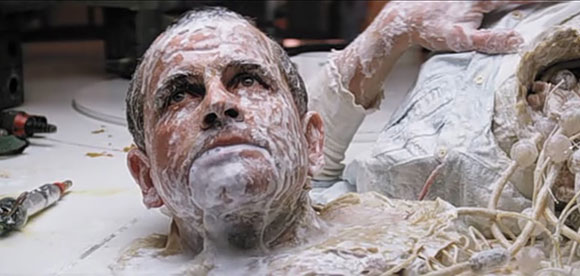 One of cinema's most frightening robots appears in the form of scientist Ash in Ridley Scott's Alien. Programmed to bring a dangerous species back to earth for the bio-weapons division of a futuristic corporation, his orders, which must be carried out at all cost, make the human crew expendable. The cold lack of value for human life makes Ash a memorably unnerving cinematic robot.
1. R2-D2 (Star Wars, Lucas, 1977)

Surely the most iconic of all robots, R2-D2 is also one of the simplest creations. He never speaks but George Lucas' ability to make him so affectionately likable through his squeaks and mechanical beeps is telling of a character that has become such a lovable part of the Star Wars films and cinema itself.
Written and compiled by Daniel Stephens.
For all the latest top 10s, reviews and competitions follow Top 10 Films on Twitter!
Your turn – what are your favourite robots?
Discover More on Top10Films.co.uk:
Search our collection of Top 10 lists sorted by type:
THEME | ACTOR | DIRECTOR | TIME PERIOD | GENRE | COUNTRY | SPECIAL INTEREST | FUNNY
See the A – Z of films featured on Top 10 Films / Check out our film review database