Santa is coming to town…but before he arrives I think we should watch some great Christmas movies! Take a look at my 10 day film planner and let me know yours…
[ad#Google text Ad – square no border]
With only ten days left until Santa comes sneaking down the chimney to deliver lots of goodies we'll probably have broken or forgotten about this time next year, I thought it would be nice to post a Christmas "film planner" for each day. Last year I posted my top 10 Christmas films of each decade since the 1980s (check out my favourites here: 1980s / 1990s / 2000s). As is my annual custom, I always revisit my favourites but save the best to last. What Christmas films will you be watching this year? What is your favourite Christmas film of all time?
Discover More:Top 10 Christmas Films of the 1980s | Top 10 Christmas Films of the 1990s | Top 10 Christmas Films of the 2000s | Best Alternative Christmas Films | Top 10 Versions of Charles Dickens' A Christmas Carol
Sunday Dec 16th – Elf (Favreau, 2003)

Elf arrived as Will Ferrell was about the ride the crest of the Anchorman wave in 2004. Following a seven-year tenure on Saturday Night Live, the funny man, known for his impersonations of George W. Bush, Saddam Hussein and Fidel Castor, took on the role of Buddy, a human raised by Santa's elves, who decides to go in search of his real father after learning he is on the naughty list. Elf has a great set-up and the fish-out-of-water tale has endeared itself to audiences as the film is shown regularly at Christmas. Jon Favreau's direction keeps the film away from becoming too sugary and Zooey Deschanel is the delightful muse.
Monday Dec 17th – Trading Places (Landis, 1983)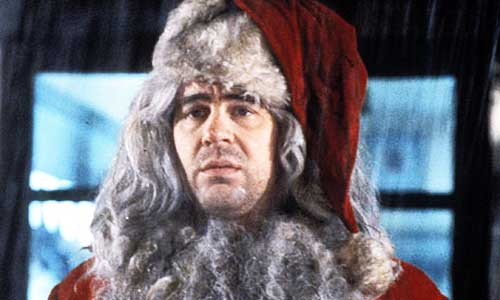 Set over Christmas and New Year, John Landis' Trading Places is one of my favourite films. Dan Aykroyd and Eddie Murphy make a wonderful comedy duo, but they are aided by an excellent script that makes light of the corporate shenanigans so prevalent in 1980s New York. It is great seeing Aykroyd dress up as Santa – or should that be a drunk, depressed, anti-social, suicidal and homeless Santa!
Tuesday Dec 18th – Miracle on 34th Street (Mayfield, 1994)

John Hughes, the king of the coming-of-age teen comedy-drama, is also it seems the master of the Christmas film. Not only was he the brainchild behind the Home Alone films, he also wrote and produced this updated version of Miracle on 34th Street. This charming film features a couple of sparkling performances from Richard Attenborough and child actor Mara Wilson. This is one of those films when you tell yourself: this time I won't cry!
Wednesday Dec 19th – Die Hard (McTiernan, 1988)
John McTiernan's Die Hard has plenty of Christmas cheer when you get past the hail of bullets, broken necks, huge explosions and bodies falling out of buildings on to easy-going, Twinkie-eating cop Al Powell's squad car. One thing the film teaches us is that no terrorist, or anyone wanting to steal $600 million in bearer bonds, should ever mess with Detective John McClane. Hans Gruber, as depicted by the brilliant Alan Rickman, tries this un-winnable feat on Christmas Eve. Bruce Willis portrays the great white vest-wearer with sweaty testosterone and an eye for a good quip. Best action flick of the 1980s? Possibly.
Thursday Dec 20th – The Santa Clause (Pasquin, 1994)

Tim Allen becomes Santa when the real Father Christmas falls off his roof and dies. Allen must learn the tricks of Santa's trade while juggling a working life with raising his young son. This is a fun film with high production values.
Friday Dec 21st – Bad Santa (Zwigoff, 2003)

I didn't think I would ever find myself saying that if there was a role tailor-made for Billy Bob Thornton it would be Santa Claus. That Santa is a shopping-centre-robbing drunk with a keen eye for a sarcastic remark and a total disrespect for himself and everyone else is perhaps more illuminating on the matter. Thornton, in a word, dazzles. He's simply superb as Willy T. Stokes, an alcoholic shopping mall Santa who moves around from store to store every year supposedly bringing Christmas joy to children everywhere but secretly plotting, with his accomplice Marcus (Tony Cox), to rob the mall's on Christmas Eve.
Glenn Ficarra and John Requa's brilliantly sardonic script is matched by Thornton's acerbic delivery. The support cast, including the late Bernie Mac and John Ritter, is also top-notch. This is one of the funniest films I've ever seen.
Saturday Dec 22nd – Gremlins (Dante, 1984)
Gremlins is a great Christmas film to watch if only for Phoebe Cates' macabre story about her father going missing in the lead-up to December 25th. A few days after his disappearance the family to begin smelling an odd, unpleasant fragrance coming from the fireplace. Miss Cates' well-meaning Dad only broke his neck while trying to shimmy down the chimney to deliver the presents. Poor chap. Of course, it isn't obvious whether Phoebe's emotional recollection is tinged in sadness at the loss of her Dad, or disappointment at not receiving her Barbie and Ken Horse and Cart collection.
Sunday Dec 23rd – National Lampoon's Christmas Vacation (Chechik, 1989)
Chevy Chase returns to his finest cinematic role as Clark W. Griswold. The hapless but well-meaning family man decides to have a Christmas at home but not everything goes to plan beginning with finding a tree. The film immediately stands out thanks to its ace Christmas song by Marvis Staples which plays over the credits with a funny animation of Santa getting into trouble on Christmas Eve. Chase is brilliant again while the film distinguishes itself as that very unique thing in film franchises – a Part 3 that is better than Part 2.
Christmas Eve – Home Alone (Columbus, 1990)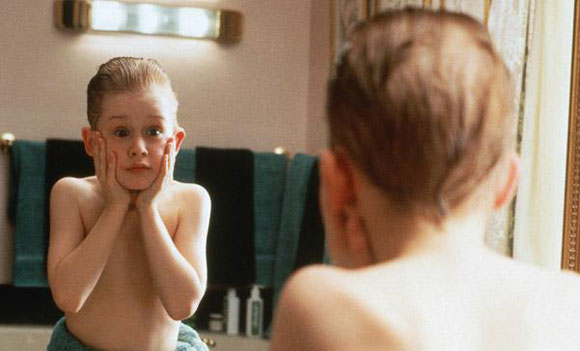 Chris Columbus directs child star Macauley Culkin in John Hughes' fabulously entertaining tale of a child left alone at Christmas by accident who then has to defend his house from two inept burglars. Joe Pesci in family-friendly mode (as opposed to Scorsese-mode which, if you've seen Casino or Goodfellas, you'll know is decidedly un-family friendly) is great as the bumbling bad guy who finds himself up against a determined eight-year-old who uses every resource available in the house (from paint cans to glue to toy cars and anything else he can turn into an inspired weapon) to repel the bad guys. This wonderful Christmas film is a joy from start to finish.
Christmas Day – Scrooged (Donner, 1988)

Scrooged deserves to top so many lists – best Bill Murray, best film based on Dickens' A Christmas Carol, best use of 12 sharp knives as a Christmas gift, and, perhaps most importantly, best Christmas film of the 1980s. Richard Donner directs this updated version of Dickens' classic tale as Bill Murray plays an egotistical, self-centred, conceited television producer who has shunned friends and family in order to progress up the corporate ladder. In keeping with his anti-family ethos, he has everyone working long hours through Christmas in order to produce a special Christmas show. As in Dickens' novella, Murray's character Frank Cross is visited by three ghosts who show him various parts of his life in order for him to mend his ways. The film is wonderfully funny thanks to a marvellous performance from Bill Murray who has rarely been better in a comedic role.
Written and compiled by Daniel Stephens.
For all the latest top 10s, reviews and competitions follow Top 10 Films on Twitter!
Your turn – what are your favourite Christmas films?
Discover More on Top10Films.co.uk:
Search our collection of Top 10 lists sorted by type:
THEME | ACTOR | DIRECTOR | TIME PERIOD | GENRE | COUNTRY | SPECIAL INTEREST | FUNNY
See the A – Z of films featured on Top 10 Films / Check out our film review database