Husbands and wives have played a key role in many cinematic stories over the last hundred years. But what depictions of marriage in film have stood the test of time?
Derek Cianfrance's Blue Valentine turned heads a couple of years ago for its frank, credible depiction of a relationship blossoming into marriage before the love fades away. It isn't an easy film to watch, striking the sort of emotional chord few "romance" films can muster. It certainly got me thinking about the idea of romance in film. So often in recent years the genre has been plagued by high-concept silliness. Films are built on the star power of their leading men and women, their stories vacuous, dishonest and driven by fantasy painted as reality. We can only be thankful that films such as Weekend, Beginners, (500) Days of Summer, and Before Sunset redress the balance somewhat by looking at romance, love, sex and companionship with intelligence and, most importantly, honesty.
While watching the Neil Simon-scripted The Out of Towners, it got me thinking about marriages as depicted in cinema. What was interesting as I revisited a number of personal favourites and watched a bunch of films I hadn't seen before, was that the best stories about husbands and wives in film have little semblance of "romance". That isn't to say all are unromantic but it does highlight a disconnect between romantic courtship (the idea of finding our Prince or Princess), and the eventualities of relationships that span years and decades. It doesn't mean that these films see marriage as a negative, only that like life, there are distinct shades of light and dark along the journey. The best films about husbands and wives sample the human condition in all its glory – the good, the bad, everything in between.
I will always have this penchant for what I call kamikaze women. I call them kamikazes because they crash their plane, they're self-destructive. But they crash into you, and you die along with them. – Woody Allen in Husbands and Wives, 1992
10. The Out of Towners (Hiller, USA, 1970)

Arthur Hiller brings Neil Simon's screenplay to the screen with New York City's most iconic sites such as Grand Central Station and Central Park captured in all their glory as a backdrop for two great acting talents in the form of Jack Lemmon and his on-screen wife Sandy Dennis. Set mainly over the course of a day and a night, Lemmon's George Kellerman heads to New York for a possible job promotion. However, along with his wife Gwen, mishap follows mishap as the couple try to make their way safely to the hotel. Despite Gwen's pre-Women's lib subservience to her husband, she is the one making most of the logical decisions as their day goes from bad to worse. This funny, sweet natured film is an easy husband and wife film to like.
9. The War of the Roses (DeVito, USA, 1989)

The perils of divorce and the aftermath of a marriage-gone-wrong is the cartoonish focus of Danny DeVito's jet-black comedy The War of the Roses. Kathleen Turner and Michael Douglas, who had previously starred in Robert Zemeckis' Romancing The Stone alongside DeVito, deliver career-best performances as the warring husband and wife. Their fiery, spiteful relationship is let loose from the screen with tangible bite, the darkly comic domestic battles leaving you wondering whether to laugh or cry.
8. Shoot the Moon (Parker, USA, 1982)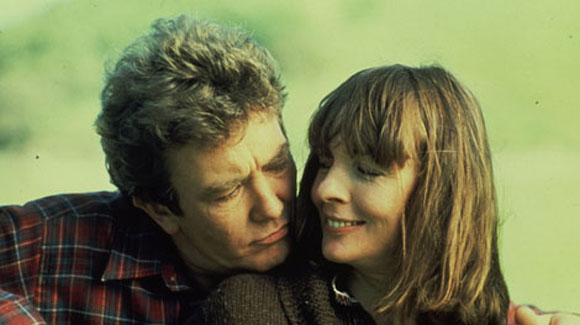 Director Alan Parker finds the stability of marriage under considerable strain as Albert Finney and Diane Keaton play a married couple on the brink of divorce. The downbeat story follows the husband's desire to break away from his marriage through an affair with another woman. However, because of jealousy he cannot distance himself from the things he once held so dear – his wife, his home, his children.
7. Don't Look Now (Roeg, UK/Italy, 1973)

This surreal, offbeat thriller sees a married couple's familial happiness blown to pieces following the tragic death of their young daughter. The husband immerses himself in work, while the wife is drawn to a clairvoyant who explains her daughter is trying to warn the couple about impending danger. Two strong performances from Donald Sutherland and Julie Christie depict how grief affects their once close, loving relationship. The film has grown in stature over the years and is particularly celebrated for a passionate love scene and a macabre, ambiguous conclusion.
6. Scenes of a Marriage (Bergman, Sweden, 1973)

Originally made as a six-part television series, Scenes of a Marriage was reduced to just under three hours in length and released theatrically in the USA. The shorter version loses none of the film's overarching themes as Bergman explorers a happy marriage that falls apart despite the couple's seemingly everlasting kinship.
5. On Golden Pond (Rydell, USA, 1981)

There is a heartfelt melancholy to Mark Rydell's On Golden Pond. Whether it derives from retrospect (we now know the film would be Henry Fonda's last theatrical feature film), realisation of the wider impact (Jane Fonda has said the story of an emotionally distant father warming to his dismissive daughter mimicked her real life relationship with her father), or nostalgia (seeing two of Hollywood's greatest stars Katherine Hepburn and Henry Fonda acting opposite each other), On Golden Pond is the sort of film that resonates in some form or another. For me, it is a film to cherish, hold dear, and fall in love with.
4. Husbands and Wives (Allen, USA, 1992)

While much of Woody Allen's work is autobiographical there are few films in his career as close to the bone as Husbands and Wives. Released during the time the writer-director announced his split from long-term partner and co-star Mia Farrow, his 1992 film is a heartfelt portrayal of a married man questioning the love he has for his wife. Allen's Gabe Roth is married to Farrow's Judy with their marriage beginning to strain following the revelation that their best friends, and fellow married couple Sally (Judy Davis) and Jack (Sydney Pollack), have decided to separate. From being two seemingly happy, contented married couples, all four begin to flirt with the idea of being single and experiencing life away from the person they have spent many years with.
3. Another Year (Leigh, UK, 2010)

In the modern era only Ken Loach comes close to capturing the sort of British social realism documented by the creative endeavours of Mike Leigh. Eschewing the common trait in film of taking a relationship through the highs and lows of everyday life before the final, uplifting coming together of the happy couple, Leigh presents us with Gerri and Tom (Ruth Sheen and Jim Broadbent), a long-married couple who have a seemingly comfortable, contented and loving life. Against the backdrop of this financially secure, healthy and happy couple are their various friends and family members who, through the secure, safe environment of Gerri and Tom's home and friendship, live out their life's traumas like an open wound. Featuring shades of light and dark, comedy and tragedy, Another Year celebrates marriage, togetherness, friendship and love, yet is wary that life's journey is never an easy one.
2. A Woman Under the Influence (Cassavetes, USA, 1974)

The distinct, unmistakable mark of John Cassavetes is stamped all over A Woman Under The Influence. Originally conceived as a stage play for his wife Gena Rowlands, the ferocity of the character she would play was deemed too stressful to perform day-in, day-out. It was therefore adapted for the screen. The film would bring Rowlands an Oscar nomination for her performance of the disturbed Mabel, a wife and mother who is institutionalised by her husband following a series of odd behaviour. As much a story about mothers and fathers, of madness induced by domesticity and the pressures to conform to regimented social conditions, Cassavetes' film is a powerhouse presentation of performance and auteurism.
1. Who's Afraid of Virginia Woolfe (Nichols, USA, 1966)

Who's Afraid of Virginia Woolfe was Mike Nichols debut feature film following several years learning his craft producing Broadway plays. The film so successfully stands the test of time thanks largely to the powerhouse performances of real life couple Richard Burton and Elizabeth Taylor yet Nichols skill in adapting stage for screen should not be underestimated. The director, who went on to make several modern classics such as The Graduate, Catch-22, Silkwood and Working Girl, astutely sets the stage for the characters' intellectual and cruelly emotional verbal battle. Marriage may not be an institution you will want to enter into after witnessing this, but the astounding performances, which include those of Sandy Dennis and George Segal, are astonishing. Despite the film offering a very dark view on a married couple's life together, their push-pull verbal jousting suggests a relationship that remains built on foundations that depend on each other.
For all the latest top 10s, reviews and competitions follow Top 10 Films on Twitter!
Your turn – what are your favourite films about husbands and wives?
Discover More on Top10Films.co.uk:
Search our collection of Top 10 lists sorted by type:
THEME | ACTOR | DIRECTOR | TIME PERIOD | GENRE | COUNTRY | SPECIAL INTEREST | FUNNY
See the A – Z of films featured on Top 10 Films / Check out our film review database