The 1980s is the decade I turn to for that instant pick-me-up film. You might not find the top 10 films of all time here but you'll undoubtedly have a lot of fun!
In the past I've written about the best "films to make you happy" and a select few movies that I always turn to for that instant "pick-me-up". A common trend appears in both of these lists – no, not a particular genre, or actor, or filmmaker, but a time period. I'm talking about the 1980s. It is the decade that introduced me to cinema – these were the films that were showing on TV as I was growing up. These were the films we bought on VHS or recorded off the telly to be saved in my ever-growing collection of videotaped movies.
Do you remember the long-play option on VHS tapes? I'll admit I didn't discover it for many years but it allowed a "three-hour" tape to record for double the time. So, instead of one film per tape (or maybe two if the films were short), I could now record for six hours! That meant three films per tape. The 1990s, when all these 1980s films were on British TV, were exciting times. Even more exciting if the film had advert breaks – I had to be on my toes ready to stop recording as the break began and begin again once it ended! Yes, I'm easily amused!
So I look back on 1980s cinema very fondly. The decade might not have produced Hollywood's most enduring classics. It might have lacked the American new wave culture-shift seen in the previous ten years but it had its fair share of memorable moments. My rose-tinted spectacles might be firmly fixed to my face when it comes to comedy from the period but I'm positive this selection of great films from the era will bring a smile to your face…
Discover More: Top 10 Pick-Me-Up Films | Top 25 Films to Make You Happy
Ruthless People (Zucker, Abrahams, 1986)

Rich tycoon Sam Stone (Danny DeVito) is all set to kill his wife (Bette Midler) and make off with all her money and assets. However, Sam returns home to find her missing. Restless that his plan isn't going to go ahead, he almost gives up hope for day when the phone rings. At the other end of the line is a voice that tells Sam his wife has been kidnapped and if he doesn't pay a hefty ransom, she will be assassinated. Sensing someone else will do his dirty work for him, Sam ignores the ransom. This madcap comedy is fun from start to finish as Airplane creators Zucker and Abrahams rein in the slapstick for situational comedy. They are aided by some great performances from a terrific cast – especially Bette Midler.
See also: Ruthless People (Review)
Clue (Lynn, 1985)
A big part of the success of ensemble films is in the casting. It's difficult to look past Jonathan Lynn's Clue as a perfect example of this. Based on the board game of the same name, Clue is a brilliantly conceived and scripted comedy whodunit. Yet, in bringing the essentially one-dimensional caricatures from the board game to screen is no easy feat. But, Lynn, along with collaborator John Landis, achieve it with an energy resembling Buster Keaton and smart-dialogue akin to Neil Simon. Indeed, the film has a lot in common with Simon's Murder By Death, however, it improves on the great playwright's work largely in the casting. From Tim Curry's indefatigable butler to Lesley Ann Warren's slutty Miss Scarlet, from the reserved yet suspicious Christopher Lloyd as Professor Plum to the nervous edginess of Michael McKean's Mr Green. Every character is beautifully brought to life, and although they remain fundamentally caricatures, each actor has adulterated fun with their role.
The film takes place almost in real time, with the New England Gothic Revival mansion the setting for the characters to scurry about in search of the supposed murderer. It's fast-paced, entertaining fun, and the three alternate endings make for further amusement in discovering just who- did it!
See also: Top 10 Single Location Films | Top 10 Films Set Over One Night | Clue director Jonathan Lynn selects his top 10 films
Planes, Trains and Automobiles (Hughes, 1987)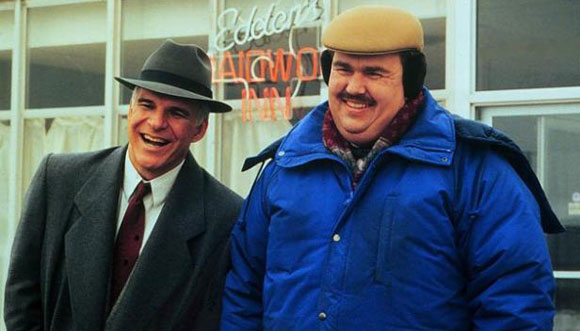 Steve Martin plays Neal Page, an advertising executive trying to get home to his family for Thanksgiving after a business trip to New York. When his plane is grounded due to bad weather he finds himself stuck with the innocent but accident-prone Del Griffith (John Candy). As much John Candy's best film as Steve Martin's, Plane, Trains and Automobiles is one of the most widely loved movies of the 1980s. Written and directed by The Breakfast Club and Ferris Bueller's Day Out creator John Hughes, Planes, Trains and Automobiles was an important film for all involved. It showed a marked diversion away from teen-centric drama for Hughes, and gave both Candy and Martin a mainstream pedestal for their singular brand of humour. It also showed a more reserved Martin, who was known for his existential humour and physical eccentrics.
It is wonderful to see these two 1980s comedy greats come together for what is an endlessly funny road movie. With an ending that layers sentiment on sentiment, the film makes sure you know you're witnessing a happy conclusion, but it's such a fun film along the way, a bit of mushy tears for the final reel won't detract from what is a thoroughly enjoyable experience.
See also: Top 10 Steve Martin Films | Top 10 Buddy Films of the 1980s | Top 10 Road Trip Comedy Films
Fletch (Ritchie, 1985)
Now firmly a favourite amongst Chevy Chase fans, Fletch was a success for the actor at the box office and within the eyes of critics. Since it was released it has gone from strength to strength, gaining a strong following and inspiring sequel Fletch Lives. Based on the popular novels by Gregory McDonald, Fletch tells the story of quick-witted, smooth-talking newspaper reporter Irwin M. Fletcher (Chase). While investigating the drug trade for his latest story, he disguises himself as a homeless junkie who wanders the beach in search of his next hit. One day he is approached by Alan Stanwyk who asks Fletch to murder him. Apparently, Stanwyk has an inoperable disease and wants his family to receive his life insurance. Fletch agrees after being offer a large amount of money but is suspicious of Stanwyk's motives. Stanwyk has no clue Fletch is an undercover reporter, believing him to be a street bum of no consequence. When Fletch digs deeper he finds that Stanwyk does indeed have a few skeletons in the closet and the whole murder plot maybe a set-up.
Fletch is Chase's favourite movie. It is easy to see why – he obviously has a lot of fun with the character. Fletch uses many disguises allowing Chase to take on various personas, highlighting his talent at depicting character-based comedy. Director Michael Ritchie also allowed the actor to ad-lib throughout the film, giving Chase another dimension to explore the character with.
See also: Top 10 Chevy Chase Films
Back To The Future (Zemeckis, 1985)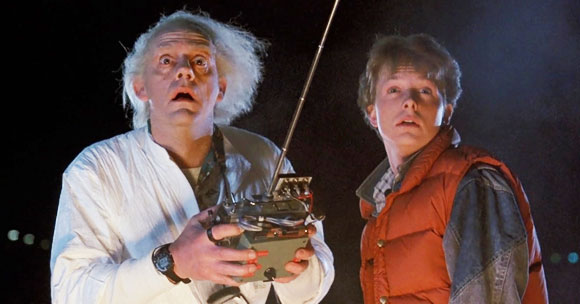 The film that would forever maintain Michael J. Fox's place amongst the stars of 1980s pop culture is by far his greatest work. It is a fair argument to say that without this time-travelling adventure a top ten Michael J. Fox films list would be redundant. Either the small-in-stature-big-in-personality actor would have never made the jump to big-budget feature films from his regular-paying TV job, or simply his later work would be that unfortunate breed: likeable but quickly forgotten.
See also: Top 10 things about Back To The Future | Top 10 Robert Zemeckis Films | Top 10 Michael J Fox Films
The Secret of My Success (Ross, 1987)
The Secret of My Success was a film released to coincide with Michael J. Fox's sudden stardom thanks to Back To The Future. It's a fun film with a typically 80s mentality of self-worth, career paths, financial success, and big business. It never becomes preachy though and remains funny throughout thanks to an energetic performance from a youthful-looking Fox, the experienced direction of genre veteran Herbert Ross, and an assured, crowd-pleasing script from Jim Cash. The film ended up being one of Michael J Fox's most financially successful films after the Back To The Future movies, becoming the 7th highest grossing film of 1987.
See also: Top 10 Michael J Fox Films
National Lampoon's Christmas Vacation (Chechnik, 1989)
A Christmas favourite for so many, National Lampoon's Christmas Vacation saw Chavy Chase reprise his most famous role for a third time. Christmas Vacation is a much better film than the first sequel to Harold Ramis' hit original about the exploits of the accident prone Griswold family.
See also: Top 10 Chevy Chase Films
Withnail and I (Robinson, 1987)
Bruce Robinson's semi-autobiographical foray into the hazy world of drugs and alcohol through his wonderful creations Withnail and best friend known only as 'I' is easily the best British comedy since 1980.
See also: Withnail and I (Review) | Top 10 Male Adventures in Self Discovery | Top 10 Buddy Films Since 1980 | Top 10 British Comedy since 1980 | Top 10 1980's Comedy Characters
Into The Night (Landis, 1985)
One of John Landis' most underrated films, "Into The Night" has been unfairly criticised as over-indulgent and self-referential. It's actually a fabulous black comedy and superbly scripted character study.
See also: Top 10 John Landis Films | He'll make you laugh, then he'll make you scream: The Films of John Landis (Article)
After Hours (Scorsese, 1985)

Paul Hackett (Griffin Dunne) is a bored office worker who meets the quirky yet mysterious Marcy (Rosanna Arquette). He arranges to meet her again in the hope their relationship can prosper but a series of events conspire against him leaving him to experience a number of misadventures amongst the unusual characters of a SoHo neighbourhood.
See also: Top 10 Films Set Over One Night
Trading Places (Landis, 1983)
Probably John Landis' most purely enjoyable film. However, the director is certainly in debt to his lead actors – Dan Aykroyd, Eddie Murphy, and Jamie Lee Curtis are all great and ably supported by an excellent cast.
See also: Top 10 John Landis Films | He'll make you laugh, then he'll make you scream: The Films of John Landis (Article) | Top 10 Eddie Murphy Characters
Coming To America (Landis, 1988)
Eddie Murphy was great in Trading Places but this is where he excels. Forget The Nutty Professor and Norbit, Murphy used to be really funny playing several characters. Randy Watson, one of four people Murphy plays in the film, is one of his best creations. Ably supported by Arsenio Hall (who also plays several characters), Coming To America is a great comedy that you can return to time and time again.
See also: Top 10 John Landis Films | He'll make you laugh, then he'll make you scream: The Films of John Landis (Article) | Top 10 Eddie Murphy Characters
Something Wild (Demme, 1986)
Something Wild is a wonderful film that encapsulates love and romance, innocence and lost youth, happiness and a sense of adventure. It throws them all together in the guise of a road movie and invites the audience to enjoy the ride, from hilarious comedy to poetic, heartwarming drama. The principle cast are all superb, Demme is at his hip and upbeat best, and the soundtrack scorches with some uplifting tunes from the period.
See also: Something Wild (Review) | Top 10 Road Trip Comedy Films | Top 10 Dominant Women In Hollywood Film | Top 10 Male Adventures In Self Discovery
Lethal Weapon (Donner, 1987)
The quintessential buddy cop movie featuring Mel Gibson and I'm too old for this shit Danny Glover. Richard Donner's film sees care-free cop Martin Riggs (Gibson) paired with by-the-book veteran Detective Sergeant Roger Murtaugh (Glover) to take down a drugs smuggling gang. The film was written by Kiss, Kiss, Bang, Bang writer-director Shane Black and as such features a script sizzling with great dialogue and wildly funny sequences alongside a hearty dose of action-adventure.
See also: Top 10 Buddy Films Since 1980
Midnight Run (Brest, 1988)
De Niro does comedy without resorting to parodying his bad-boy image. That's partly why Martin Brest's Midnight Run is so good. De Niro is super-cool as bounty hunter Jack Walsh who takes on the task of tracking down Jonathan "The Duke" Mardukas (Charles Grodin), an accountant who embezzled $15 million from Las Vegas gangster Jimmy Serano (Dennis Farina). Grodin is also excellent as the nerdy moneyman playing against De Niro's macho hero. De Niro finds himself up against not only rival Marvin Dofler (John Ashton) and the FBI, but Serrano's gang who are out to kill Mardukas before Walsh can bring him in. Midnight Run is a fun crime caper that sees De Niro playing for laughs.
See also: Top 10 Buddy Films Since 1980 | Top 10 Robert De Niro Films
Clockwise (Morahan, 1986)

John Cleese is brilliant in this post-Monty Python era film about an overtly punctual school headmaster who conducts his life based on strict regimen and perfect time-keeping but finds his entire day, en-route to a headmaster's conference, disrupted by one mishap after another.
See also: Best British Comedy since 1980
Ghostbusters (Reitman, 1984)

Ghostbusters – many people's favourite film of each of its main stars Dan Aykroyd, Bill Murray and Harold Ramis (and probably Rick Moranis too!). This joyful marriage of supernatural horror and comedy is a stand out cinematic feature of 1980s American cinema.
See also: Bill Murray's Most Sarcastic Remarks | Best of 10: Ivan Reitman versus Frank Oz | Top 10 1980's Comedy Characters | Top 10 Coolest Modes of Transport In Film | Top 10 Quintessential 1980s Films | Top 10 Scariest Villains In Children's Films
The Breakfast Club (Hughes, 1985)

The quintessential 1980s teen-drama from director John Hughes is a daring exercise in simplicity during a particularly fast-paced, high-concept obsessed era of American cinema. Essentially, Hughes made a crowd-pleasing movie for a young audience wanting eye-candy and cheap thrills. It worked because its characters – based entirely on high-school stereotypes – worked so perfectly in mirroring the same fears and anxieties, peer-pressure, growing pains, love, ambition, and parental politics faced by a generation of young people. With its pop-culture references and mod-rock soundtrack it was a product of its time. But, Hughes' perfectly composed script, a tale of friendship breaking through the deep-rooted divisions of high-school social groups, is one that continues to resonate decades later. It highlights that although things have changed, Hughes' characterisation and depiction of teenagers is spot-on: a culture that may change and alternate aesthetically over time, but one that remains challenged by the stereotypes permeating from class, sex, ability, fashion, and further to issues of religion, race, and so on.
See also: Top 10 Single Location Films | Best American 1980s Coming-of-Age Drama | Top 10 Films Set In A Day | Top 10 Teenage Rebellion Films
The Money Pit (Benjamin, 1986)

Arriving in 1986, Richard Benjamin's The Money Pit saw Tom Hanks move into a new house with his girlfriend Anna (Shelley Long). Just as soon as they move into their dream home things start to go very wrong. One thing after another – the front door falling off its hinges twice, the stairs collapsing, the taps gushing out dirty sludge instead of water, and rampant pests living in the cupboards. Perhaps they should have investigated the house a little further but after Anna's ex-husband returns home, supplanting them from his apartment they were using, drastic and quick measures were required. The disaster here is rather inconsequential in the grand scheme of things but it's a personal disaster nevertheless. This is Die Hard heroics for the yuppie generation with Hanks' character quite literally fighting his own home – after all his life, his money, and his immediate family are all on the line.
See also: Best of Tom Hanks 1980s | 1990s | 2000s
Weird Science (Hughes, 1985)
John Hughes turned to science-fiction to do the one thing his Breakfast Club couldn't – make a friend out of a Barbie doll. Perhaps this one is for the older kids – I remember seeing it quite young and not really fully understanding what was so great about having a GIRL-friend! Watch it as an adult and you begin to think – if only I had three wishes, I've got a really good one right now.
See also: Top 10 1980s Science-fiction Films For Children
Discover More: Top 10 Pick-Me-Up Films | Top 25 Films to Make You Happy
Written and compiled by Dan Stephens.
For all the latest top 10s, reviews and competitions follow Top 10 Films on Twitter!
Your turn – what are your "make me happy" 1980s films?
Discover More on Top10Films.co.uk:
Search our collection of Top 10 lists sorted by type:
THEME | ACTOR | DIRECTOR | TIME PERIOD | GENRE | COUNTRY | SPECIAL INTEREST | FUNNY
See the A – Z of films featured on Top 10 Films / Check out our film review database