Top 10 Films celebrates James Bond with a look at the greatest films to grace the long running series. From 1962's Dr. No to 2012's Skyfall, we enjoy 50 years of adventures with 007.
Discover more James Bond Top 10s:
The Best James Bond Films | Bond Girls | Gadgets | Opening Credit Sequences | Vehicles | Henchman | Quips
Writer Ian Fleming created James Bond in 1953 when he published the novel Casino Royale. The novel paved the way to a number of other stories about British secret agent 007, many of which have been turned into films. Casino Royale has been adapted three times, most recently with Daniel Craig in the role of James Bond. Famously David Niven played Sir James Bond in the 1967 spoof based on Fleming's original novel while CBS television made a series with Barry Nelson as "Jimmy Bond".
As well as film and television, Bond has made his way onto radio, comic strips and video games but is most well known for his depiction on the big screen. Originally played by Sean Connery in 1962's Dr. No, George Lazenby, Roger Moore, Timothy Dalton, Pierce Brosnan and Daniel Craig have all stepped into the shoes of England's greatest "super" hero over the last fifty years. To celebrate the character's cinematic half century, Top 10 Films takes a look at its favourite movies from one of cinema's most loved long-running series.
10. The Living Daylights (John Glen, 1987)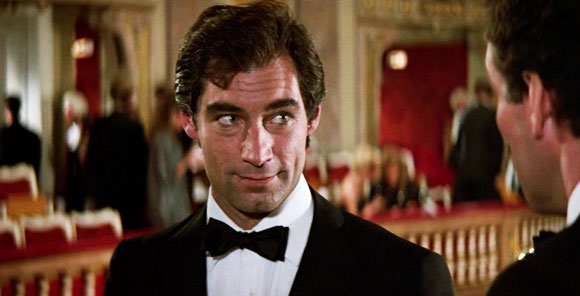 Timothy Dalton takes a bow as 077 in 1987's The Living Daylights. Dalton's short reign as James Bond means his two films are often overlooked as part of the period, between Roger Moore's geriatric fumbling and Pierce Brosnan stamping his authority in the brilliant GoldenEye, when the James Bond universe hit a creative black hole. Yet this entertaining film that follows Bond as he tries to uncover the conspiracy behind a KGB Officer's defection from the East has all the qualities of the franchise's best films. Dalton might lack the charisma of Moore and Connery, but his performance is a nice precursor to the increasingly raw Bond we see in Daniel Craig's films. The Living Daylights also gave us one of the more well-rounded Bond girls in Maryam d'Abo as Kara Milovy as well as some fantastic action sequences (one including sledging in a cello case) and one of the best Bond cars ever!
9. Thunderball (Terence Young, 1965)

Sean Connery's James Bond battles SPECTRE's number two in one of those 007 movies that now, given Mike Myers' brilliant Austin Powers spoofs, retrospectively feels comical with its deadly boardroom chairs, shark-infested swimming pools and demands for £100 million "dollars" (although it's "pounds" in Thunderball). It just goes to show how astutely rendered Myers and director Jay Roach's films were (particularly the first two). Here, Bond must face-off against one-eyed Emilio Largo and beautiful femme fatale Fiona Volpe while trying to keep his raging libido in check despite the scantily clad beauty of Bond Girl Dominique "Domino" Derval (Claudine Auger). The film features some fabulous underwater action sequences and Sean Connery on tip-top form. This is one of the most straightforwardly entertaining films of the early Bond universe.
8. Casino Royale (Martin Campbell, 2006)

Reinventing James Bond for the Jason Bourne generation, 007's return in 2006 marked the debut of English actor Daniel Craig in the role. Working from Ian Fleming's novel charting the early period of James Bond's license to kill, this gritty retelling of Casino Royale drops the tongue-in-cheek approach of Connery, Moore and Brosnan for a much more serious take on the character. Gone are the unrealistic gadgets and chauvinist tendencies, instead we get a young, buff and ultra masculine Bond who is capable of not only defending himself with some insane mixed martial arts but can do so without the need of a stunt double doing all the work. There's also a credible relationship that develops between 007 and Bond Girl Vesper Lynd (Eva Green) that resonates dramatically through a thoroughly engaging story, which culminates in a terrific denouement. Casino Royale announced Daniel Craig as James Bond with suitable bombast. Thankfully the film is also one of the best entries in the series thanks to the terrific direction of Martin Campbell who balances exciting action with time for the characters to breathe, while Craig and Green are excellent.
7. GoldenEye (Martin Campbell, 1995)

Pierce Brosnan burst on to the Bond scene with the wildly exciting GoldenEye. Brosnan's version of Bond has the lighthearted wit of Roger Moore alongside the more physical capability of Daniel Craig. Where Dalton's Bond lacks the charm of previous incarnations, Brosnan has it in spades. His easy-on-the-eye appearance is perfect for those Bond Girls who like their men tall, dark and handsome, so when Brosnan's Bond has his way with the ladies it isn't as off-putting as watching an aging Roger Moore bed exotic beauties half his age. Chief villain Alex Trevelyan (Sean Bean) has extra spice given that he's an ex-British secret agent who once worked with Bond so he knows all about his methods and gadgets. This creates an interesting dynamic between the two as they try to out-smart each other. The film also continues the trend, which was kick started in Dalton's License to Kill, to modernise its outlook on female characters. Two well-rounded, well written women – Bond Girl Natalya Simonova and the villainous Xenia Onatopp – provide plenty of support to the machismo on show.
6. Skyfall (Sam Mendes, 2012)

Daniel Craig solidifies his already celebrated brand of James Bond in Sam Mendes' terrific Skyfall. Although we've seen Bond brought back from the dead before it is a conceit that pays instant dividend. Immediately we are thrust into a story that has credible relevance, enriching the drama and the franchise's signature action. It also gives Bond far more reason to care – he isn't the super-spy impervious to pain and punishment but a man determined to save himself, those that matter to him and the values he holds close to his heart. It isn't that Skyfall shirks the conventions the series has become famous for (the action sequences are fantastic, the bad guy is suitably extravagant and driven by megalomania, and the humour is dispersed confidently) but it ensures 007's relevancy as a fictional construct amid the realities of terrorism and war in the 2010s.
5. Live and Let Die (Guy Hamilton, 1973)

The film is notable for a number of reasons. The James Bond franchise needed an injection of innovation and vitality to excite audiences who had experienced Bond for over ten years and now wanted something new. That "something" was Roger Moore. An Englishman and star of British TV series The Saint and The Persuaders, was brought in by producers Harry Saltzman and Albert R. Broccoli to take Bond into a new era during the 1970s. The key ingredient of Moore's reign as 007 was his ability with the one-liner with far better delivery and timing than Sean Connery. That meant the Bond films during this time concentrated more on the humour than the brawn, with Moore's Bond relying on a good gadget from Q to get him out of trouble.
4. Goldfinger (Guy Hamilton, 1964)

In Sean Connery's third outing as Bond the franchise began to gravitate towards the sillier side of the Bond universe. Fast paced and witty, Goldfinger ramped up the swashbuckling hokum by thinking bigger and therefore better. There were more Bond girls (Pussy Galore's particularly eye-catching flying squadron of blue-eyed, blonde-haired beauties certainly stand out), more cars and gadgets, and more one-liners. If that wasn't enough we get Pussy Galore, whose introduction – "My name is Pussy Galore" – is met with the immortal line: "I must be dreaming". There's also the brilliant sequence when, for once, a bad guy intends to kill James Bond when he has the chance. "You expect me to talk," says 077; "No, Mr Bond, I expect you to die", is the reply from Goldfinger. Only cunning from the British secret agent saves him on this occasion. Goldfinger is great fun and one of Sean Connery's finest outings as 007.
3. Dr. No (Terence Young, 1962)

James Bond arrived on the big screen for the first time in 1962's Dr. No. Testament to the film's enduring quality is that it remains one of the best films of the series. Sean Connery might not be as affectionately charismatic as his more confident performances in later films, but Dr. No has everything you could wish for from a Bond movie. Principally, as it is the first, there isn't any preconceived notions on the part of the filmmakers, despite current audiences obviously looking back at the film nostalgically. That means the humourous asides associated with the Bond-isms of later films (the hat throw in Moneypenny's office, the flirtatious behaviour with his superior's secretary, the order of Martini "shaken not stirred", Q's miraculous ability to see the future and devise gadgets specifically tailored to Bond's next life or death situation etc.) don't have the same resonance, meaning this is serious Bond with serious motives. In his film debut, Bond heads to Jamaica where a fellow agent has been murdered, which leads him on the trail of the mysterious Dr. No. Along the way he meets two of the series' most iconic Bond Girls – Sylvia Trench and of course Ursula Andress' Honey Ryder.
2. From Russia With Love (Terence Young, 1963)

From Russia With Love is held in high regard by critics and Bond fans alike. There are few who argue against this being one of the best Bond films, and many who place it at number one. It is easy to see why as 007 again does battle with SPECTRE, the evil organisation which is now hell-bent on killing the secret agent after he killed one of its key operatives Dr. No. Through Tatiana Romanova's unwitting defection, SPECTRE hopes to trap James Bond and eliminate him via ace assassin Red Grant (Robert Shaw). Shaw's villain is one of the series' most memorable, as is Number 3 Rosa Klebb (Lotte Lenya) and her poisoned toe-spike. The film is also distinct for the strong relationship between Bond Girl Romanova and 007 himself. It is underpinned by her mixed motives and road-movie-style journey they go on together, much of which takes place on the Orient Express.
1. The Spy Who Loved Me (Lewis Gilbert, 1977)

The Spy Who Loved Me, directed by franchise veteran Lewis Gilbert, is widely considered Roger Moore's best outing as 007. Gilbert, who previously directed Sean Connery as Bond in You Only Live Twice, brings us undoubtedly one of the craziest, most far-fetched Bond films but also one of the most fun. You know it is going to be something special when the opening action sequence features Bond skiing off a mountain ledge in Austria to escape a group of assassins to plummet, you might think, to his death on the rocks below. But of course, this being Bond, the cunning secret agent always has a plan up his sleeve (maybe he figured he'd need to take extra precautions after breakfast that morning) and, as the camera tracks his mighty fall into oblivion, he opens a parachute and we're allowed to stop holding our breath. But the genius of the scene is yet to come (taking nothing away from stuntman Rick Sylvester's miraculous work) when the parachute reveals itself to be a Union Jack just as the Bond theme music kicks in. For my money it is the best single moment in any Bond film, and one of the most perfect music cues I've ever seen.
Roger Moore, returning to 007's shoes for the third time, teams up with Russian agent Anya Amasova (Barbara Bach) whose codename, Triple X, is as comical as the rest of the movie. The film motors along at breakneck speed as 007 and Triple X try to track down the culprit behind disappearing nuclear submarines. Chief villain Karl Stromberg (Curd Jurgens) is fiendishly sadistic as a megalomaniac who wants to restart civilisation by developing an underwater city. He carries out his work with the help of steel-toothed henchman Jaws (Richard Kiel), a shark-infested pool ready for anyone who dares to stop him, and a huge converted tanker that literally opens up and swallows submarines whole. The film is so much fun you wonder how it could get any better. But the filmmakers pull a trump card – my favourite Bond car of all time – the Q Branch Lotus Esprit sports car that converts, believe it or not, into a submarine with rocket launcher and all manner of other gizmos.
The film is aided by Roger Moore's form as Bond, the one-liners coming thick and fast, the suave English gentleman sophistication layered so splendidly. He has a good match in Barbara Bach's Triple X who manages to avoid his sexual come-ons before the inevitability of romantic entanglement takes over. The film also has to be applauded for its wonderful set design, depicting the interior of Stromberg's submarine-swallowing ship. There was no set big enough to house the design team's concept for the massive atnker so the producers built an entirely new soundstage at Pinewood, which would be aptly titled the 007 Stage.
The Spy Who Loved Me is easily one of the best Bond films ever made. It has the best song, the best single shot of the franchise, the best interior set design, the best Bond car, the towering presence of Jaws, and Roger Moore's finest performance as 007. On top of that it has a wonderfully inspired sense of humour thanks largely to director Lewis Gilbert.
Discover more James Bond Top 10s:
The Best James Bond Films | Bond Girls | Gadgets | Opening Credit Sequences | Vehicles | Henchman | Quips
For all the latest top 10s, reviews and competitions follow Top 10 Films on Twitter!
Your turn – what is your favourite Bond film?
Discover More on Top10Films.co.uk:
Search our collection of Top 10 lists sorted by type:
THEME | ACTOR | DIRECTOR | TIME PERIOD | GENRE | COUNTRY | SPECIAL INTEREST | FUNNY
See the A – Z of films featured on Top 10 Films / Check out our film review database