Halloween is upon us. It is the night when children will roam about after dark begging for sweets, while horror film fans arrange scary movie marathons. What will you be watching?
[ad#Google text Ad – square no border]
For those of us in the UK, our local cinemas currently have a selection of horror-inspired films to serve that insatiable appetite for scary movies. From the family-friendly animations Frankenweenie and Hotel Transylvania to more adult fare in Paranormal Activity 4, Sinister and Silent Hill: Revelation. Better still, it is Orange Wednesdays so you can buy one, get one free!
But for those of us, like me, who will be shutting the curtains, turning the television on and cranking up the surround sound, Halloween 2012 is going to be an at-home affair. But what horror films will I be watching tonight? Good question. Here's some food for thought…
Stay safe – guaranteed scares from the best period for horror: 1967 to 1979
Top 30 Horror Films 1967 – 1979
The Exorcist, Rosemary's Baby, The Omen, The Wicker Man, Don't Look Now, The Texas Chainsaw Massacre – they were all birthed with ghastly intention during the period and never fail to send shivers down my spine. These aren't the sorts of films you should watch alone.
It is all about the monster
Top 10 monsters I don't want to find in my closet
For get time periods, directors, stars or even storylines, the best horror films have the best monsters. If there's a great ghoul ready to jump out of the closet then its worth watching on Halloween.
Don't forget the kid's films
Top 10 scariest villains in children's films

For those with families there's still a chance to have a good scare at Halloween without R-rated gore, incessant bad language and teenage sex. Some of the best monsters in horror film have appeared in children's movies so why not consider these terrifying creatures for tonight's Halloween movie marathon.
I want Vampires, Zombies and Werewolves!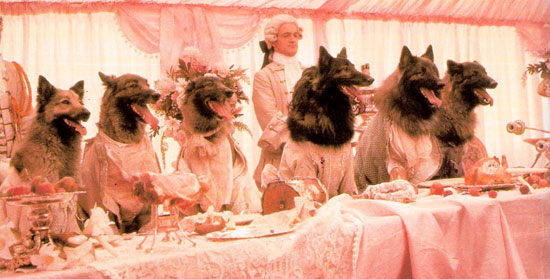 Top 10: Vampires | Zombies | Werewolves
Okay, okay, so do I. These three dastardly ghouls have been terrifying audiences since cinema began.
Gore, guts and entrails
Stop teasing with all these silly horror films that aren't scary. I want blood soaked walls, knife-thrashing deaths, heads exploding, limbs torn apart – I want gore, gore, gore! If that's your bag, then look not further than our Top 10 Gore Film Scenes.
Discover More on Top10Films.co.uk:
Top 10 scariest films ever made | Top 10 Horror Film Beginnings | Top 10 Horror Films of the 1980s | Top 10 Horror Films of the 2000s | Top 10 Friday The 13th Films | Top 10 Slasher Films
Written and compiled by Daniel Stephens.
For all the latest top 10s, reviews and competitions follow Top 10 Films on Twitter!
Your turn – what horror film(s) will you be watching tonight?
Discover More on Top10Films.co.uk:
Search our collection of Top 10 lists sorted by type:
THEME | ACTOR | DIRECTOR | TIME PERIOD | GENRE | COUNTRY | SPECIAL INTEREST | FUNNY
See the A – Z of films featured on Top 10 Films / Check out our film review database