The Bond Girl. Oozing sensuality she's never far from the libidinous gaze of a certain British secret agent. Here's Top 10 Films' favourites.
Discover more James Bond Top 10s:
The Best James Bond Films | Bond Girls | Gadgets | Opening Credit Sequences | Vehicles | Henchman | Quips
The Bond Girl. She has taken on a number of guises throughout the series – from femme fatales (Vesper Lynd in Casino Royale, Maud Adams as Octopussy) and sweet, nubile princesses (Bibi Dahl in For Your Eyes Only, Honey Ryder in Dr. No) to seductresses (Sylvia Trench in Dr. No), airheads (Mary Goodnight in The Man With The Golden Gun), and teases (Tiffany Case in Diamonds Are Forever). There's also the strong-willed "supergirls" like Pussy Galore in Goldfinger, Wai Lin in Tomorrow Never Dies, Fiona Volpe in Thunderball, and Natalya Simonova and Xenia Onatopp in GoldenEye. However, there's one thing they all have in common: an alluring femininity that emanates from obvious beauty, a quality that never fails to attract the libidinous drive of British secret agent James Bond.
Here's my favourite ten Bond Girls…
10. Sylvia Trench (Eunice Gayson – Dr. No, 1962 / From Russia With Love, 1963)

The forgotten Bond girl is also one of the series' most beautiful. She could also be considered the first as she appears ahead of Ursula Andress in Dr. No and also makes another appearance in follow-up film From Russia With Love. Trench should also be credited for introducing us to one of cinema's most iconic characters. Before we've met Bond we see her in the casino. She notices a suave, sophisticated man winning at the table and introduces herself – "Trench, Sylvia Trench. I admire your luck, Mr…" as we cut to a man lighting a cigarette who says: "Bond, James Bond."
9. Wai Lin (Michelle Yeoh – Tomorrow Never Dies, 1997)

The dated, almost archaic depiction of women in the Connery/Moore era is brushed under the carpet as the Brosnan/Craig era ushers in strong, individualistic female characters. Michelle Yeoh's Wai Lin is one of them, displaying a physical and emotional temperament that easily matches her partner in justice.
8. Tracy Di Vicenzo (Diana Rigg, On Her Majesty's Secret Service, 1969)

A Bond girl to grab 007's heart and not let go. It is a tiny club to be in and Tracy Di Vicenzo has the sexy, feisty persona to take hold and then break James Bond's almost impenetrable heart. She also has the distinction of being the only woman to marry James Bond, which leads to an unusually downbeat conclusion in George Lazenby's only contribution to the franchise.
7. Anya Amasova (Barbara Bach – The Spy Who Loves Me, 1977)

Amasova, also known as Triple X (…snigger), is a Soviet KGB agent following the same lead as Bond after the disappearance of various nuclear submarines from both sides of the iron curtain. This tough secret service operative might want to kill Bond because he fatally shot her partner during a previous mission, but puts that aside in favour of peace and, of course, eventual love with the ultimate ladies man.
6. Pussy Galore (Honor Blackman – Goldfinger, 1964)

"My name is Pussy Galore", says the blonde pilot as Bond replies: "I must be dreaming." It is a great line, one of the most often quoted from the franchise. Pussy is one of Goldfinger's followers but is put in her place when it is revealed she is a little unwitting in her boss's megalomaniacal pursuit of power. She soon has her merry band of beautiful female pilots singing from the same hymn sheet while rolling around in the hay to the tune of Bond's libido.
5. Tatiana Romanova (Daniela Bianchi – From Russia with Love, 1963)

Tatiana Romanova begins on opposite sides of the supposed good and evil spectrum but soon joins forces with Bond as he tries to evade the murderous plans of SPECTRE.
4. Vesper Lynd (Eva Green – Casino Royale, 2006)

Vesper Lynd has intelligence to go with her beauty as she aids Bond in trying to trap terrorist financier Le Chiffre. The HM Treasury agent really grabs hold of Bond's heart in Casino Royale, creating a relationship that has far more dramatic depth than is usually associated with the series.
3. Honey Ryder (Ursula Andress – Dr. No, 1962)

She inspired every Bond girl to come. Ursula Andress has one of the most iconic entries of any actress in the franchise, appearing from a sparkling blue Caribbean ocean in nothing but a skimpy bikini. This delicate beauty has a vengeful undercurrent to go along with her sexy appearance.
2. Tiffany Case (Jill St. John – Diamonds Are Forever, 1971)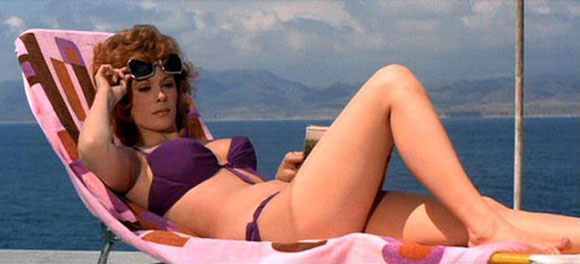 Redhead Tiffany Case spends most of the film in swimwear which means she's one of the most memorable things about Sean Connery's return to the world of Bond after a brief break to allow George Lazenby to take up the mantle for On Her Majesty's Secret Service. Played by actress Jill St. John, the fiery, frisky Bond girl mixes ditzy comedy, sharp-toothed wit and drug-smuggling know-how into an alluring cocktail for an all-too-eager James Bond.
1. Solitaire (Jane Seymour – Live and Let Die, 1973)
[ad#Google text Ad – square no border]
Alluring and beautiful, the sensuously mysterious Solitaire has a deadly beauty about her. This is made even more potent by her ability to predict the future.
Seymour's fragile femininity means she's far too in debt to Bond than many of the stronger-willed Bond girls, but her power with the tarot cards makes her heartbreaking beauty infinitely more powerful.
Your turn – who are your favourite Bond Girls?
For all the latest top 10s, reviews and competitions follow Top 10 Films on Twitter!
Discover More on Top10Films.co.uk:
Search our collection of Top 10 lists sorted by type:
THEME | ACTOR | DIRECTOR | TIME PERIOD | GENRE | COUNTRY | SPECIAL INTEREST | FUNNY
See the A – Z of films featured on Top 10 Films / Check out our film review database