Lorena Benchis takes a look at her favourite family comedy. Her faves include time travel adventure in Back To The Future and Robin Williams dressing up as an old woman in Mrs Doubtfire.
Discover More: Top 10 Films Inspired by British TV Comedy | Top 10 Family Films of All Time | Top 25 Films to Make You Happy
10. Summer Rental

At number ten, we have the summer holiday classic starring John Candy who's a stressed out air traffic controller who needs to take a little time off. Everything goes wrong for him until he decides there is something he could do – sailing. This will have the kids giggling away.
The Best of John Candy | Full review of Summer Rental
9. Coneheads

Next up, we have Dan Aykroyd as Daddy Conehead. Fuel Survey Underlord Beldar Clorhone (which they Anglicize to"Conehead" – played by Aykroyd) and his wife Prymaat and their daughter are shot down in their spacecraft and try to adapt to American life – with hilarious consequences.
8. Diary of a Wimpy Kid

Eleven year-old Greg Heffley is looking forward to going to middle school, as he thinks he's pretty cool. But his best friend is a little fat and distinctly uncool – or so Greg thinks. Things don't work out the way Greg anticipates but he learns some great lessons in life along the way about being nice to all kids regardless of how cool they are.
7. Aliens in the Attic

A meteor shower heads towards Earth. Meanwhile, in a Chicago suburb, a family decides to head for the wilderness for a short holiday – where they're joined by their uncle's family. As the name suggest, they come across the aliens in the attic with some crazy consequences – most notably the robotic control of an ex-boyfriend cad, "Ricky".
6. Peggy Sue Got Married

At the high school reunion, 25 years after she left, Peggy Sue Bodell (played by Kathleen Turner) faints and goes back in time by the same period. It takes her a while to realise where she is – but she son settles into the routine. Not a real laugh out loud funny movie – but a great family film with a few funny bits.
5. Back to the Future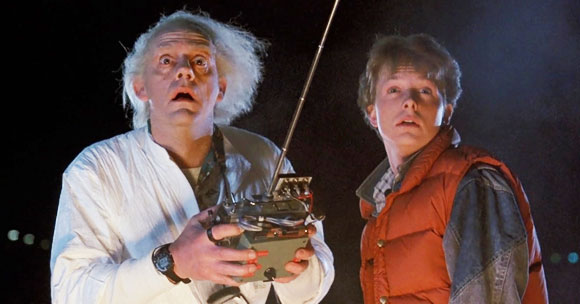 Into the top half of the funniest ever family cinema listings now, with Back to the Future, another time travel film, when Marty McFly (played by Michael J. Fox) travels back to his parents' High School days and manages to change the future for the better – but not without some hilarious troubles en-route.
See also: Top 10 things about Back To The Future | Top 10 Michael J Fox Films | Top 10 Robert Zemeckis Films | Top 10 Films Produced by Steven Spielberg
4. Chicken Run

The best of the Nick Park movies where a coup of chickens in the northern English countryside are visited by the seeming flying roster, a smooth-talking Rhode Island Red called Rocky – who they come to see as their only hope of salvation when the farm-owners, Mr & Mrs Tweedy decide to move from selling eggs to making chicken pies.
3. Home Alone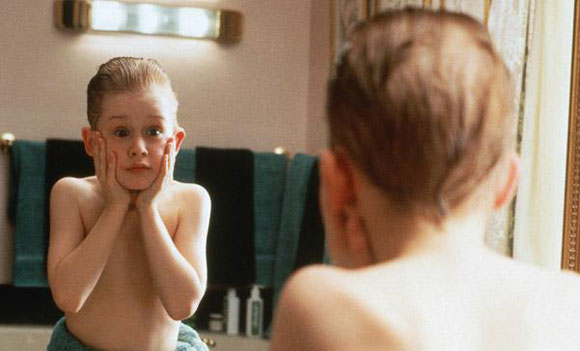 The first of the Home Alone movies is hilarious – the second is even better. In the original one, the McCallister family prepares to spend Christmas in Paris, leaving their son Kevin home alone by accident in the process. Meanwhile, two hapless burglars decide to break in as Kevin does all he can to defend the place.
See also: Top 10 Christmas Films 1980 to 2010
2. Mrs Doubtfire

When unemployed actor Daniel Hillard's (played by Robin Williams) wife wants a divorce, he decides to see the kids by posing as a Scottish female housekeeper. It's one of the funniest family films ever – and one you can watch again and again without ever getting bored.
1. Home Alone 2

The funniest family film of them all, Home Alone 2 sees Kevin lost by his family again, but this time he ends up in New York while the rest fly to Florida. But the resourceful youngster manages to check in to a top New York hotel and things are going well until he runs into the same burglars from the original Home Alone again.
See also: Top 10 Christmas Films of the 1990s
Written and compiled by Lorena Benchis.
Lorena Benchis is a UK based contributor and blogger. She's a huge cinephile and enjoys writing about everything to do with entertainment and movies. She's an amateur photographer and enjoys spending time with her pets.
Discover More: Top 10 Films Inspired by British TV Comedy | Top 10 Family Films of All Time | Top 25 Films to Make You Happy
For all the latest top 10s, reviews and competitions follow Top 10 Films on Twitter!
Your turn – what are your favourite "family funnies"?
Check out more comedy Top 10s:
Top 10 Australian Comedy Films | Best British Comedy after 1980 | Greatest Comedy Characters of the 1980s) | Top 10 Charlie Chaplin Films | Best Road Trip Comedies | Top 10 Steve Martin | Tom Hanks | Whoopi Goldberg
Discover More on Top10Films.co.uk:
Search our collection of Top 10 lists sorted by type:
THEME | ACTOR | DIRECTOR | TIME PERIOD | GENRE | COUNTRY | SPECIAL INTEREST | FUNNY
See the A – Z of films featured on Top 10 Films / Check out our film review database