There's a sequel or reboot coming out every month it seems. Instead of complaining I'm going to embrace Hollywood's intention to rehash and suggest these 1980s classics need a Part 2.
[ad#Google text Ad – square no border]
There has been a lot of talk about reboots recently. Does the world need another reinterpretation of Batman so soon after Nolan concluded his majestic trilogy. The bed is still warm!
It is, of course, all part of the moneymaking Hollywood machine; its creative energy based on the probability of box office return. Granted, it is shrewd business but it makes for an overly familiar catalogue of new movies – the same characters being rolled out once more, the same stories with a slightly different twist. Essentially, it is a "if it isn't broke, don't fix it" attitude. So we find ourselves with more reboots (Spider-Man, Superman, Batman), more sequels (The Hobbit times by three), more Aliens versus Predators/Freddy versus Jasons/Harold versus Kumas, and more familiar characters. Hollywood knows we've bought the ticket before, so we'll buy the ticket again.
In years to come we'll find our top 10 films of the last twelve months oddly mimicking each other. Let me rush forward in time for a second – Top 10 Films of 2015 equals The Hobbit Part III: There and Back Again in at number one. The following year it'll be Avatar III: Attack of the Green Aliens (I made that title up by the way). After that it'll be Batman Begins Again. Wait a minute…but my favorite films of the 2000s were Lord of the Rings, Avatar and Batman…erm…Begins – what's happening here? I feel like I'm in Back To The Future and my vehicle of choice is a time-travelling DeLorean.
With this in mind (and with Hollywood's idea factory in some sort of comatose state), I figure I should jump on board instead of complaining and encourage this roll out of the same old stuff. Therefore, I'm going to pitch my ideas for some new sequels – namely, those favourites from the 1980s. What happened to these characters? Where are they now? What new adventures are they getting up to?
10. Roxanne (Schepisi, 1987)

Steve Martin's C.D. Bales was one of his finest comic creations. However, I'm reminded about that immortal line from Back To The Future when Doc tells Marty, "Something has to be done about your kids". Just what happened to C.D and Daryl Hannah's offspring – were they also born with the same nasal appendage and razor sharp wit?
9. E.T (Spielberg, 1982)

E.T. makes it home – or so we are to believe. But does he ever come back? Of course he does, especially if there's a sequel ready to welcome him back to planet earth.
8. Explorers (Dante, 1985)

Three kids build a spaceship out of a fairground ride car. What will they build next, and where will they go…that's what we'll find out.
7. Bull Durham (Shelton, 1988)

If only for another messy food-induced romp with Susan Sarandon and Prince of Thieves himself Kevin Costner, Bull Durham 2 would be highly appealing.
6. Supergirl (Szwarc, 1984)

The machismo in recent superhero films has put baby most definitely in the corner. Bring back feminism! Let Supergirl have another day in the limelight.
5. Innerspace (Dante, 1987)

Fellow miniaturisation film Honey, I Shrunk The Kids got a sequel, what about the Dennis Quaid-starring Innerspace. Surely he couldn't have managed to stay married to Meg Ryan…
4. Beetlejuice (Burton, 1988)

Arguably Michael Keaton's best ever role (and performance), the one-time Hollywood giant could do with career reinvigoration. This is just the ticket.
3. Stand By Me (Reiner, 1986)

There was plenty of time before these four kids hit adulthood for them to get up to more adventure. Perhaps this time it isn't a dead body – alien landing perhaps…
2. The Breakfast Club (Hughes, 1985)

Bring back the music, bring back the characters. What happened to these five teenagers after that day in detention?
1. The Goonies (Donner, 1985)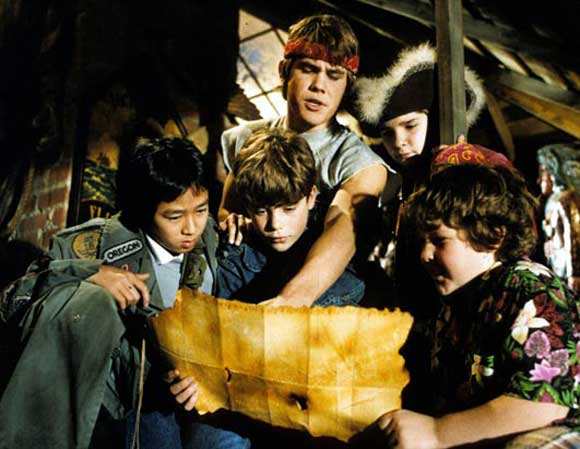 There was certainly talk of a Goonies sequel but it never happened. This great adventure story will have everyone queuing up around the blocks no matter the age. I'm thinking the Goonies could go in search of Jack Sparrow's lost rum cache.
Written and compiled by Daniel Stephens.
For all the latest top 10s, reviews and competitions follow Top 10 Films on Twitter!
Your turn – what 1980s films need a sequel?
Discover More on Top10Films.co.uk:
Search our collection of Top 10 lists sorted by type:
THEME | ACTOR | DIRECTOR | TIME PERIOD | GENRE | COUNTRY | SPECIAL INTEREST | FUNNY
See the A – Z of films featured on Top 10 Films / Check out our film review database